'Our jobs are being taken over by film stars'
Last updated on: May 5, 2010 19:31 IST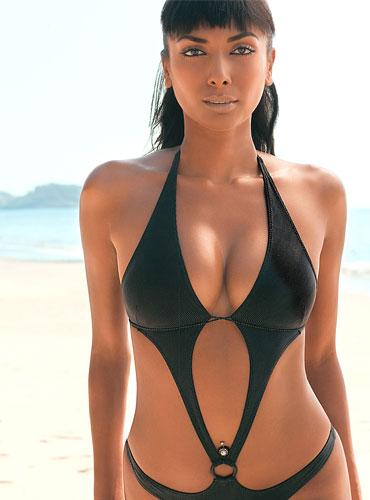 Model Diandra Soares limps out of her bedroom. She's been nursing a nasty wound she received during her recent Goa trip. Walking with some amount of effort, she stretches her hand to greet you and settles into a Lazy Boy almost immediately.
Early on in the conversation you realise the 30-year-old model also has a wound that isn't visible. Soares is almost acidic when she points out that older models (such as her) 'don't get the respect we deserve anymore'.
In a freewheeling interview, she speaks about how the rules of the game are changing, accepts that the casting couch does exist and comes clean on her much-mentioned boob job.
Edited excerpts from an interview:
When you walked the ramp for the first time, did you ever think you would be taking this up as a profession?
For the longest time, I considered it a hobby. I never thought of modelling as a career. But around 2000-2001 (when the first fashion weeks were held in India), I really began to take things seriously.
So did you want to model at all?
As a child I was always the creative kind. And being very tall, modelling seemed like a very viable option. I guess it also helped that my mother was very interested in the fashion industry. She encouraged me a lot.
'Modelling was always a hobby'
Last updated on: May 5, 2010 19:31 IST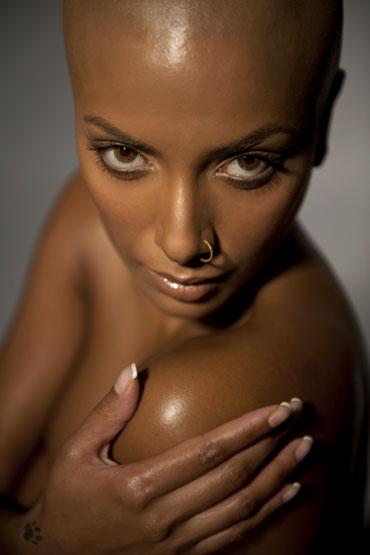 How did you go about becoming one?
I had been modelling right from 1995, when I was in my first year of college and had done the Tips & Toes campaign.
It was when I bagged a major suiting campaign to be directed by Kailash Surendranath that I was introduced to (designer) James Ferreira. He was quite excited about finding a Catholic girl in the business and made calls to Lubna Adams and Sangeeta Chopra.
Sangeeta gave me the opportunity to walk the ramp at the McDowell's Indian Derby annual show. That was where Maureen (Wadia) must have noticed me and invited me to participate in the Gladrags Mega Model and Manhunt Contest.
Since I was very young, I wasn't sure if I wanted to be part of something so brazenly sexy (as the image of Gladrags was then). On the other hand, I had the opportunity to participate in another contest and get a chance to be on the cover of Savvy. I went with that, won it. That was my big break.
Eventually, I auditioned for Femina Look of the Year and got into the final round. It was 1996, the year when Ujwala Raut won the contest. Femina Look of the Year was one of those contests that the entire industry watched and a lot of people stood up and noticed me there.
What did your parents have to say about your career choice?
They were very supportive. My mum used to accompany me to auditions many times. Occasionally my father would come along too. Neither was unhappy with me being a model. But for the longest time they saw it as being a hobby. So did I. But when I decided to take it up as a profession, things changed. I hired a personal trainer and worked hard. I began to take modelling very seriously. And I was only 20 then and still in college.
'My classmates thought I was a snob'
Last updated on: May 5, 2010 19:31 IST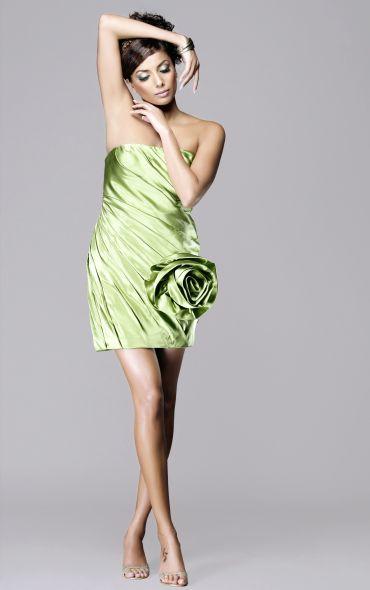 What was it like adjusting to the newfound celebrity status in college?
Most of my classmates thought I was a snob and wore make up all the time! (Laughs) Actually I was always the odd one out. Right from my childhood, people would think I was a snoot till they got to know me better. Then we'd end up becoming the best of friends. It had always been the case in all my four schools -- from Dubai to Mumbai. But personally, I was trying to adjust with a lot of things. On the one hand I knew it was a big deal (what I was doing) and on the other I just wanted to be a normal girl.
What happened after Femina Look of the Year?
My mum and then boyfriend wanted me to participate in Femina Miss India. I was not very keen on doing it because I had heard stuff about what the contest was and had become reduced to. And I was so much of a 'me' personality I knew I would never be able to fit in the mould. At the same time, I was also modelling fiercely so I didn't have to participate in the contest. Yet Femina Miss India was the biggest contest of its time. It was bigger after 1994 because of all the (sic) winnings. So I guess it made sense for me to go, although I wasn't keen on it. Parents don't understand that it isn't as clean (as it seems).
'I am very bad at diplomacy'
Last updated on: May 5, 2010 19:31 IST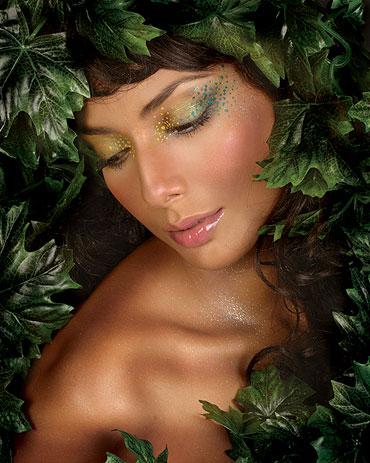 What is the reality behind the casting couch? Have you been propositioned?
Yes, over the years. It does happen, not just in this industry but also in others. You have to make a choice. If I had chosen to give in I would have been in a lot of higher places. I would have got ahead a lot sooner, but would not be able to face myself.
How does it happen?
It is never a direct thing. If you are smart enough, you get it. I have tried to nip it in the bud itself. I was told that I would get to travel (to foreign countries) but I just have to (leaves sentence incomplete). (I've been told) that it is the reason why particular campaigns are shot abroad. There are times when everyone is in the same hotel (and I get a call). Then I ask my roommate to answer it. I cannot always be direct with everyone, but at the same time I am very bad at diplomacy.
Has it worked against you?
Yes, I have lost assignments. I land up becoming the bad person and being called rude and all sorts of things. People use your shoulder to fire the gun. But I have always believed in fighting for what I believe is right. When I make a mistake, I promptly apologise.
'I wasn't even invited to the first ever Fashion Week'
Last updated on: May 5, 2010 19:31 IST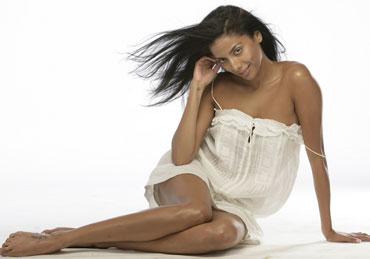 Was there ever a bad phase in your career?
During 1999-2000, younger models who started off after me were getting more work. I wasn't even invited to the first-ever Lakme India Fashion Week when everyone who was everyone was there. Even though I was doing (magazine) covers, ramp shows -- my first love -- were not happening. It might also have had to do with the fact that I had shaved off my head. People thought I was a freak.
How did you get over that phase?
Well, for starters I started working out. Whatever little money I would earn would be paid to the trainer. I quit smoking and drinking and used to be at Jogger's Park at seven every morning. I literally worked my butt off.
'There is a difference in being thin and being fit'
Last updated on: May 5, 2010 19:31 IST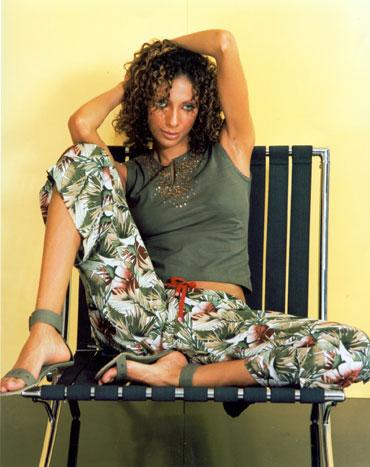 Has there ever been a point when you seriously contemplated surgery?
No. There have been talks for the longest time that my breasts aren't real. But that isn't true. I have never been insecure about my looks. If at all, I am the first one to make fun of my negatives.
I have always had a big bone structure. When I went from waist size 29 to size 24, I looked unwell. My shoulders and the rest of my body were totally disproportionate. Today my waist size is 26 and I am healthy. There is a difference in being thin and being fit. If you compare my fitness levels and my skin with the skinny girls ten years younger to me, I'd beat most of them hollow. The truth is, whether or not you are a model, you have to keep yourself fit. Work out -- at least go to the gym or for a swim -- for yourself.
Talking of younger models. Why is it that we don't have any new supermodels today?
A supermodel is someone who has done a gamut of things -- from television ads to ramp shows and print commercials. Today a lot of our jobs are being taken over by cricketers and film stars. That is one of the reasons why we don't have a supermodel, even though a lot of younger models might consider themselves to be one.
You sound acidic when you speak of the new crop. Why?
When we were younger, we were always eager to learn. Today that isn't the case. Many -- not all -- models behave shockingly with makeup artistes, choreographers. They come with so much attitude and are not professional at all -- dropping out of shows at the nth minute or turning up late for work -- there is no respect for the job either. They think they will remain the 'it' girls forever. And the only thing I have to tell them is that these are the same people you will meet on your way down.
'Indians are still fixated with white skin'
Last updated on: May 5, 2010 19:31 IST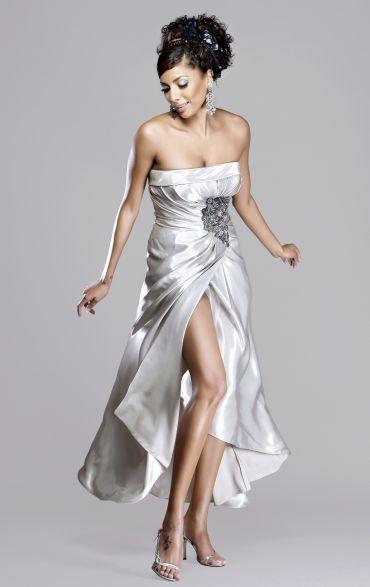 Why are there suddenly so many foreign models on the ramp these days?
I don't know. I guess as Indians, we are still very fixated with white skin. The average Indian viewer is still male. But besides that, I am not very sure. Perhaps they charge less, I don't know.
Having modelled for over a decade, what are the changes you've noticed in the industry?
Generally, the respect for models has gone down too. There is so much under cutting, models willing to work for a lot less, being friends with people so they can get more work... While there may be a lot more models now, I can't say the same about their quality.
What are your future plans?
I have styled the Kingfisher Calendar (2005 and 2006) and the international posters for Love Sex Aur Dhokha. But I am more into makeup, which I want to take up seriously. I also design shoes -- I've designed them for some of my friends and for Shane and Falguni Peacock. I can't be a model forever.