Travelogue: Awesome bliss in the Langkawi Island!
Last updated on: October 8, 2010 17:45 IST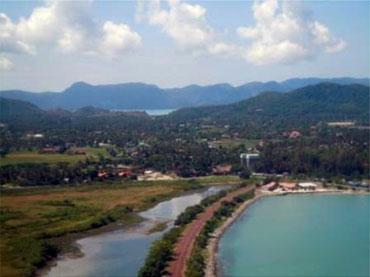 Getahead reader Pamela Sinha shares with us her visit to the scenic Langkawi Island in Malaysia.
The Wikipedia page for Langkawi tells you that Langkawi is an archipelago of 99 islands in the Andaman Sea, around 30 km off the mainland coast of northwestern Malaysia. Out of these 99 islands only four are inhabited. The largest one is the eponymous Pulau Langkawi, barely an hour's flight from the Malaysian capital city of Kuala Lumpur. It was to this island that we, my husband and I, were headed to on a bright sunny day in June.
The words of praise we had read on Wikipedia could have hardly prepared us for the picturesque beauty of the place. Even the small airport seemed to have a soul of its own, a smiling concierge welcoming us to warm golden beaches that held promises of relaxation and romance.
Picture perfect
Last updated on: October 8, 2010 17:45 IST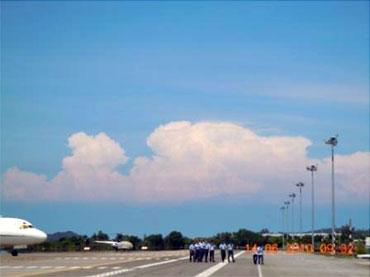 Instead of a fleet of airline jets, there were only two small aircrafts standing on the tarmac when we arrived. The runway was bordered by green cushioned hills framed by a never-ending stretch of light blue sky, dotted with snowy white clouds.
There was no one to hurry us across to the terminal; instead we could take our time in looking around and posing for pictures against the picture perfect background. The inside of the terminal also projected an aura of cheerfulness and even as we collected our luggage we could sense it would be a great trip.
A scenic drive
Last updated on: October 8, 2010 17:45 IST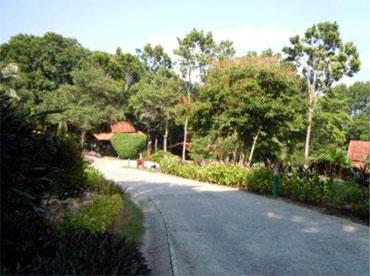 That Langkawi is first and foremost a tourist attraction was evident by the body language of the locals. From the friendly lady who helped us to get a temporary prepaid connection to the smiling tour representative who met us at the gate, everyone gave us a warm welcome.
The ride to the hotel was a scenic one and when we reached the Berjaya Resort and Spa it seemed we had found the pot of gold at the end of the rainbow.
Chalets on stilts
Last updated on: October 8, 2010 17:45 IST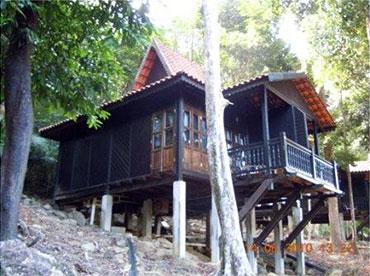 Spanning over a vast expanse, the resort boasts of winding pathways through lush greenery, delightful little wooden chalets on stilts instead of regular rooms and a private beach with emerald green water lapping at its edges.
Indeed the place is so sprawling that electrical carts are available for guests to move to and fro from their chalets. But one jarring point was the lax room service. That the tourist season was at a low at the time we visited was probably the reason for it but it was inconvenient all the same.
A theme village
Last updated on: October 8, 2010 17:45 IST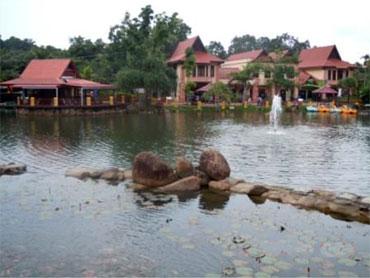 Within walking distance of the resort, there is a theme village, locally renowned as Oriental Village, which offers tourist attractions such as a cable car ride, animal enclosures, food joints offering local recipes and the mandatory souvenir shops.
The buildings are painted with vibrant hues of yellow and orange and the overall effect is of a snug little hamlet enclosed by towering mountains.
Spectacular views
Last updated on: October 8, 2010 17:45 IST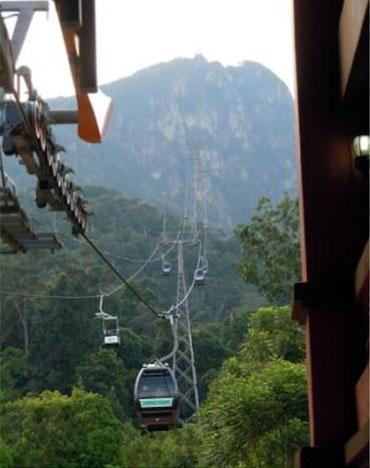 The cable car ride was an unforgettable experience. The ride is conducted in two legs, covering two viewing points. At the first point there is a narrow pathway descending a little way down to the Sky Bridge.
Walking across this suspension bridge was quite a thrill as it swayed gently in the chilly winds. The view from there was spectacular, looking over to the distant mountains and the vast expanse of the sea beneath.
The setting sun conjured up brilliant hues on the rippling waters and a sense of tranquility came upon us as we stood dumbstruck, overwhelmed by Nature's beauty. Like Jack and Rose in
Titanic
, we felt like 'kings of the world' and got a photo taken of the two of us in that famous pose as well.
Art and beauty
Last updated on: October 8, 2010 17:45 IST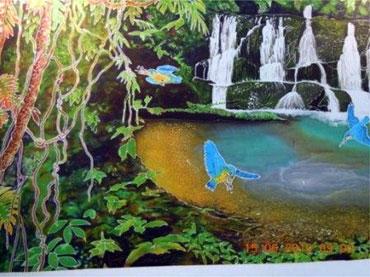 Our itinerary included a half-day city tour comprising of visiting an Arts and Craft centre for Batik art, an underwater aquatic museum and the Eagle Square.
At the Batik Art centre one can learn how the Batik paintings are created and can also browse through the mind boggling collection of vibrant sketches of flora and fauna on cotton and silk fabrics, available for sale in the showroom.
So attractive are these that one can hardly walk out empty-handed and we proved to be no different.
The guardian spirit
Last updated on: October 8, 2010 17:45 IST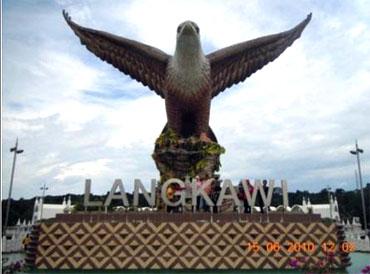 The Aquatic museum is a delight with its enormous aquarium housing different forms of marine life, from sharks, fishes and sting rays swimming overhead to penguins, seals and various reptilian species.
Another interesting photography spot is the Eagle Square, which embodies the guardian spirit of Langkawi in the form of a huge eagle statue. In fact the name Langkawi, which translates to reddish brown eagle in colloquial Malay, is derived from this majestic bird.
Cruising through the mangroves
Last updated on: October 8, 2010 17:45 IST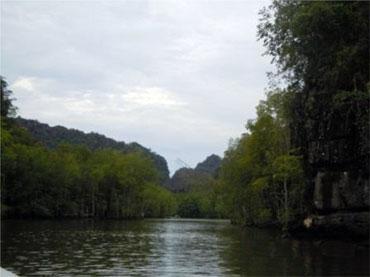 Another additional tour that we had opted for was the Mangrove tour. For a private tour for two, the charges are quite high but as part of a group it comes down considerably. For a party of 4 to 8 people however, the private tour turns out to be cheaper.
The tour is essentially a cruise through the mangroves with highlights such as limestone caves housing colonies of bats, eagle feeding and a fish farm where the tourists can touch and feed different species of fishes.
The title song of Kaho Naa... Pyaar Hai was filmed here
Last updated on: October 8, 2010 17:45 IST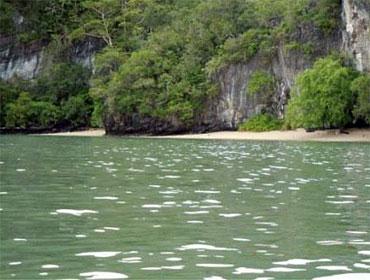 One type of fish that we saw, called the Archer fish, had a remarkable ability of spitting over a considerable distance in order to procure food. But the best part was cruising in the open sea, the wind in your face and the vast expanse of water ahead.
One can be excused for imagining himself to be the master of some mighty vessel set sail in search of new lands or great riches. However, if you are Indian your fantasies are all the more likely to be interrupted by your guide enthusiastically pointing out the island where the title song of the blockbuster Hindi film Kaho Naa  ... Pyaar Hai had been filmed.
Beach bliss
Last updated on: October 8, 2010 17:45 IST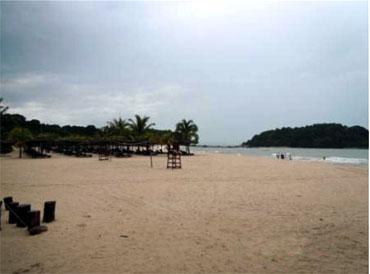 To visit Langkawi and not to enjoy a day or two at the beach would be an unforgivable sin. Walking on the warm sand barefoot, dodging a tiny crab or two scuttling by, indulging in some water sports, frolicking in the sparkling waters or simply lounging on a beach-chair, each moment was sheer bliss.
Forgotten were the stressful demands of daily life. A nighttime walk with my husband on the private beach of the resort, holding hands, the gently undulating waves lapping at our feet, remains to this date a moment I will cherish forever.
The feeble glow of lights, emanating from the nearby buildings served to enhance the romantic atmosphere. A considerable amount of concern was however caused by the jellyfish warnings posted on the beachfront.
We got quite a scare when something slimy washed up with a wave. As the water receded it turned out to be a small snake, apparently non-poisonous but nevertheless not an acquaintance we cared to encourage further.
All in all it was a wonderful experience and as our visit came to an end, we found ourselves wishing that we didn't have to continue onwards to Kuala Lumpur. The natural beauty of Langkawi and the idyllic time we spent left us craving for more.
We reluctantly bid adieu to the island along with the promise that we will be back for another visit soon. And we have every intention of keeping our date with this paradise