Your 10-step guide to selecting a university abroad
Rajiv Ganjoo
Knowing your career goals is the first step to shortlisting a university...
It helps to have an honest chat with yourself to know which universities best match your academic potential rather than applying to those you fancy, just because everyone likes to go there.
A quick 'reality check' will not only set you on the right track but also make sure you don't fall prey to unethical consulting. Here's a ten-step guide to help you select universities that will offer you the best of academic and cultural experiences:
Step 1
Based on your potential and career goals identify an area of interest which you want to explore further as each application can cost up to $300 (approx Rs 13,344). If you don't know your interest yet, postpone the decision until you are sure.
Step 2
Research your programme as programmes with the same name can have different specialties. Scour websites, brochures, literature on your desired programmes for a fair analysis.
Step 3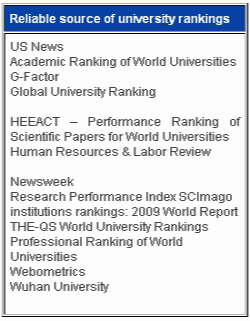 Find out university rankings from reliable sources like THE, Financial Times, Newsweek (for more details refer to the adjacent box on univeristy ranking sources).
The author is chief mentor, consulting, World Education Consulting.
Photographs:
Uttam Ghosh/ Rediff.com
Engage with alumni and faculty
Step 4
From the rankings, find universities that do good research in your area of interest and offer grants. Visit respective consulates for unbiased and accurate information on universities.
Step 5
Email the admission officer for any query you may have about the programme. Engage with alumni and faculty to know more about the programme.
Step 6
Consider universities where your seniors have secured admission and financial aid. If those universities are satisfied with their experience, the chances are they will consider your application favourably.
 
Step 7
Geographic factors. Industries concentrated in particular states tend to hire heavily from the universities around them. Hardware firm, Dell, based in Austin, Texas, hires a lot of engineers and MBAs from Texas A&M University, University of Texas at Austin and University of Texas at Arlington.
If you are interested in automotive engineering or management, consider applying close to Detroit where the Big Three (Ford, General Motors and Chrysler) are based.
Comparative charts help in the decision process
Step 8
Now identify one or two 'dream schools', three or four 'good-match' schools and two safe schools. Dream schools would be the top 10 colleges where admissions are tough, a good-match is good academic life and a good chance of admission; safe ones would be universities among the top 50 universities but with good facilities. Remember to pay equal attention to each college in the three categories as admission selection is subjective.
Step 9
If confusion persists, draw a comparative chart that reflects the strengths and weaknesses of each university in terms of:
Minimum GMAT/ GRE/ SAT/ IELTS/  TOEFL score accepted in previous years
Your potential and programme's offerings
The rank of the programme
Faculty and department's area of specialisations
Strength of Indian students
Accreditation with local and international bodies
Cost of study
Accommodation, facilities and location of the institute
Step 10
Now that you have almost made up your mind, roll up your sleeves and aim for:
A good GPA/CGPA
A good GMAT/ GRE/ SAT/ IELTS / TOEFL iBT score
A strong personal statement or Statement of Purpose
Solid work experience
Extracurricular experience
A short and crisp resume 
Photographs:
Uttam Ghosh/ Rediff.com