Ritu Beri: The desi darling of Paris
Last updated on: October 22, 2010 19:30 IST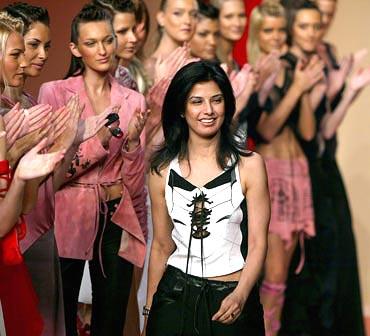 The face of Indian haute couture was honoured with one of France's highest civilian awards yesterday, for her contribution to the world of fashion. We bring you the lowdown, along with a look at some of her hottest catwalk creations.
Kylie Minogue, Lata Mangeshkar, George Clooney, Nandita Das -- and now Ritu Beri.
The designer was felicitated with the Chevalier dans l'Ordre des Arts et des Lettres (Knight in the Order of Arts and Letters), one of France's highest civilian awards, by Ambassador of France to India Jerome Bonnafont at a ceremony in New Delhi yesterday.
The ambassador said that Beri is an "embodiment of haute-couture in India" and that France sees her "as a link between the two countries. By conferring this award upon Ritu, we also see it as a way to enhance the cultural relationship between India and France."
Bonnafont also pointed out that the designer is one of the first South Asian women to head a French fashion house -- she was at the helm of Jean-Louis Scherrer for a year, from 2002 to '03.
Union Home Minster P Chidambaram, who graced the occasion, joked that while he doesn't know much about the world of fashion, given the kind of clothes he wears, he is "very proud, very happy and delighted" with Beri's French honour.
"When we were a closed economy, we did not think much of the world and the world did not think much of us. When we opened the governmental economy to the world we were also opening the talents of the Indian people. Ritu Beri is one such example -- there are hundreds, thousands of such examples in the country," said Chidambaram.
Columnist and author Shobhaa De also paid tribute to Beri, describing her as an "accomplished, beautiful and a committed" woman. "Ritu's relationship with France is akin to a marriage made in heaven and the Indo-France relationship will be cemented by this connection," she added.
Beri, whose client list includes Bill Clinton, Prince Charles, Nicole Kidman, Akshay Kumar, Preity Zinta and other A-list celebs, was overwhelmed with the honour and stated, "I am a huge dreamer. This award was beyond my dreams. Paris is very special. I do believe Paris is my destiny. It was meant for me. Since I was ten, Paris is where I wanted to be."
She further added, "My shows reflected the love I had for India and if I am where I am today, it's only because of that bond I shared. All I can say for now is the dreamer in me will dream on."
In the following pages, we bring you glimpses of some of Beri's best works -- take a look!
Inputs: PTI
Ravishing in red
Last updated on: October 22, 2010 19:30 IST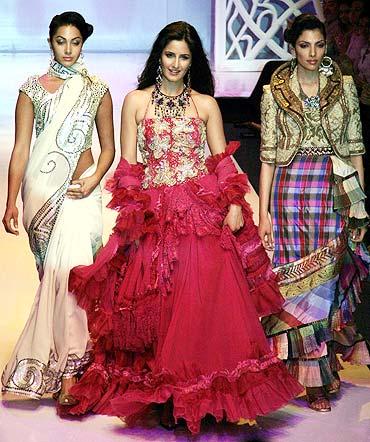 Actress Katrina Kaif walked the ramp in Beri's showstopper, a ruffled red gown with corset bodice, at the Lakme Fashion Week back in 2006.
Too good to pass up
Last updated on: October 22, 2010 19:30 IST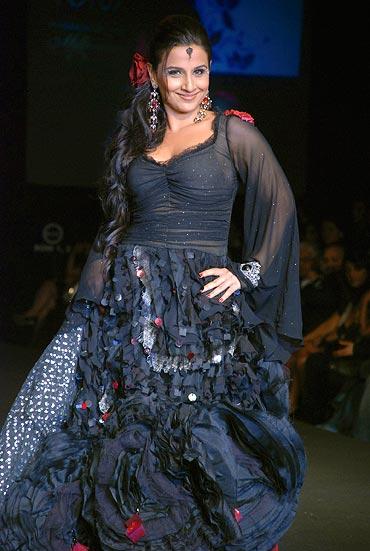 Last year, Vidya Balan stayed out of her Sabyasachi favourites long enough to catwalk for Beri too, donning this flouncing number on the opening day of the Gitanjali Luxury Style Fest in Mumbai, January 20, 2009.
Versatile verve
Last updated on: October 22, 2010 19:30 IST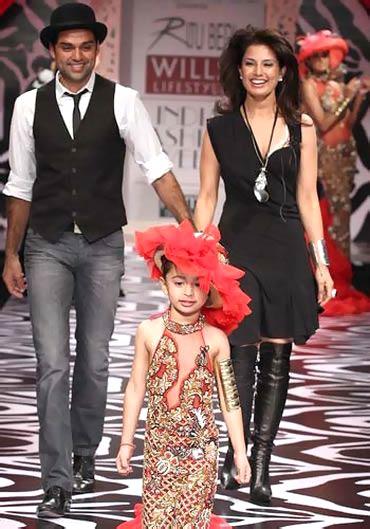 Despite specialising in womenswear, the designer got Abhay Deol togged out in a waistcoat, jeans and a bowler hat for her showing at the Wills Lifestyle India Fashion Week in October 2009.
Casual class
Last updated on: October 22, 2010 19:30 IST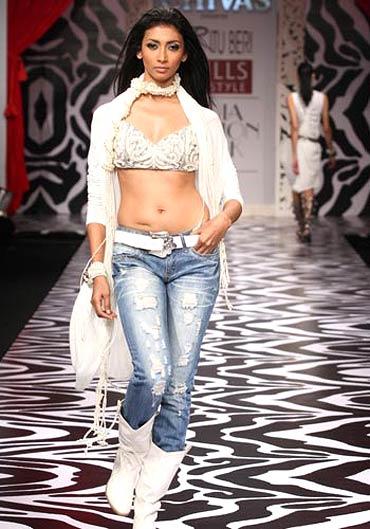 And she can pull off casuals as effectively as eveningwear -- catch model Lakshmi Rana sizzle in these jeans, boots and a bikini-style choli, also at the WLIFW.
Dare to bare
Last updated on: October 22, 2010 19:30 IST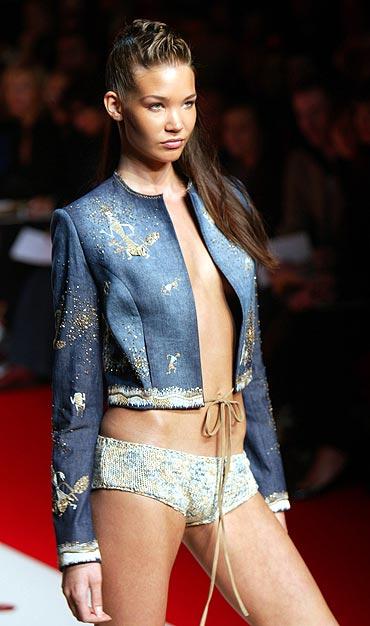 And Beri has never shied away from skin show, especially when it comes to her Parisian showings -- this jacket and boy shorts date back to Scherrer's spring/summer fashion show in Paris, October 2002.
Bikini babe
Last updated on: October 22, 2010 19:30 IST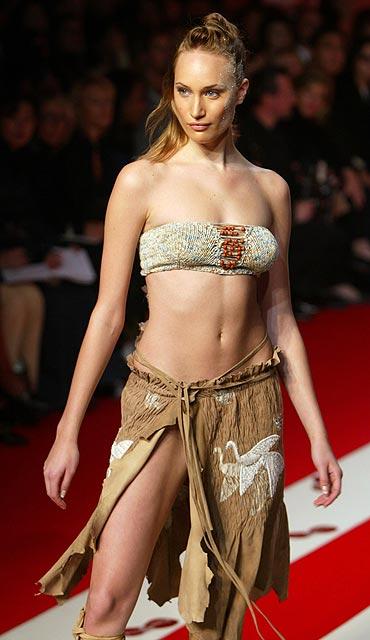 Another offering from the same show was this knit bandeau bikini, worn with a ragged-edge earthy wrap sporting a bird motif.
Ruffled richness
Last updated on: October 22, 2010 19:30 IST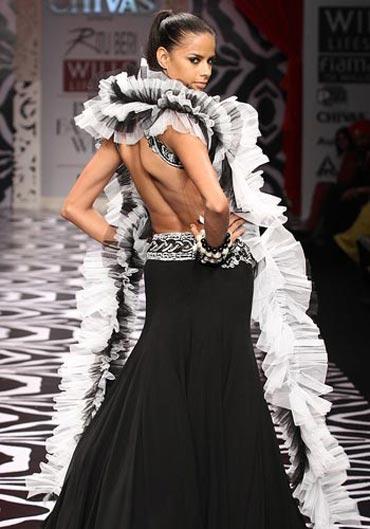 She can go from beach bomb sexy to glamour with the snap of a finger -- here, Bhavna Sharma poses in a backless floor-sweeping gown, complete with ruffled boa.
Cut-away couture
Last updated on: October 22, 2010 19:30 IST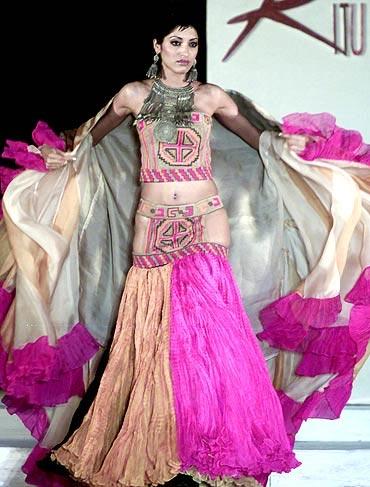 Beri brings her brand of feminity to ethnicwear too -- her Nirvana collection from 2001 saw Jesse Randhawa don this cut-away lehenga and matching strapless choli.
Sparkles galore
Last updated on: October 22, 2010 19:30 IST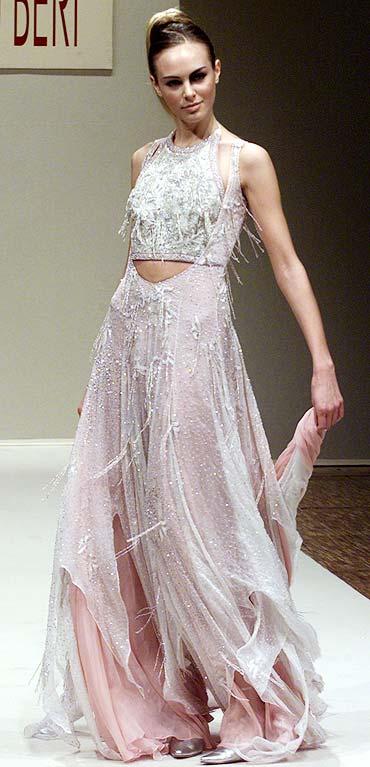 The designer's Indian roots show in her Western creations too -- this fusion outfit from her autumn/winter ready-to-wear line, showcased in Paris on March 17, 2001, teams the beauty of sparkling embroidery and a hot little choli with the radiance of an evening gown.