Teacher's Day: 'He taught straight from the heart'
We bring you readers' stories about their favourite, most inspirational teachers.
We invited you to share special experiences about your best-loved teachers with us to celebrate Teacher's Day on September 5. Here we present some more responses we received.
We start off with Krishnan Devarajan dedication to his maths teacher:
I come from the town of Varanasi and was a student of St John's School there. The teachers in my school were enthusiastic people, but there were however very few who were able to go beyond teaching us the normal academic workload and preparing us for the exams.
I met with Mr S Chakraval, our mathematics teacher when I entered the eigth standard. I have hardly seen him smile, he was a no-nonsense teacher and would always maintain a very stern demeanor. The impression I had of him was not exciting. This changed the moment he started taking his classes. He refused to go by the book or academics. He refused to teach us for marks. His teaching came straight from his heart and his passion for the subject. He would challenge the class to learn the principle behind the topics in mathematics.
Sir Chakraval made us look at mathematics in a new light. I could see the entire classroom gripped with energy when he taught. His style would always be interactive, picking and pulling up each and everybody, no favourites, no front-benchers. His passion was infectious and outstanding.
Sir was a man of unrelenting principles, he preached what he followed. He wanted total discipline and he himself was a man of utmost integrity (no extra class, paid tuitions, coming late etc). We could see lots of us who were previously not interested in the subject, contemplating a career in mathematics, engineering etc.
I have an engineering and management diploma from one of the best institutions in country, but I have never witnessed the kind of hold a teacher had on his students like Sir Chakraval had, ever! Do you know the fail percentage of the class taught by a teacher who refused to believe in marks? It was 0 (a teacher never evaluated his papers from own class, so it was unbiased). He has given direction to lot of young kids like me. People like him are an example of how much a teacher can influence, no, in fact rock society.
He is no more now and I wish his soul rests in peace. I still think of him a lot when I see the commercial market our entire education system has become, and really feel blessed that I had a chance to be his student. Thank you dear Sir, it was a privilege and honour to be your student! I owe a lot of my success and growth and the human being I have become to you.
He may not be a Prime Minister or a President but the contributions of such teachers are no less (in fact much, much more).
---
Next up is Jeevan Padanthaya message to his first teacher -- his father: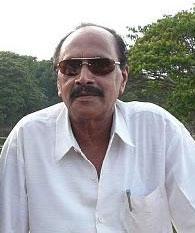 I was born in a small village in Coorg district, Karnataka. It was because of my parents' vision that we (my brother and I) got a very good education throughout, which has helped us to be what we are today. The teacher who has made a difference in my life is my father who was a teacher with over 40 years of teaching experience until he retired in 2000.
Both my parents never let financial problems or any other personal problems interfere in our education and strived hard to provide us the best education.
I still remember all the coaching and teaching he used to give me especially with regards to the history of various countries including India, of course, as he was a history teacher. He also knew the way in which one should study which has helped a lot during my early days.
He used to tell us stories of all the famous historians around the world which helped me understand the world better (we did not have TV at that time). He also used to write speeches for me in my early school years which helped me to speak out without any hesitation and also remove any stage fright.
I sincerely thank my father from the bottom of my heart for being my first teacher and teaching me the values of life and the way to study to become a better person. I also wish him Happy Teachers Day!
---
Here Nalini J Kudalkar from Mumbai shares an invaluable lesson her school teachers taught her:
I studied in a co-ed part municipal/part-convent high school in Girgaum -- Seth Jagannath Shankerseth Municipal School. All our teachers were very strict, and my gang was very mischievous. But with every class and every year, we gradually changed from a mischievous lot to a mature one.
In our SSC year it was time to bid farewell to our school. Our studies kept us busy throughout the year and we did not have time to talk to our teachers. On the final send-off there was a get-together and our teachers lectured us on our venture into the outside world. One of our teachers wrote out a line on the blackboard and asked us to write it down or just remember it.
We as obedient students (especially I) followed the instruction very quietly. The line was "Every good deed leads to god". I have followed this till today and am happy with the results.
I am thankful to all the teachers of my school to have given this beutiful mantra to me, as it helped me change my world and its surroundings and made life easier to live.
---
And here Pamela Sinha Mathur reminisces about her two favourite school teachers:
In the course of my student life, I have come across many teachers, many of who had knowingly or unknowingly influenced my life. English being my favourite subject in school, there is little wonder that I was always partial towards the teachers who took our English language classes.
One such teacher was Madhusree Ma'am who was also our class teacher in class VI. Dark, petite and attractive, she always had a smiling face and words of encouragement for her students. Whenever she took over as a substitute in the absence of any other regular teacher she would refuse to take lessons and instead would organise word games for the entire class to play.
Looking back, I realise how skilfully she had helped us improve our vocabulary through such simple games without us having to resort to learning by rote. She truly deserves our respect and love, earned not through threats and punishments but through understanding and compassion.
Another teacher I fondly remember is Shri Aniruddha Lahiri, who used to take our First Language English in classes XI and X. A person so passionate about his job was a rarity even back then. Aniruddha Sir was an elderly gentleman but when he read out portions of Silas Marner to us in class, he would enact different characters from the story for our understanding. Once he had even enacted the role of a young girl walking while balancing a pot of water on her head!
A pair of thick glasses indicated his weak eyesight but his love for books was undimmed. He would encourage us to discuss and debate the texts and taught us to analyse and understand the subject rather than merely memorising it. He was a great admirer of the great Kabi Guru Rabindranath Tagore and ultimately all discussions would end up on the poet! His love for English literature rubbed off on me and till date Silas Marner remains one of my favourite books.
---
With Teacher's Day coming up on September 5, we want you to share a story about your favourite teacher with us. It can be amusing, interesting or sentimental -- but it has to be about that special someone who made the biggest impression upon you in the course of your academic career.
Simply write in to us at getahead@rediff.co.in (subject line: 'To Teacher, with love') with your experience and, if possible, a photograph of your teacher and you. We'll be publishing the best entries right here on rediff.com!