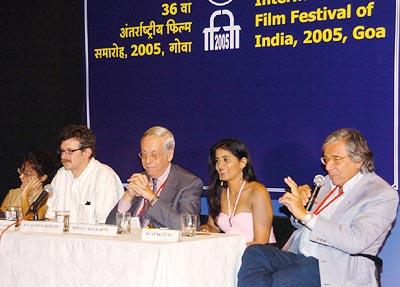 It's official. India has started 'exporting' actresses.
But the problem is, our leading ladies aren't quite getting the same screen time abroad.
After Mallika Sherawat's blink-and-you-miss-it appearance in Jackie Chan's The Myth, and Bipasha Basu's equally brief nine-minute attempt at serious cinema with Prakash Jha's Apaharan , Sonali Kulkarni now makes a fleeting appearance in Lamberto Lambertini's Italian film, Fire At My Heart (Fuoco Su Di Me).
Cinema lovers are encouraged instead to catch La Febbre (The Fever), an interesting Italian film playing at International Film Festival of India, directed by Alessandro D'Alatri.
A genial man, the director warmly clasped the hand of everyone who came to wish him after the screening, and was visibly gratified by the reception his film got in Goa.


In the picture: Allesandro D'Allatri, Paatrizia Raveggi, Italian Ambassador Antonio Armellini and Sonali Kulkarni at IFFI 2005