Do you have any special memories that were created during the monsoons? We invited Get Ahead readers to share their romantic monsoon memories with us, and we have been flooded with responses. As part of an ongoing series, we present three stories we received.
---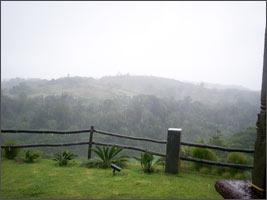 I just love the rains! I was born in the month of July in 1970 in the sleepy town of Karkala at the bottom of the Western Ghats near Mangalore. My grandfather used to chide me saying, "You are an incarnation of Lord Varuna. It was raining so much that we could see you only when you were 3 days old." I was born at my maternal home just two km from my home, but the heavy rains prevented my family from seeing me for three whole days!
My love for the rains is next only to my love for life. All my childhood was spent enjoying the rains and the associated fun. Hot coffee with crispy jackfruit papads specially prepared for rainy days, spicy curries prepared from seasonal shelled mushrooms with boiled rice and the sensational idli-sambar prepared by my mother were some of the rainy season specials I miss badly now! Literary greats like Shivarama Karanth, Kuvempu and Tejaswi too added to the ambience. My love for literature has always been intertwined with my love for the rains.
I enjoyed riding my bicycle in the rains too! The smell of soil after the first downpour, the sound of the rain falling over the tiled roofs and fishing in those tiny ponds that came alive during the monsoon seem so unreal today.
When I moved to Bellary in 1988 to pursue my medical education, the rain song went out of my life. I tried my best to rush to my hometown during the rainy season, but that was not always possible. Now I have settled down in Kochi, once famous for rains and waterlogging during monsoon.
Most of the important incidents in my life were greeted by rains. It rained when I was born; rather I was born when it rained. It rained in Bellary the day I went there for my admission to Medical College. My wedding was in the moth of September, but it still rained. My daughter was born in November and it rained on that day. When I managed to construct a home for my family in Kochi, it rained, rained and rained for three whole days during the housewarming. The joke then was, "This house really needed warming!"
When I met my girl, I told her my idea of romance was to walk in the rains sharing the umbrella. We have enjoyed several of those romantic walks since then. I still love the rains and would love to do all those wonderful things over and again. But unfortunately, the rain gods have become unkind to this part of our planet. So we have to make do with whatever we get. I am extremely saddened when people say, "We hope it doesn't rain today, we have a movie programme." In the middle of the monsoon season, people are praying for no rains. What will happen to us? Where will we go for water?
The only mantra I chant in my life is this: "Kaale Varshatu Parjanya, Prathweem Sasya shalineem!" (Let the earth be green with timely rains!)
Come rain or shine; forever in love with life and rain! I have attached a nice snap of Madikeri rain I had shot during my vacation there in August 2008.
-- KS Govind Raj Shenoy, Kerala
---
My girlfriend and I were out shopping one day when it started raining. We decided to seek refuge in a bookstore nearby, and while getting inside, I had an idea. I found a large comfortable chair and pulled it up to a window. While she made herself comfortable, I went and picked out a couple of poetry books that focused on the topic of love. We cuddled together on the chair and took turns reading meaningful poems to each other while enjoying the view of the warm summer rain coming down.
She ended up falling asleep in my arms (she was tired from all the shopping), but when she woke up, she said it was one of the most romantic afternoons she's ever had!
It's the warmest and safest feeling I have ever experienced. It may sound boring, but it really is a beautiful thing to do together.
-- Illur Iqbal, Bangalore
---
This happened five years back. I worked in a call centre in Chennai. There happened to be a cute girl from Lucknow working with me. We had become good friends. We were poles apart but had an instant connection with each other. She worked in the shift from 4.30 pm and my shift used to start from 7.30 pm. I liked her very much. I used to come to office daily at 4.30 pm just to book the seat next to her so that I could sit with her till the end of the day.
I had to lie to my team leader -- that I had come to go through the training manual and improve myself. It was all bull****. I came to work only for her.
I am a very impatient guy. We were good friends but I wanted to take the relationship to next level. She had a past. She liked a guy, who died in a accident. She was not able to overcome that and she thought of me more as a friend. She would tell me everything about her life.
I would be dishonest if I didn't say that her cute face attracted me initially. But then after speaking to her, I liked her nature. She was warm as a person and friendly. She would also flirt with the male customers. That actually made me jealous. When she talked with other guys, I always felt jealous. I felt very possessive about her. I thought, she would understand my feelings without me telling her. She stayed in a hostel so I would bring food for her from home everyday.
One day, I thought to propose to her. I was very tense, if she rejects my love. Nobody likes rejection in life. It was raining heavily that day. I was scared to propose her directly. She liked me as a friend but would she reciprocate my love? I don't like technology but I made use of technology and sent her an SMS telling about my feelings. I had a bought lovely gift for her, which I sent to her through my best friend. She did not accept the gift and also stopped talking to me. She always told me that she would still be a friend, but she wasn't.
This love story happened during the monsoon months.
-- Pankaj Kumar Sinha, Chennai
---
Share your monsoon memories with us -- we want to hear all about your romantic rainy liasons and experiences. Write in to us at getahead@rediff.co.in (subject line: 'Monsoon Romance') with your monsoon memories. Include your name, age and hometown (those who prefer to keep their identities private may do so) and tell us your love story -- the most interesting ones will be published right here on rediff.com.