Mumbai-based chef Zubin D'Souza spent months scouring the country, looking for recipes fabled to increase the libido and put one in the mood. From housewives to palace chefs, he grilled everyone possible and has now compiled a book of these secret preparations that are believed to possess aphrodisiacal properties.
Khana Sutra promises to give you a little nudge in the bedroom! Split into different courses, the recipes allow you the choice of a quick snack or a five-course meal. It also explains the various ingredients and how they work to your advantage.
As part of a series, we will bring to you one recipe from each course over this week. Read, cook and enjoy!
Presented here is an excerpt and recipe from Chapter 8: Passionate Nibbles.
The first course
Obviously, you are trying to create a great impression. You have done up the house and colour coordinated the table linen. You have the smoke from a couple of aromatic candles wafting in the room and a melodious strain emanating from your player. You want to serve a first course that leaves a promise of things to come. Something subtle and light, mere teasers, that will make your partner feel like sitting up and begging for more. Stay with me while I walk you through this one.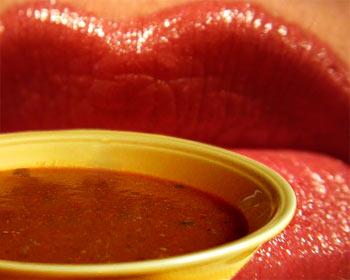 Sandal dhoop ka tamatar shorba (Sandalwood smoked tomato soup)
Indians treat sandalwood with great reverence. It has been mentioned in scriptures that precede us by over five thousand years. Amongst other things, it has been used to purify the body, clear lesions and skin ailments, appease the gods and as an aphrodisiac. This is a really beautiful soup with some absolutely great results. Sandalwood powder or shavings and holy basil are available at most Asian stores.
Ingredients:
Ripe tomatoes cut into half: 300 g
Sliced onions: 40 g
Chopped garlic: 10 g
Shredded ginger: 10 g
Greencardamom pods: 4
Cloves: 4
Holy basil/tulsi: 5
Oil: 10 ml
Butter: 5 g
Salt to taste
Sugar: 5 g
Sandalwood powder/shavings: 5 g
Chopped coriander leaves: 3 g
Method:
Heat the oil in a thick-bottomed pot and toss in the onions. Simmer them gently till they turn golden, add in the ginger, garlic and continue to cook till the flavouring start to change colour. Add the tomatoes, sugar and salt, stir and when the juice starts to come out of the tomatoes; add cardamoms, cloves and holy basil. Simmer and stir for about five minutes, add in about 750 ml of water. When the soup starts to thicken, strain it through a finely meshed sieve. Pound the tomatoes with the base of a spoon to extract the maximum amount possible. Discard the tomatoes and flavourings.
Place the strained soup in a bowl. Place the sandalwood in a smaller bowl and set it alight, place this bowl inside the bowl containing the soup. Drop the dollop of butter on top of the lit sandalwood and when the smoke emanates, cover the entire container with aluminium foil.
After half an hour, remove the foil, taste and adjust the seasonings if required. Reheat the soup, finish off with the chopped coriander leaves and serve hot.
Excerpted from Khana Sutra (Rs 250) by Zubin D'Souza, with the permission of publishers Jaico Publishing House.
Click here to buy Khana Sutra from rediff Books!