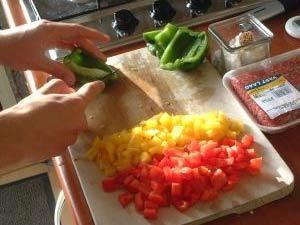 When you're too tired to cook and too rushed to think about it, it's too easy to make bad decisions about what to eat; take-away and fast food seem an easy option. With a little bit of planning, however, you can cook quick, nutrient-dense food that gives you more nutrition per bite! Eating healthy doesn't have to take a lot of time. You can prepare a healthy meal just as quickly as an unhealthy one.
You can have a healthy meal on the table in 30 minutes, from start to finish. The key is a little planning. Read through the recipe and make sure you have all the ingredients (or good substitutes) on hand.
Here are the five healthy dishes that can be prepared in 30 minutes or less:
Besan Cheela
Besan Cheela (also called chilla, puda, pudla), also referred to as Vegetarian Omelette in some parts of India, is a traditional Indian breakfast and evening snack item which is quite easy to prepare. It takes less than 20 minutes to prepare this nutritious, low-calorie, high-protein food. Besan (gram flour) is a good source of cholesterol-lowering fiber which also prevents blood sugar levels from rising too rapidly after a meal, making these beans an especially good choice for individuals with diabetes, insulin resistance or hypoglycemia.
Recipe
Mix besan, finely chopped onion, green chillies, coriander (dhania), red chilli powder and pepper powder in water like dosa batter.
Heat a non-stick pan and pour about half a cup of batter on to it.
Pour some oil onto the sides and cook till crisp.
Serve hot with green chutney.
Lemon Coriander Soup
Fragrant lemon juice and piquant chillies make this clear soup very appetizing. Coriander lends its own distinctive flavour and freshness to make this one-of-a-kind soup. While lemon works well with its antioxidant and anti-cancer properties, coriander works as a good anti-diabetic.
Recipe
In a pan, heat some oil and saute finely chopped onion, spring onions, ginger and garlic till they are translucent.
Add vegetable stock, coriander stems, cabbage, carrot cubes, coriander leaves and crushed peppercorn and bring to a boil.
Strain the water and bring it to boil again, add salt and lemon juice.
Garnish with chopped coriander leaves and serve hot.
Egg White Omelette
From bowl to table, 10 minutes is all it takes! A low-fat, low-carbohydrate, low-cholesterol start to the day. Egg whites are fat-free and a good source of protein. In addition, egg protein is easily absorbed and digested by the body. It is for this reason that sportsmen and body builders often tend to have egg whites in their diet.
Recipe
Mix egg whites with pepper, green chillies, herbs, diced onion and mushrooms (optional).
Heat a little oil in a frying pan. Pour the egg white mixture in and keep on medium heat till cooked.
Oats Upma
What better way to gain the strength and energy to carry you through a hectic morning schedule than with a steaming bowl of freshly cooked Oats Upma. Oats, with their high fiber content, not only help remove cholesterol from the digestive system but also act as antioxidants and thus reduce the risk of cardiovascular disease.
Recipe
Roast the oats in a pan without oil for about three mins and keep aside.
Heat some oil in the pan and add urad dal (black gram), chana dal (Bengal gram), mustard seeds, green chillies, dry red chillies and fry for some time till the dal turns golden brown. Now add sliced onions, minced ginger and curry leaves.
Saute the onions till they are tender, add asafeotida and salt.
Add water and boil for a minute or two, then add the roasted oats. Keep stirring till all the water is absorbed and oats are thoroughly cooked.
Serve hot.
Whole Wheat Pasta
Pasta is a favourite comfort food -- it's quick and easy to cook and always tastes good. But with all those carbs can it be healthy too? You bet! The trick is to use pasta made of whole wheat and by adding more lean protein and vegetables into the mix. Whole wheat is a rich source of fibre which helps lose weight and also lowers the risk of diabetes and cardiovascular diseases.
Recipe
Boil the pasta in salted water. Once cooked drain the water.
Mix together oil, vinegar, tulsi (basil), oregano, salt and pepper and keep aside.
Take another pan and saute capsicum, garlic, broccoli and carrots till soft.
Pour the cooked vegetables into the pot with the pasta.
Pour the vinaigrette (mixture of vinegar, oil and other herbs) over the pasta and vegetables. Toss to distribute vegetables and vinaigrette evenly.
Other than the recipes above, there are many others that you could try your hand at such as whole wheat / multigrain bread sandwiches, roasted / steamed vegetables, soups made of tomato / sweet corn, etc.