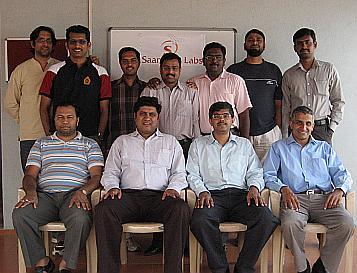 With close to 20 years of experience in the microchip industry behind each one of them, these technology professionals chose not to settle down into a regular nine to five job… instead they decided to let go of their comfortable paychecks and follow a dream: to make history.
The founder members, Parag Naik, (Chief technology officer, vice president, marketing and director), Vishwakumara Kayargadde, (Chief executive officer and managing director) Hemant Mallapur, (Vice president -- engineering and director) and Anindya Saha, (Director) came together in 2006 to start the Bangalore based start-up Saankhya Labs.
The idea that got them together was to create the world's first proprietary multi-standard TV demodulation technology -- a microchip used in TVs and set top boxes that extracts mpeg (moving pictures expert group: a standard for audio and video compression and transmission) data from the dish antenna/cable. What sets their version apart from existing ones is the fact that all other semi conductors need four different kinds of chips to address the different technologies in the world.
Saankya, however, has developed a single chip that will do the job.
Their contribution has already been recognised, within three short years of opening shop, in the form of two awards. In June 2009, Saankhya Labs won the 'Best Start-up' award at Silicon India's Start-up City 2009. And in February this year, they won the 'ISA Start-up to Watch Award" at Technovation 2010. And what's more, this isn't even their first business!
Parag, Vishwakumara and four others had got together in 2000 to start a company called Smart Yantra Technologies, which specialised in audio video streaming solutions. However, in 2004, the company was acquired by Genesis Microchip, and a couple of years later, Parag, Vishwakumara and Anindya quit along with their colleague, Hemant (who also had experience starting his own company before joining Genesis) to start another company on their own.
So why did they decide to quit lucrative jobs with Genesis and start their own company? "Well, once an entrepreneur, always an entrepreneur," says Parag.
"It becomes difficult to work for someone else once you have worked for yourself." However, Hemant had a different reason.
"For 17 years, I have been working for MNCs and learning about this industry. What I found was the sentiment that in India one cannot do the architecture, only the design. They (MNCs) would come up with ideas and India would implement them. I didn't agree with this, and had the confidence that we could build the product from concept. And then of course, I also had a latent ambition of becoming an entrepreneur."
Anindya agrees, "I have also worked in MNCs before, and wanted to do more innovative work. I agree with Hemant that Indians can innovate and have the skill to conceptualise and implement. We decided to take this step because we were sure we had the skill and know-how to build this technology."
In an interview with Insiyah Vahanvaty the co-founders of Saankhya Labs discuss the challenges they face as a start-up, their advice to budding entrepreneurs and their future plans.
Challenges they faced along the way
Getting a core team was a challenge because of the required skill set, and also the company needed funding which was a hurdle. They could not match the salaries that MNCs were offering.
"We found people working in MNCs who wanted to do something different. If we succeed, we'll make history. It's the thrill that brings us together, not the money. We had to handpick people we knew and wanted," explains Parag. "Convincing people was a task. We couldn't offer lavish salaries, only good work and dreams. We were lucky to get the team we have now. Incidentally, Sunil HR (Director -- software) and Abdul Aziz (Principal Architect Systems) were with us right from the beginning -- they co- founded Smart Yantra!"
"To raise money, we approached two investors we knew personally, who really helped us", continues Hemant. Also, chip making is a capital-intensive business. We are aiming to do it 10 times cheaper in India. Luckily, we have got visibility because of the awards we won. It took us 18 months to make the first prototype." finishes Anindya.
"Another problem was that all our customers are huge companies. So when we went to Japan with this idea, they looked down upon us. However, the second time we went, they were pleasantly surprised. So far, we have got two customers, to whom we will deliver by the end of the year. You become innovative when pushed against the wall," grins Parag.
Advice to aspiring entrepreneurs
"The journey is more important than the destination. Everyone has romantic dreams, but it's lot of hard work, sweat and blood. If you're prepared to rough it out, do it. That's why we decided to do it the second time.  It's really thrilling", says Parag.
"In India there are lots of easy ways to make money. The economy is doing well and it is a cheap destination for oversees companies. But these companies limit your potential. I would say, go into product development -- the risk is higher, but so are the pay offs. You end up contributing to the country's GDP, so you're giving something back as well. We Indians need to get in the limelight ourselves -- not do all the work and let the credit go to someone else," declares Hemant.
"Our company is completely made in India but made for the world market. Young people need to start taking risks. However, it depends on their parents also -- the middle class value system doesn't allow for entrepreneurship. That change needs to come in. Then you'll start seeing a lot more start-ups, the way it is in China and US. Small countries like Taiwan have more technology companies than India," adds Anindya.
Future plans
We want Saankhya to grow and be successful. We want it to be a role model for engineers so they can try crazier ideas and make India grow. We want to see our chips in the majority of TVs in the world!
Image: Sitting left to right: Anindya Saha, Parag Naik, Hemant Mallapur, Vishwa Kayargadde; Standing left to right: S Harishkrishnan ,Shrinivas Bhat ,Sunil H R, Magesh S ,Gururaj Padaki , Abdul Aziz, Santosh Billava