Choosing best funds for the new financial year: Tax-saving vs equity funds
Anil Rego
The investment you make is dependent on multiple factors, one being your risk appetite.
For someone looking at equities, you have to deal with downsides as much as with upsides.
Be it ELSS (equity-linked saving schemes) or diversified equity mutual funds, both are higher risk instruments. Investment in either of these fund categories should be based on an informed decision and in line with your objectives.
Here's a quick round up on information which will help you make a sound decision: Key features Broadly both these fall within the same asset class: Equity. owever, there are subtle things that set them apart.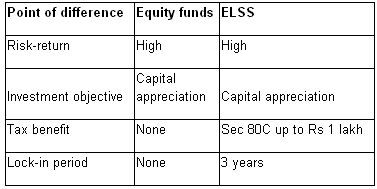 Objective
Remember that your objective of investment is the key to choose the right investment.
With equities, there are various types of funds -- large cap, index funds, mid cap, blend cap, sector funds, and theme funds. A host of options needs to be selected based on the objective of investment. Mid cap and sector funds are perceived to be the most risky ones, index and large cap funds are comparatively of lower risk. If tax benefit is not the prime objective, but one intends for capital appreciation, then this is where his money should belong.
If one is looking for tax benefits but wants returns in excess as compared to NSC and conventional debt instruments, with risk appetite, then you know ELSS is your destination.
Comparative parameters: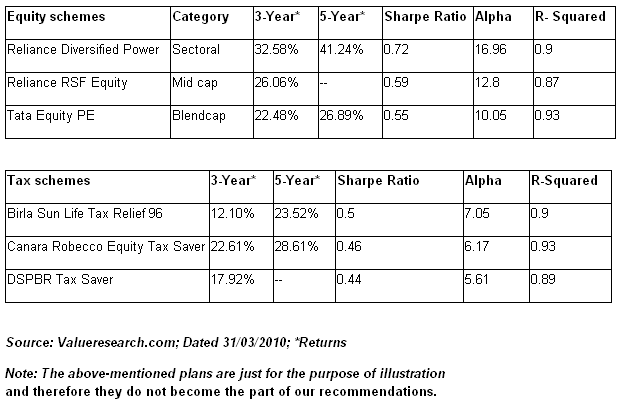 Photographs:
Rediff Archives
Criteria for choosing good funds
If we compare the two funds on the basis of returns provided by them, then its equity schemes have fared better than ELSS. However, there are times when ELSS tends to outperform, especially during a downtrend when fund managers managing diversified equity funds may face redemption demand, with increased pressure, he may have to exit holding at losses to cater to panic in the market.
Given that they have varied objectives, it may be imprudent to compare them on a generic basis -- the individual's objective should be the sole criteria for the choice of investment one makes.
Criteria for choosing good funds
Should fit with your investment objective
Should have high/good returns, with risk appetite
Should have a tax-saving element to it
Once you figure about the above criteria list down all the funds in that category. Look out for funds which have positive alpha (it indicates how much the fund has earned over the benchmark index), past performance (ideally equity investments should be seen from a 3 to 5-year perspective), funds with high R-squared value (indicates till what extent the movement in fund can be explained by the movement in benchmark index), Sharpe's Ratio (indicates the efficiency of the fund manager, higher the better, above 0.45 will do), evaluate the track record of the fund house and the fund manager.
Finally, once you choose funds based on the above criteria you can make investments into them. Also, ensure that you do not fragment your portfolio too much.
How much is too much?
Investment in ELSS / equity funds depends on the age group one belongs to. A simple thumb rule that is internationally followed is that one should have as much equity exposure as '100 minus your age'.
A conservative investor could follow '80 minus your age' thumb rule. Do keep in mind that this is a simplistic way of determining your equity exposure. Other factors that determine your risk appetite are nature of your needs, number of dependants, etc.
SIP or lump sum
One can do an SIP with equity fund or the ELSS fund. This is a preferred route as it helps reduce risk. Do keep in mind that each installment of the SIP needs to be held for 3 years in the case of the ELSS fund.
Dividend or growth option can be chosen based on your liquidity needs. Growth is preferred since equities do tend to give you a good compounding benefit in the long term. If the dividend received is not reinvested, one will miss out on this benefit. Should dividend reinvestment option be chosen? Dividend reinvested will again have a lock in for 3 years, so the investment period will be extended.
Final word...
We have always said it and we'll say it again, all your investments should be your own informed decision. Understand where you are putting your money into and know what exactly you should expect from the same. ELSS or equity MFs should be purely guided by your objective of such investment. Also, remember to align all your investment with your financial goals.
Summary:
Assess your risk appetite before choosing to invest in equities -- do not go overboard on your equity allocation
ELSS or Diversified equity funds -- your objective should help you decide on the investment
Compare funds, evaluate on mentioned parameters and make an informed decision
When there is a downtrend do not panic; don't sell your investment or stop your SIPs