Want to work with L&T? Here's how
Last updated on: June 10, 2010 13:40 IST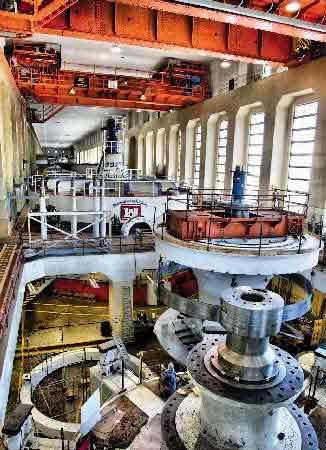 Every year L&T visits approximately 80 engineering campuses across the country to hire enthusiastic young engineers. The company recruits around 1,200 engineering graduates -- 400 for specialised work such as construction and design, and the remaining for its manufacturing and projects divisions.
Campus hiring: Are you eligible?
Academic qualification: First division or 60 per cent in class 10, 12 and graduation. Students with only one ATKT (allowed to keep term)/ backlog are accepted.
Areas: Most engineering disciplines. The hiring process for 2011 kicks off in September/October 2010, though in previous years it usually began in June.
Around 16 to 18 company ambassadors comprising senior retired officials and currently employed ones, visit campuses and make a pre-placement presentation. Interested students contact the placement officer or placement in-charge, who sends details to L&T, which then shortlists applications and informs the college placement officer of short-listed students who then appear for a paper-pencil entrance exam.
According to Mohan Madiman, vice-president, Corporate HR, 8,500 applications were considered in 2009, of which 3,800 students cleared the entrance examination. After the interview process, about 800 were selected.
Written test on campus
The difficulty level of test isn't as high as GRE or GMAT, says MS Krishnamoorthy, senior vice-president (Corporate HR & Personnel). Typically, exam results are announced on the same day and successful candidates called for the interview. The exam papers are set internally with professional help, and the duration is approximately one hour. The test comprises three sections: numerical, verbal and analytical, and no negative marking.
Cracking the personal interview
Last updated on: June 10, 2010 13:40 IST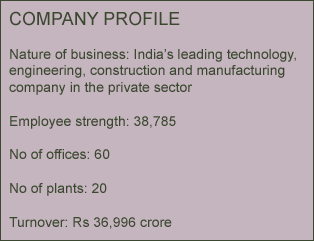 This level is tougher when compared to the examination, and candidates are assessed in several areas. A sound knowledge of concepts and their applications is paramount. Here, Krishnamoorthy points out that much before the company sends in its ambassadors it engages with both students and faculty to make them understand that in a company such as L&T, knowledge of all engineering concepts is necessary as most of the projects at L&T draw expertise from all the engineering fields.
The faculty is also told to focus on how to practically apply engineering concepts as most of the faculty have little industry experience. The interview panel judges the candidate's technical knowledge, reasoning ability, leadership qualities and communication skills.
"We look for people with a positive outlook and passion. We want students to be good in other activities besides studies. We are not looking for bookworms," says Krishnamoorthy.
Interview results are announced the same day and the selection decision is announced the following day. Months later, the company writes to candidates informing them about the joining dates. Candidates join between July and October in batches of 100 each, after submitting their final year mark sheet.
The finishing school
Soon after joining, young engineering recruits undergo a one-month training programme, held at different locations across India. For instance, in 2010 the selected candidates will divide their time between five training centres for the one-month training programme. These comprise Mumbai, Baroda, Surat, Faridabad and Bangalore.
The programme gives an overview of the company, its various divisions, the on-going projects from close quarters so that engineering graduates also understand how they could efficiently contribute. Engineers are provided accommodation and are given full salaries. The package in 2010 will be Rs 3.3 lakhs in the first year.
Undertaking and training
Last updated on: June 10, 2010 13:40 IST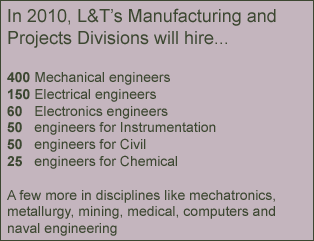 New recruits must sign an undertaking for a period of two or three years, depending on which division the engineer joins. The damages payable are equal to the duration of the undertaking.
According to Krishnamoorthy, the company at the time of the pre-placement talk clearly informs candidates that if they wish to leave the company after two years then they may as well not join; a fresh recruit only begins to understand what the company does in about two years so to leave before that is a bad investment for the company.
Those who join the power division must sign a three-year undertaking. These recruits have an additional three months of technical training to groom them as power professionals, after the one month of training that every engineering grad goes through upon joining.
Postgraduation is encouraged
Employees can pursue part-time management courses or a PG in technical education. L&T has tie-ups with several institutes such as IIM Ahmedabad, XLRI and SP Jain Institute of Management & Research, Mumbai, and with IIT Bombay and Warwick University for technical education.
The company bears two-thirds of the fee, while the employee pays one-third. If the academic record during the postgraduate programme is good, then the company reimburses the employee's contribution.
'Our people are given professional freedom'
Last updated on: June 10, 2010 13:40 IST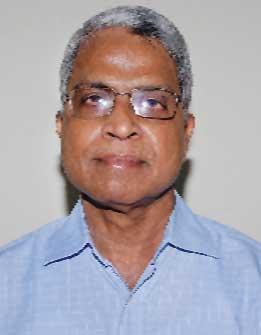 MS Krishnamoorthy, senior vice president, (Corporate, HR & Personnel), L&T talks about the manufacturing scene in India and the company's work culture.
Engineering students aren't keen on joining manufacturing companies. Why?
There was a time when manufacturing was lagging behind and the IT industry was doing very well. The latter offered attractive salaries to young engineering graduates, which could not be matched by manufacturing companies. But engineering students should keep in mind that, for India's GDP to pick up further, the push is going to come from manufacturing.
So, manufacturing is going to be an exciting industry to be a part of. And clearly in the next couple of years we would need many more engineers. Once demand goes up, salaries too become lucrative. But unlike IT, where the work is mostly desktop, in manufacturing, people have to be on the shop floor, manage people; it is solid work and demanding, too!
L&T's work culture...
For us, people are our assets. Our people are given professional freedom and we understand that it is the best way to encourage and motivate people to achieve more and set higher benchmarks for themselves. We encourage continuous learning.
What do you look for in young engineers?
A strong technical base, love for engineering, positive attitude, a passion for excellence and leadership skills.