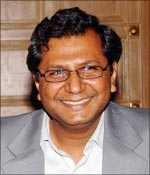 Andrologist and microsurgeon Dr Sudhakar Krishnamurti will be responding to rediff readers' sexual queries on a regular basis.
We invited Get Ahead readers to mail in their questions. Here is the next set of responses:
---
Sir: I am a 28-year old-professional and unmarried. My problem is that I feel my testicles are small. They are roughly about 2 inches in length. I found bigger testicles in porn movies and am a little anxious about it. My penis is about 5 to 5.5 inches when erect and I have the habit of masturbating almost daily. All other sexual functions are normal. Does it affect my fertility? If so, is there any treatment? Kindly keep my name confidential...
Porn is unreal. Porn is fake. Stop watching porn. Your physical attributes seem to be normal. If in doubt, consult an andrologist. Chapter 2, Fallacies about Phalluses, in my book, Sexx is Not a Four-Letter Word, may help you.
---
Hi,
My age is 35 and I recently got married -- my wife is 22 years old. I am facing penetration problems. Please advice.
Regards,
Bhaskar
There can be many causes for this. A detailed consultation and physical examination of one or both partners will be required. Such a problem cannot be addressed on a platform like this. Please schedule an appointment.
---
Dear Sir,
Please let me know ideally when is the best time to have intercourse with a woman for concieving? Also, how many times is intercourse required to get a female pregnant?
Regards
Piyush
The best time for conception is on the day of ovulation, ie the day when the lady releases the egg. In a 28-day menstrual cycle this would occur in the middle of the cycle, on the 14th day. Otherwise, as a rough rule of thumb, it may be expected to occur 14 days before the next period is due. In Indian cinema, conception occurs after just one night of frolicking in the rain followed by love-making around a bonfire, and often leads to even triplets being born, but in medical circles, it is generally accepted that a couple must engage in unprotected sexual intercourse for a year to a year-and-a-half before being labelled 'infertile' and commencing investigation and treatment.
---
Hello Sir,
I have a problem with my penis. For the past 3 years, my penis has a swelling on the top of it; at times it looks very normal, but sometimes it gets big. I never had sex in my life so far and am planning to get married in a month's time. Please guide me if this will be a problem.Please withhold my name.
Regards
This cannot be diagnosed without a physical examination. You may schedule an appointment for consultation through http://www.andrology.com.
---
Do you have a question for Dr Krishnamurti? Simply e-mail him at sexualqueries@rediffmail.com; responses will be published each week and names will be withheld upon request.
Dr Sudhakar Krishnamurti is an international award-winning andrologist and microsurgeon. He is the only Indian on the world's first-ever batch of sexual medicine fellows (Oxford, 2007). Best known for the Krishnamurti Operation for Peyronie's Disease, he is also the founder of Andromeda, India's first andrology center, and author of the book Sexx is Not a Four-Letter Word. Click here to purchase the book from rediff Shopping.
Disclaimer: Please note that Dr Krishnamurti will be answering the most relevant queries at his discretion each week. His advice may not necessarily reflect the opinions of rediff.com and while it is in the capacity of professional medical counselling, it in no way should be considered an alternative to visiting a medical specialist for sex-related ailments.