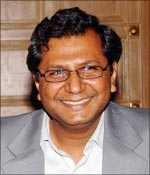 Andrologist and microsurgeon Dr Sudhakar Krishnamurti will be responding to rediff readers' sexual queries on a regular basis.
We invited Get Ahead readers to mail in their questions. Here is the next set of responses:
---
Is it normal for a woman to not orgasm due to intercourse? My boyfriend and I have tried several positions, but nothing seems to work.
Regards,
Shilpa T
This is not uncommon at all. Half to two-thirds of women will require direct or indirect clitoral stimulation in order to attain orgasm. Even the most vigorous and marathon penovaginal thrusting cannot achieve orgasm in many a woman. This does not mean that the woman is a satyromaniac; it often means that she's not getting the right stimulation.
You guys must start by educating yourselves first. Many women, and even more men, do not know where the clitoris is, or how it must be stimulated. Pictures of the location and anatomy of the clitoris are freely available through many online resources. Check out this page on the Internet to educate yourself and start exploring the clitoris' erotic capacity. The clitoris can be stimulated as part of foreplay; digitally or oro-lingually, and also during peno-vaginal sexual intercourse by rubbing the clitoris with the penis during intercourse. It takes a little practicing to get this right. The woman's feedback determines what works best.
Please note that we are assuming here that you guys are physically and psychosexually normal, and attracted to one another, and that the only difficulty area is orgasm. If these aforementioned ploys do not work for you, you will have to seek a sexual medical consultation.
---
I am a 50 year old male and had a stent implanted in my heart about 2 years ago. I use Penegra Express 75 mg tablet once a week to have sex. I do not feel any ill effects. Is it okay to do so?
Penegra is a generic brand of sildenafil citrate, the active ingredient of Viagra. You are already using it effectively and without any adverse effects. I hope that this is being done under medical supervision. There is a lot of unnecessary concern about the safety of Viagra (and its generics) in heart patients. This is unfounded. The Second Princeton Consensus on Sexual Dysfunction and Cardiac Risk discusses this in detail and offers guidelines that must be known to every physician who is prescribing Viagra and other PDE5 inhibitor drugs. On the whole, it may be safe and correct to state that many patients with stable and controlled heart disease, and who are not taking nitrates, may use Viagra safely if prescribed by physicians in accordance with the Second Princeton Consensus Statement.
---
Hello Sir
Myself Narendra O from Bangalore. I'm doing engineering.
When I look at myself I feel very shy; I have a habit of ejecting sperm from my penis before going to sleep at night. It's occured to me that it is a problem now and I want to stop it, but if I don't do this before sleeping, I don't get sleep. Please suggest what I can do.
Sex is one of the best sleeping pills known to man. Many women who long for `after-play' following sex but never receive it, will vouch for this! The process of orgasm releases many `happy' and `calm' chemicals in the brain that facilitate relaxation and...sleep.
You don't have to feel shy about this. Instead, you must feel proud. That you are sexually normal. That you are virile. That you are able to obtain erection. That you are able to enjoy sexual stimulation. And that you are able to ejaculate normally. Many men are unable to do all of these things and come to me as patients. You needn't stop this. Sexual release will also help you focus more on studies and other extra-curricular activities by getting distracting sexual thoughts out of the way. There's no point in staring at your books and thinking of your penis.
I recommend that you read Chapter 9, Self Help is the Best Help, and Chapter 39, Masturbation Facts, in my book, Sexx is Not a Four-Letter Word. It is available online.
---
Do you have a question for Dr Krishnamurti? Simply e-mail him at sexualqueries@rediffmail.com; responses will be published each week and names will be withheld upon request.
Dr Sudhakar Krishnamurti is an international award-winning andrologist and microsurgeon. He is the only Indian on the world's first-ever batch of sexual medicine fellows (Oxford, 2007). Best known for the Krishnamurti Operation for Peyronie's Disease, he is also the founder of Andromeda, India's first andrology center, and author of the book Sexx is Not a Four-Letter Word. Click here to purchase the book from rediff Shopping.
Disclaimer: Please note that Dr Krishnamurti will be answering the most relevant queries at his discretion each week. His advice may not necessarily reflect the opinions of rediff.com and while it is in the capacity of professional medical counselling, it in no way should be considered an alternative to visiting a medical specialist for sex-related ailments.