The building blocks of financial planning: 1
The building blocks of financial planning: 2
The building blocks of financial planning: 3
Have you all ever set your goals? More importantly, how many of you have thought about retirement as your goal?
This is more relevant for individuals who have just started working or are in their mid-30s since retirement lists last on their list of priorities. There are individuals who have written to me saying that they want to retire by 40 but when asked how they would go about doing it had no clue as to where to start or even a rough plan for it.
So let us get some gyaan on the fourth level of financial planning and second leg of goal planning namely retirement planning.
Everyone likes to have a financially independent retirement life just as the famous advertisement says: sar utha ke jiyo. But for that you need to start early. Why? Many reasons:
With advancement in the medical field, life expectancy has increased manifold and hence more the number of years you have to fend for now
Unlike earlier times when there was a joint family system, families today are getting progressively smaller, that is, nuclear families, and hence one should not rely on their children for financial support
One should take into consideration the demon of inflation while planning for anything: be it buying a home after five years or planning for retirement. Things are becoming costlier day-by-day and if not properly planned for, retirement can be a very rough ride
In India, there are no IRAs (individual retirement accounts where individuals save money for their retirement) or other government-backed retirement schemes like in the USA or UK. Individuals here have to plan for themselves
In India individuals want to leave their wealth for their children or grandchildren. In other words estate planning is an essential element of your financial planning
Today everyone is always on the lookout for better opportunities. In other words job hopping due to which an individual loses out on good retirement schemes like gratuity and superannuation. A certain number of years of service are required to reap the true benefits and if the new company does not provide for this facility then one cannot carry it forward
Last, but definitely not the least, is the power of compounding. I am sure all of you are aware about it but stressing the point again and again never hurts anybody, does it?
I am sure by now every one of you will be convinced that at least planning for ones retirement is a must. The question is: how much is enough?
The general opinion has always been that once one has saved Rs one crore you are all set for retirement. Here is where all of you are wrong.
Every individual's retirement corpus is different, as loads of factors have to be taken into consideration for calculating the right amount of corpus. So what are these factors? There are two ways one can calculate ones retirement corpus. First method is where you take your income into consideration. The second method is where you take your expense consideration.
Individuals who are below the age group of 50 should take their income into consideration, as their expenses are still not fixed since the children are still small and other responsibilities are more. Individuals above 50 should take their expenses into consideration, as they are pretty certain as to how much their expenses would be.
Increase in expenses certainly should be factored in. Listed below are factors for both the approaches: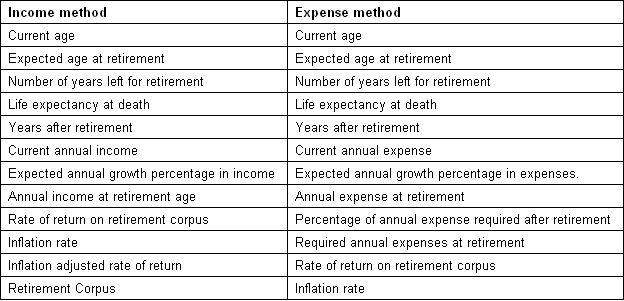 The above table will give you the corpus required for a comfortable retirement. How much to save to reach this corpus depends on the factors given below. These are same for both the methods:
Rate of return during accumulation phase
Existing invested corpus
Number of years to retirement
The above factors will give you the amount you need to start saving from now to reach the corpus.
Retirement might be something far, far away but planning for it should start with immediate effect. This will give you an idea as to how much you need and how to go about planning for it. No doubt the priority of every individuals would be to achieve their goals as discussed in investment planning. But do remember that comfortable and financially independent retirement is also a goal and a dream for which everyone should strive for. Hence, start planning for it, today.
Note: Let me stress that it is very important to have your mediclaim in place as you advance in age. This should also form an important part of your retirement planning.
Time to move ahead and plan for the final leg of your financial planning but next week. Till then happy planning and implementing.
Also read:
The building blocks of financial planning: 1
The building blocks of financial planning: 2
The building blocks of financial planning: 3
The author is a certified financial planner and can be reached at dhanplanner@rediffmail.com.