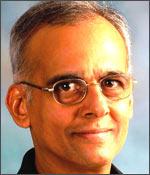 Andrologist and microsurgeon Dr Sudhakar Krishnamurti will be responding to rediff readers' sexual queries on a regular basis.
We invited Get Ahead readers to mail in their questions. Here is the next set of responses:
---
I want my husband to prolong sex by at least 25-30 minutes so I can orgasm, but he finds it difficult to last beyond 10 minutes. How do we achieve that?
The problem here is not your husband's staying power, but your inability to achieve orgasm. Ten minutes is very good erection sustenance time. What's probably happening is that your husband is not stimulating your clitoris during peno-vaginal thrusting. This skill has to be learnt, and practiced. The matter of clitoral orgasms has already been discussed by me in some detail in earlier editions of this column. Please visit the archives.
---
DEAR SIR, I HAVE CERTAIN QUERIES ABOUT SEX RELATED RELATIONS:
 1) WHAT BASIC PRECAUTION WE SHOULD TAKE BEFORE AND AFTER DOING SEX?
 2) NOW A DAYS WE OBSERVE THAT MANY FEMALES ARE SUFFER WITH PROBLEMS LIKE, TB IN UTERUS, THYROID, ETC. WHAT ARE THE REASON FOR THE DISEASES, AS THEY ARE SEXUALLY RELATED?
3) THIS IS PERSONAL QUESTION: I HAD BEEN MARRIED IN FEB, 2006. FIRST 18 MONTHS WE GIVE 30 TO 45 MINUTES FOR SEX, BUT NOW A DAYS, I PERSONALLY GET EXCITED VERY SOON AND FINISHED OUR SEX IN JUST 15 MINUTES. WHAT IS THE REASON BEHIND THIS.
THANKING YOU,
ALOK KUMAR, CALCUTTA
(i) If you are both first-timers in good health, hygienic, and have been monogamous, you don't have to worry about contracting any major diseases sexually. Maintain good hygiene and use only tempered force during sex.
(ii) Your observations out what happens 'nowadays' are anecdotal, and have no scientific or epidemiologic basis whatsoever. TB and thyroid disease are not sexually transmitted.
(iii) Newlywed first-timers often engage in sex for longer periods than those in longer relationships, but eventually they will realise that there are some other things to be done in life too (besides sex), and the marathons become shorter. Fifteen minutes is fine. Stop using stopwatches in your bedroom. If your partner and you are happy, that's all that matters.
---
Hello Sir,
I had a query related to sex. To start let me give you a brief about my background. I had been married for 2 and a half years now. My wife is very scared of having sex. She enjoys having sex but to start she fears a lot, saying it pains her -- because of which in first one year we hardly had sex.
To give you an idea, we had sex not more than 15 to 20 times in first year of marriage. We showed to our family gynaecologist and he said there is no pain, it's all in her mind. Than after one year we thought of going for a baby and in first month only she got pregnent. So for the last one and a half years we did not have sex at all. We have a daughter who is six months old now.
So here now comes my queries:
1.When can we start having sex?
2.What should we do so that fear of sex is removed from her mind, so that she can also enjoy sex?
3.What are the contraceptives we can use other than a condom? I do not like to use condoms. Also, we do not want another baby, at least not for the next five months. So could you suggest a good contraceptive method we can go for. Is there any surgery which I or my wife can go through or any tablets?
 Please do reply. Thanks in Advance!
Genuine regards,
Abhay
Your family gynecologist is probably right about the problem (pain) being in her mind, but this will require therapy, not dismissal. We have specific methods in sexual medicine for dealing with this condition. It mustn't be left unattended. It must be quite awful for your wife to acquiesce to painful sex just to appease you. Apropos of your other questions:
(a) Waiting six months after delivery to resume sex is waiting too long.
(b) Your wife needs to consult a sexual medicine expert.
(c) You have the option of a female condom, an IUD (intra-uterine contraceptive device), and the oral contraceptive pill. Surgery for contraception is not an option unless you have decided not to have any more children (in which situation it is referred to as 'sterilisation').
---
Do you have a question for Dr Krishnamurti? Simply e-mail him at sexualqueries@rediffmail.com; responses will be published each week and names will be withheld upon request.
Dr Sudhakar Krishnamurti is an international award-winning andrologist and microsurgeon. He is the only Indian on the world's first-ever batch of sexual medicine fellows (Oxford, 2007). Best known for the Krishnamurti Operation for Peyronie's Disease, he is also the founder of Andromeda, India's first andrology center, and author of the book Sexx is Not a Four-Letter Word. Click here to purchase the book from rediff Shopping.
Disclaimer: Please note that Dr Krishnamurti will be answering the most relevant queries at his discretion each week. His advice may not necessarily reflect the opinions of rediff.com and while it is in the capacity of professional medical counselling, it in no way should be considered an alternative to visiting a medical specialist for sex-related ailments.