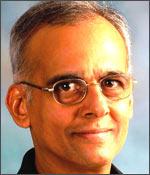 Andrologist and microsurgeon Dr Sudhakar Krishnamurti will be responding to rediff readers' sexual queries on a regular basis.
We invited Get Ahead readers to mail in their questions. Here is the next set of responses:
---
Hi,
Please explain the myth that mating with your partner on an even day after her first day of menstruation or on an odd day after the first day of menstruation decides whether the child to be born will be a boy or a girl.
This is not merely a myth. This is bunkum.
---
Hi Sir,
My name is Parul and I have a query. My age is 32, I have a daughter of 8 years. While having sex, I have no desire to do it. My husband wants it regularly and I just do it for his sake -- sometimes I'm so dry, he uses lubricant, and sometimes I'm out of town due to work and after a few days, when I want to have sex, its very painful, rupturing my skin! I feel scared! I hope you will reply to my query,
Thanks,
Parul
Your could have one or more of these: a desire disorder; an arousal disorder; a pain disorder; and maybe even an orgasmic disorder. You need urgent help. We are addressing more and more female sexual problems these days. Schedule a consultation.
---
Good day Sir,
I am a 29-year-old unmarried male working in Dubai. My last sexual encounter was in August 2008 with a very known good friend of mine, though we were not dating. I have had intercourse with her about 3-4 times (between June-August), but have seldom used condoms. Since September, I have stopped seeing her. But for no reason, I slowly started getting scared since I had unprotected sex. I did an HIV test end-September from India, which came negative (not infected). I work in Dubai, where the rules are very strict for HIV-infected people as they deport them. Since my visa was expiring in March 2009, for fresh visas we are supposed to have a medical check done, including a test for HIV. Presumably, it's turned up negative too as they have issued a new visa to me. Please tell me if it's safe to assume that I am not infected with HIV? Regards.
Ninety seven percent will develop antibodies to the HIV virus and test positive in the first 3 months following the sexual exposure. In rare cases, it can take up to 6 months to develop antibodies to HIV. So, with 12 months having elapsed in your case, you are safe (you were already negative at seven months). But next time remember that prevention is better than cure and that you may not get another chance.
---
Dr Sudhakar Krishnamurti,
I am in love with my maternal uncle's daughter. She too is in love with me. We are looking forward to marriage. But because we are closely related, she says that our children can be born with deformities. We both are aged 23. Is this applicable to our case?
It certainly is. Weigh the risks and make an informed decision.
---
Do you have a question for Dr Krishnamurti? Simply e-mail him at sexualqueries@rediffmail.com; responses will be published each week and names will be withheld upon request.
Dr Sudhakar Krishnamurti is an international award-winning andrologist and microsurgeon. He is the only Indian on the world's first-ever batch of sexual medicine fellows (Oxford, 2007). Best known for the Krishnamurti Operation for Peyronie's Disease, he is also the founder of Andromeda, India's first andrology center, and author of the book Sexx is Not a Four-Letter Word. Click here to purchase the book from rediff Shopping.
Disclaimer: Please note that Dr Krishnamurti will be answering the most relevant queries at his discretion each week. His advice may not necessarily reflect the opinions of rediff.com and while it is in the capacity of professional medical counselling, it in no way should be considered an alternative to visiting a medical specialist for sex-related ailments.