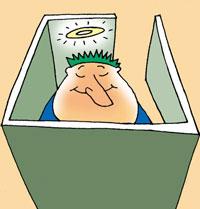 Want to stay happier? Just sport a smile and recollect something pleasant which happened the previous day, says a new study.
Researchers at the University of Hertfordshire have carried out the study and found that smiling and thinking of something good from the previous day help to make one happier, The Daily Telegraph reported.
Other techniques that help in increasing happiness include expressing gratitude, smiling and carrying out an act of kidness, they said.
In fact, the researchers have based their findings on an analysis of a 'happiness experiment', with more than 26,000 people joining to try recognised mood-boosting techniques.
The study found that 65 percent of those recalling something happiness had a boost in happiness, compared to only half of those who just thought about the day events. Subjects who were asked to recall a pleasant event from the previous day were given an immediate 15 percent boost in happiness.
An act of kindness led to a nine percent boost in happiness, while being grateful for an aspect of life led to an eight percent rise and making an effort to smile and hold it made people six percent happier.
"However, thinking about one positive thing that had happened the day before appears to have been by far the most effective technique. Compared to those in the control group, this quick and simple procedure provided an additional 15 percent boost in happiness," lead researcher Richard Wiseman said.
To find out, a before and after survey was conducted among a representative 2,000 people from across Britain. It showed a seven percent increase in overall cheerfulness after the experiment.
Prof Wiseman said: "The figure is statistically significant. I thought with a representative sample you wouldn't see a change, but we got a 7 percent rise."
"There was no big improvement in the weather or anything in the news that could have accounted for it, and we looked for that. Who knows, but I like to think we might have cheered up the nation."
Illustration: Uttam Ghosh