Kapil Sibal
, union HRD minister, has the whole country talking about education. And, for the right reasons. Careers360 team quizzed the Minister on how he plans to ensure that the fresh set of policies put an end to the rampant trickery institutes resort to mislead students.
In our all-India survey, 41 per cent of the students said that they made their admission decision based on publicity by institutes only to realise later that they were false claims. Clearly, there aren't clear guidelines to discourage private institutions from making false claims, would you agree?
With one stroke of the pen we have made it mandatory for institutes to have a website where they will publish all the information pertaining to the institute.
Information such as whether they have approved faculty, proper infrastructure, the correct recognition status, even information specifying guest faculty along with photographs, and they can't duplicate faculty from institution to institution, which many of them do. Once we have access to the institutions, we would then issue a directive that they publish correct information in their prospectus; otherwise we'll bring a malpractice suit.
Would you only rely on the information put out on the websites or would you also send your representatives to vet these claims?
I will send a team to inspect whether the information published by these institutes is correct or not. And, once the malpractice law is implemented -- hopefully by the beginning of next year -- the wrongdoers will be liable for prosecution. Nobody would dare do a thing like that anymore.
The malpractice law is part of my 100-day programme. It's ready; it's gone for inter-ministerial discussions. This is not something I am just saying in the air. The next session of the Parliament is in November, the proposals will then go to the standing committee and it will be passed in the budget session.
So, are you saying that misleading students with false claims will be a criminal offence?
Yes, institutes will be liable for prosecution. They will be liable for all kinds of other civil action, as well. We should have started this in 1991. So, yes you're right, we will be sending teams for inspection. For that we will have an independent team of the ministry, our own representatives.
Perhaps a special cell within the ministry to deal with malpractices...
If the execution of this project is huge then we may think of having a cell. All we need is people, individuals whose integrity cannot be doubted. Once you send a signal to somebody, everybody falls in line. See, half the problem will be solved by making the institutes have a website.
Remember, India is a large country; we would like the states to also collaborate with us. And, once you have the quality assessment done through the accreditation system things will fall into place.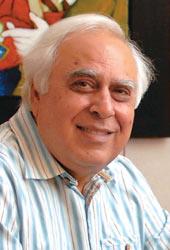 Therefore, would accreditation be compulsory for all education institutes in the times to come?
All institutions will have to be accredited, whether they seek it or not. Accreditation will be part of the law because nobody can impart education outside the system. You have to be part of the system to be able to impart education. And that system must be very clear so that there is no confusion.

We are going to set up an independent accreditation council, which is actually going to assess quality; everything will have to be transparent. In fact, the entity which decides the policy will not even implement the policy. The entity which is charged with the responsibility of implementing will be at arm's length to the entity which frames the policy. Therefore, the accreditation agency would have nothing to do with the policy-making authority.
One of the reasons students end up making the wrong admission decision is because they cannot understand the difference between recognition, registration, affiliation and accreditation...
The problem is that we have no regulations that talk of non-degree colleges, at all. There are other institutions that give diplomas, certificates; those will also have to be dealt with. So, we need comprehensive regulations.
But we will have clear guidelines with respect to the kind of institutions that can be set up in, India both in terms of awarding degrees or certificates or diplomas. And Foreign Education Bill will deal with foreign universities and the issue of twinning arrangements.
In one of our interviews, a student complained about her institute's management increasing the course fee midway without giving a valid reason. How could the government ensure that there's regulation in the fee structure, as well?
Fee is something that needs to be addressed. The institutes will have to show why they want to charge the fees for all the three years at one time. There are people who ask for security. So, all this will be dealt with and addressed. My responsibility as being part of the government is to have a regulatory agent; my responsibility to the government is to set standards. My responsibility to the government is to ensure that there is nothing that is unclear, that nobody takes advantage of the system.
And the best way to ensure quality is integrity. And, when people don't have integrity, you can't ensure it. Civilizations are based on integrity. If you don't have integrity in the system, you can't move forward. So, at some stage you disseminate ideals on the basis of which we can move forward.
Until then Careers360 will keep giving you specific cases of institutes that are misleading students, cheating them...
Of course! And we will take action.
Careers360, is a complete career magazine