The 40 Master of Business Administration students from Mumbai's SP Jain Center of Management say studying at the Schulich School of Business, York University, Toronto, has been a learning experience.

"Business models are implemented differently in different countries," said Ashwin Unnikrishnan, one of the five students who shared their experience with India Abroad. "Doing a course that has Middle East, East and now the West contents has given us a lot of insight as to how business happens in different countries. Even the way the classes are taken in Dubai, Singapore [where they studied earlier under the same SP Jain programme] and Toronto is different. There's a big difference in the way Indian professors and professors in the West teach you. Both are extremely good but they have different approaches to teaching."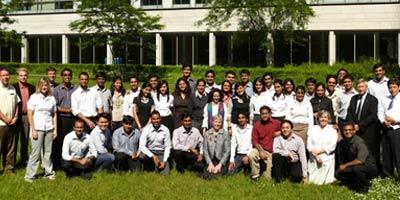 SP Jain admits 200 students out of over 10,000 applicants, said Nitish Jain, president of the school who too is in Toronto. He said the institute is adding a visit to Australia during winter; their arrangement with Schulich is confined to a summer programme.
"We get to learn more things than MBA students in other business schools in India," said Sushant Karol another of the students. "We learn how business is done in other parts of the world."

Doing business in India, he explained, is "more [like] of cost living, you cut the cost to increase your revenues. But here in Canada it is more of values. You have to create value for the customers so that your business becomes more customer-based. The companies here think globally."

Eshita Baijal worked for over six years with ICICI Bank in Mumbai before joining the SP Jain Center for her global MBA. She also has an engineering degree.

"I did a lot of research before I joined SP Jain Center," she said. "Now I know from personal experience the learning at this school has been great. Every place that we visit now we learn about their culture. Especially for me, who hasn't earlier worked outside India, I was initially constrained in my thoughts. You also learn so much by interacting with your classmates who come of varied backgrounds. That's what I enjoy the most as we share our experiences and that adds to your own learning -- more than what you learn from the teachers."

The MBA students have not had time to interact with other students from India studying at Schulich.

"We are going at a much faster speed than they are doing," said Unnikrishnan. "Their regular students do one lecture per week. We are doing three. They have a total of 19 months to do the MBA that stretches to two years and we do the same thing in 12 months."

Sagar Chowk, another student, said, "The experience has been great in Toronto. We students have worked for different companies at different places and each one of us have different expertise, different experiences. So, everything adds up to the excellence of our group, our class."

Salman Raza was with Tata Consultancy working at the National Stock Exchange in Mumbai. "When you see Dubai and Singapore, you see a world totally different from India. Dubai will touch your heart. Singapore is a developed nation. India is stepping towards a developed nation. And Toronto gives you an all together different sense," he said.
The programme coordinator, Professor Thomas H Beechy of Schulich, said they had some apprehensions about the Indian students before the group of 40 landed in Canada. "[But] they are very good," he said.