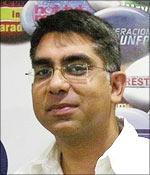 There is something about the media that draws young folks towards it. Perhaps it's the glamour, or just the cool quotient of working in a space that many would do anything to get into.
For 35-year-old Deepak Dhar though, it was the lure of a blue and white cap from the erstwhile (TV channel) Prime Sports that drew him into the glitzy world of television production.
He is today the managing director of television production company Endemol India and is credited for the success of of hit reality series Bigg Boss -- a format that many thought wouldn't work in India.
In an interview with Abhishek Mande, Dhar, an engineer by education, reveals the simple reasons why he joined television and the sheer horror of his mother, who was almost certain he worked for the underworld. Edited excerpts:
You have worked with Endemol, Star One, Channel V and MTV. Which is the most challenging position you've held so far?
It will probably have to be the one at Channel V. I was responsible for putting together this show called Popstars. The biggest challenge was to put together a show with people who thought they could sing...but were evidently terrible singers! How does one do it, was the question. And this was long before Indian Idol and the likes came to the scene. It was a new space. Pop bands were slowly making their presence felt in the country. And Channel V had to do something to grab eyeballs from MTV that was (and still is) a cult. We convinced Shubha Mudgal to judge the show because she had just come out with a pop album and was a credible name with her experience in music. And at the end of it, we put together a girl band called Viva (of which Anushka Manchanda was a member). Popstars was a hit.
For MTV, I used to put together a movie clip-driven show called Housefull and other Bollywood and film promotion shows. The most challenging assignment there was an interview Cyrus Broacha had to do with Lata Mangeshkar. My producer fell ill so I stepped in for him. What made it even more difficult was the fact that Cyrus didn't speak Hindi and Lataji couldn't communicate in English! I thought it was the end of my career. But I think we pulled it off pretty well.
As a country head for a company that owns and brings international formats to Indian television, how do you tweak content to suit local tastes?
Firstly, we take only those formats that we are certain will work in the Indian context. Big Brother, Deal or No Deal and Fear Factor are three formats that have worked across cultures and continents. So we knew these were safe bets. But again in a show like Bigg Boss (the Indian version of Big Brother) the idea was to titillate and tease and also draw a line. For instance, we took a conscious decision of not having any cameras in the toilet and bathing areas. There is a very thin line between being crass and being provocative.
At the end, though, even in a reality show there has to be an emotional narrative. It's an important aspect in creating sticky content.
You speak of titillating. Is that why you had all women in the Indian version of Fear Factor?
Yes and no. Thirteen glamorous women in swimsuits and hotpants is just one part of the story. But the idea was to engage the average Indian housewife. Suddenly you had housewives looking at these women in awe, jumping from choppers, playing with snakes and reptiles. It was a subtle message of how today's women can do what many men dread to even think of! So Fear Factor suddenly moved from being a youth-oriented show to a hardcore GEC (general entertainment channel) show. Also, I suspect it might not have been as interesting to see 13 men doing the same stunts.
After working for niche channels like MTV and Channel V you moved to Star One, a channel with a mass appeal. What was the biggest challenge there?
My target audience had changed entirely. Initially I was targeting the youth. Now I had to think of the housewives and their families! But having said that, the shift was quite smooth, partly because I had really grown out of the music television scene. I needed something bigger, something more challenging.
Many of us face issues when we ask for a transfer to another section within the same office. Channel V and Star One are part of the same setup. What was that like?
Thankfully, (CEO) Sameer Nair understood my predicament. I explained to him why I needed to move beyond music and he understood. I gave them The Great Indian Comedy Circus and (the immensely popular) Laughter Challenge.
Laughter Challenge made heroes out of men you wouldn't give a second look to. And yet it was one of the most popular shows on television...
Yes because finally it was a common person's point of view that was being expressed. Stand up comedy is not just about mimicry. It is also about observing and making a statement. When we pitched this idea at Star One they asked which production house was doing the show and I said we'd do it inhouse. It came as a surprise to many. But it worked. With a nine-camera set up, Laughter Challenge was mounted on a huge scale and it received great feedback.
Laughter Challenge was also in the news for the reported spat between the judges -- Navjot Singh Siddhu and Shekhar Suman. As part of showbiz, how much of PR driven publicity do you advocate?
Publicity is an important tool. The idea of publicity is to give people that one more reason to tune into the show. What happened between Siddhu and Shekhar would have happened anyway. When we publicised it, people knew that there would be something else over and above the usual jokes on the show. But if the content itself isn't sticky no amount of publicity can save any show.
Why did you move from Star One to Endemol?
I am essentially a content guy. I like to make content, rather than programme it. At Star One I used to get that opportunity once in a few months. Endemol gave me that opportunity every day! When Endemol came to India, it looked like a company I wanted to be part of. This was the company that created Big Brother, Fear Factor and what not. So when the offer came along, I decided to jump.
Four job changes in barely a decade. What did your folks have to say?
In the initial days, my mom was certain that I was working for the mafia. I mean, which company requires you to be out of the house for three days without a change of clothes! I had studied to be an engineer but have never done anything related to it. That was something that used to bother my mom a lot. She never really understood why when I had a good degree I was going around doing odd jobs in television studios. Then when I moved from Star to Endemol, Mom thought I was moving to a pharmaceutical company! She could never understand why I wanted to leave something as big as Star to join an unknown firm. But I guess she's come to terms with it now.
Let's back up in time a little...what made you join media in the first place?
Here's a confession... and I am being very honest. I joined it because I wanted free merchandise! Back in the '90s, there was a channel called Prime Sports (now Star Sports) where I took up a summer job. I was a facilitator of sorts -- handing over cameras and tripods to producers etc -- and was getting paid some amount of money for it. But the real lure was this promotional blue and white cap and tee-shirt that Prime Sports was giving away! When I look back, I find it very amusing. But it's true! Then again, I was also never really cut out for engineering. I did it because my brother did it. He went to the US. I didn't see myself taking that path. I learnt on the job -- that's how you learn in the media anyway. And here I am.
How did Endemol tide through the recession?
Thankfully we didn't have to lay off anyone. We had a very good 2008 and therefore had repeat orders in 2009. During the leanest phase, all of us were very, very busy.
What is your advice to young professionals who are stuck in the wrong job?
Assess why you are on the job in the first place. If you have to stay there, you as well stay there and make a difference. Follow your gut feeling and back it up with efforts. Hinge with like-minded people. That way you can keep yourself sane and occupied.
And what about those who have lost their jobs?
It's not the end of the world. In a way it's a good thing that the recession happened. Things were getting far too big for comfort. It was a bubble that was waiting to be burst and now things are getting corrected and are actually looking up.
Where do you see Endemol going in the next year?
2010 and 2011 will be the years of the regional viewer. We at Endemol are focussing on that and taking certain formats to the regional channels. The South is especially is high on gaming and luck. So we have already started Deal or No Deal there and plan to do more.
Finally, what is the biggest challenge you face today?
Retaining talent. At Endemol, we have a core team of not more than 30 people. They are trained and groomed by us. Letting go of them is also like letting go of the effort we put in to train them. So we try as hard as possible to keep them with us.
The other big challenge is to remain ahead of the curve all the time. It requires you to be on your toes and alert.