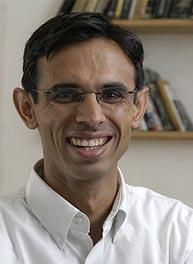 Deekshant Sehrawat is a man of many facets. The 34-year-old IIT Delhi-IIM Calcutta alumnus is best known as the founder of MBAGuru (a brand of Roots Education), an MBA coaching institute, but Deekshant also has another side -- he is a talented lyricist and has co-authored a number of songs with Palash Sen, lead singer of Euphoria.
Here, he is in conversation with MBA preparation expert, Sidharth Balakrishna.
Becoming an entrepreneur is never easy. You must have a dream, a vision to do something. Could you tell us as to how the idea of Roots Education/ MBAGuru was born?
The idea was born while I was at IIT Delhi, and was made more concrete while I was at IIM. Seeing the brightest individuals in India run after the same companies, similar jobs, etc without even pausing to think what they wanted made me want to do something different.
I think education in India is equated with safety and not empowerment. I wished to use it for the latter.
You completed your MBA from IIM Calcutta during a year of very good placements. You must have seen your batchmates walk away with tempting offers from MNCs. What made you choose to walk a different path and become an entrepreneur? Wasn't there too much risk involved?
I thought that if even an IIT and IIM education could not give me the confidence to do what I wanted to do, then nothing ever would. I always believe in doing what I really felt like, while being ready for the consequences.
But then that's true even for a job -- safety and risk are only attitudes of the mind. But we do need a safety net -- in my case it was my friends and co-founders who were a source of inspiration as well as belief.
Can you tell us what the challenges were that you personally/ Roots Education faced in its journey. How were these overcome?
Challenges are perhaps the motivation for becoming and staying an entrepreneur. Aiming for what seems to be impossible and making the cut -- that provides the spark.
In our case, getting into a market that was saturated with several established players and where an established brand meant security was surely a challenge. But the enormity of that challenge is apparent only in hindsight! It might have been impossible had we really thought through how difficult it was going to be.

Such a challenge also forced us to come up with something that was relevant and different and gave us our core YOUnique philosophy, with the focus being on the student. It has also taught us not to be complacent and to continuously adapt.
What advice do you have for budding entrepreneurs? What according to you are the chief factors to succeed as an entrepreneur?
I believe that there is no one single road to success. You yourself know best and hence are best placed to make best use of your best ability! You just need to be alert to the external factors and adapt in the best possible manner. Be ready for failure, don't give up when all seems lost. And you are bound to succeed.
Some feel that the best time to start your own firm is middle age/ closer to your retirement age, after you have worked for many years and understood the industry well. You were different, starting early… with the benefit of hindsight, which model do you think is better?
Speaking for myself, I think that analysing success factors or models too much would perhaps have taken the fun away from the experience. More practically, starting early gives you a couple of advantages -- one, less family responsibility; and two, more scope for overcoming failure.
Do you think an MBA degree helps an entrepreneur? If so, how? Don't you learn most of the required skills on-the-job?
Practically, an MBA does help in that you know how to organise information, people, etc and understand different aspects of marketing, finance, etc. In addition, the exposure you obtain during an MBA helps your communication skills and confidence levels. However, I do feel, that though it is helpful, an MBA degree is certainly not a pre-requisite.
Any regrets as you look back on your career as an entrepreneur? For example, many feel that family life takes a backseat…
No regrets. It would never have been possible without the support of family in the first place. So, in that sense, it is an informed trade-off. For example, though 'family time' is less, the flexibility is higher especially in case of emergencies. Besides, even the team is like a family, beginning from the co-founders, who were and are friends before they are colleagues.
So whats' next for you? We know that you have many talents, as a song-writer for Bollywood films etc.
I am currently writing songs for a couple of movies with Dr Palash Sen. We co-write most songs and the understanding is amazing -- one of us can usually complete a line started by the other within seconds!
As a part of Roots Education, in the immediate future, there is a lot more we are looking to do in education, including primary education/schooling. At some stage later, I would like to combine my passion for education with that for writing and creativity through a business.
Sidharth Balakrishna is well-known in the field of MBA preparation. He has written 'An Introduction to CAT-Tips from an IIM Alumnus' recently published by Pearson Education. He is also a writer on infrastructure and travel-related themes.