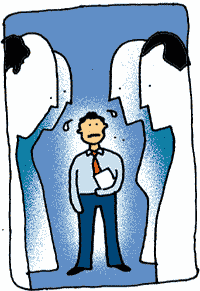 In this continuing employability skills series, we bring to you useful and implementable insights about skills which make you more employable. We begin with the most fundamental skill employers look for in candidates -- communication skills.
Communication can broadly be seen as a combination of two components -- language and expressions. We look at the language aspect today.
In today's times, English is undoubtedly the language of business and being proficient in professional communication requires one to be proficient in English. However, there are many among us who don't feel confident and comfortable speaking in English. Here is a five-week schedule one can follow to improve one's spoken English.
Week 1 and Week 2: Going back to school
Get hold of the grammar books that might be lying in that forgotten corner of your room, or use the books your younger siblings are using in school. Revise the basic grammar concepts and you will realise the common mistakes which we make in our day-to-day conversations.

Some examples of the mistakes which are often encountered are: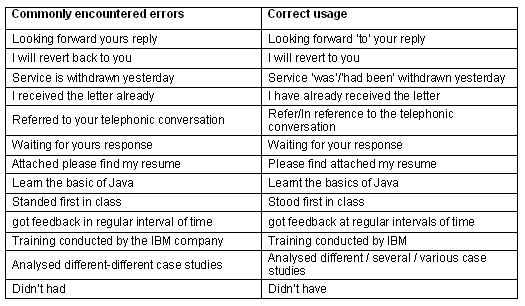 Week 3 onwards: Develop a reading habit
After you have revised the basic grammar rules, start reading anything that is professionally written and grammatically correct. This may be a work of fiction, newspaper, company annual reports, online news, magazines, etc. While reading, note the usage and application of grammar, and also the sentence structure. This will help you internalise the application and usage which will reflect in the way you speak and write; things will start coming naturally to you when you try to speak or write.

Week 4 onwards: Think in English
Now this might remind you of a popular Hindi movie dialogue ('you see, I can walk in English, I can talk in English...'), but it is actually a stepping stone to being able to speak fluently in English. Most of us think first in Hindi and then take time to convert our thoughts into English, which leads to a gap between our thinking and speaking, and makes communication confusing and often incorrect.

When you start practicing thinking in English, you get the chance to ponder over your thoughts for some time and improvise your sentence formation if you feel it is incorrect. 

So whenever you have time, do some intelligent thinking. Try to construct sentences about the things you see around you. Translate your opinions about the latest events in English and repeat them in your mind. Repeat the conversations you had during the day with your colleagues and friends, this time in English.

By practicing this for a few weeks, it will become easier for you to construct sentences as and when you speak. Or, your thinking and speaking will start aligning themselves and your words will start coming out right.

Week 5 onwards: Speak
Now that you've developed the habit of reading on a regular basis and also thinking in English, you need to get over the fear of speaking the language. Contrary to common belief, you should not start by speaking in English with near-and-dear ones. That is always the most difficult part. Instead, speak in English to people you are meeting for the first time, or formal or occasional acquaintances. In fact, some people have also begun speaking to customer care executives of their mobile companies, because there is no fear of getting it wrong there, and most customer care executives speak in a professional and formal manner so it can be a learning experience too.
By following these simple steps, you can improve your English speaking skills, and with continued practice, become a fluent communicator without attending any 'learn English in 30-days' classes or 'full money back guarantee' schemes.
Mayank Gupta is an IIM Kozhikode alumnus and handles the Business Development at BodhiSutra. BodhiSutra (www.BodhiSutra.com) is an IIT-IIM alumni venture which specializes in Employability Skills training programs for engineering and management students. BodhiSutra offers both domain specific programs and general employability skills training programs for students in final and pre-final years of their engineering or management degrees.