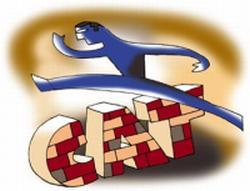 Following the fiasco that CAT 2009 has turned out to be, we asked test takers to share their experiences and advice for candidates yet to take the test.
<< Back
Next >>
Outside Fr Conceicao Rodrigues College Of Engineering in central Mumbai young students wear a sombre look. The college is one of the venues for the
much-in-news Common Admission Test or CAT. Students who have appeared for the first session of the test for the day are making their way out. Some others are stopping by to ask them how their experience was. These are the ones who will appear for the test at 1.30 pm -- the second and the final session for the day.
Somitra Goel, a 23-year-old software professional, who appeared for the test shares with us her experiences:
Contrary to media reports, my test went quite smoothly. I made myself present at the centre about two hours before the stipulated time. The biometric test and the identity verification were done and before I knew it, I had started taking the test.
The Verbal Ability section of the test was quite simple but the DI section was somewhat tricky. Overall, the paper was not as tough as the previous year.
We were not allowed to carry any of our belongings inside. The bags and wallets were kept in a separate room and we were given tokens. Water bottles were not allowed either. They provided us water whenever we needed it.
I took the 15-minute-long tutorial before I started the test and it was quite accurate. Some of my friends gave it a pass because they were told it does not work in certain cases.
Although I did not face any difficulties through the paper, the computers of some candidates in my class crashed. They were given different machines and extra time.
For most part the navigation was quite good. However, in the preview page there was a button that read 'End Preview'. It was misleading because it did not just end the preview but also ended your test.
On the individual question pages too the 'Quit Test' button was right next to the 'Next' button that took you to the subsequent question. It meant that we had to be extra careful because one small mistake and the test would end!
Barring these two navigational issues, I felt it was a fairly good test. share their experiences and advice for candidates yet to take the test.
<< Back
Next >>
Share your CAT experiences with us. Write in to us at getahead@rediff.co.in with the subject line 'My CAT experience'. Tell us what it was like and what candidates should keep in mind on test day.