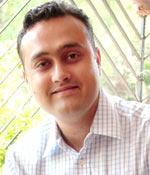 One of the first things that Suresh Paryani tells us is that BigHelp Executive Assistant Services Pvt Ltd is not a concierge service.
Conveying this very message to his prospective clients has been one of the most difficult jobs for this 29-year-old Mumbai-based entrepreneur.
Through the interview, he tries to explain his business concept to us. To put it plainly, Paryani is in the business of understanding your needs and putting you in touch with the right person.
Currently, he operates out of a small office in the busy Mumbai suburb of Bandra. His team is a handful of young, enthusiastic people and you sense the excitement as you walk into the office, a somewhat small but definitely a happy place.
One of them -- Naomi Sailekar, a senior manager -- is pretty much Paryani's right hand. There are times when she responds to questions to which even her boss does not have the answers.
You realise that Paryani has so far managed to maintain an informal air. Through much of our interaction, Naomi -- who has invited herself to the interview -- is perched on a tiny wooden staircase listening in intently to us. BigHelp, we are told, was launched only in July this year.
Says Paryani, "I started working pretty early in life and I have a very colourful past. At 16, I was a deejay playing in clubs and at parties. For three years I continued spinning music before I realised I needed to do something more serious. The closest thing I could do that was related to music was event management. So for the next five years I did just that, before I moved onto Phoenix, where I organised events for them. Phoenix later gave me the opportunity to explore retail real estate and that was when I left event management for good."
Paryani defines success as having one's own setup. So even though he was drawing a 'decent package' and was 'at a fairly good position', he decided to move on. He explains, "There were only two options I could explore: one was product-related and the other was services-related. Initially, I wanted to produce a fruit-flavoured yogurt and market it across the country. But having studied the logistics, I realised I did not have enough capital to invest. That was when I started thinking of the other option."
There have been concierge services operating in Mumbai for some time now and Paryani had also used them on a couple of occasions. But it was when his brother was getting married that he realised how much in need he was of a personal assistant rather than a concierge.
So the folks at BigHelp may not necessarily stand in queue and pay your bills, but they will look out and negotiate on your behalf so you get the best deal. You can reach them over the phone, e-mail or SMS and have a dedicated person reporting to you -- reminding you of your anniversary, getting someone to organise that party or hiring the best movers and packers closest to your home to help you shift residence.
BigHelp also assists in the recruitment of blue-collared labourers. It is apparently one of the most popular requests from their customers.
"We act as your personal secretary. So we will arrange anything and everything for you. However if there is any monetary transaction involved, we will directly put you onto the relevant person. We don't ask for credit card details nor do we handle cash on your behalf. Instead, we act as facilitators," Paryani says.
If you do need some legwork done, though, BigHelp is ready to help. "There will always be occasions when you might want to hand-deliver something rather than have an impersonal courier guy do the job. We can arrange for someone from our office to do that for you at a small extra cost," he adds.
Besides these stray occasions though, all other services are included in the monthly fee of Rs 4,000. Naomi Sailekar chips in and says, "We have drafted letters over the phone, sourced places that stock iPhones and camera batteries, gotten our clients a good deal on Benarasi saris, organised carpenters and even helped move house!"
Currently, BigHelp does not have a dedicated database of service providers. But Paryani promises that they are tying up with a host of services. He has already tied up with Florsita and is offering his customers a flat 50 percent discount on all orders though the floral designing boutiques chain.
"We plan to tie-up with travel houses, nightclubs, restaurants, cab services, electronic stores -- basically everything you can think of. There is no commission involved, so our clients have the advantage," he says, adding that he is looking at users who earn over Rs 10,00,000 per annum.
When BigHelp started out, Suresh Paryani was married for all of six months. Wasn't his new bride -- an arranged match -- in for a shock after he announced his decision of leaving a plum job that offered him a 'decent package'? Apparently not, because according to Paryani, his wife simply stood by him and believed in him. For his parents, though, he was just getting into something they had no idea about yet again.
"They didn't know what it meant to be a deejay -- leaving in the evening and returning early mornings. All they were aware of was that it wasn't illegal because I got paid pittance! When I started event management, they thought I put up marriage pandals. And while they knew what a broker was, the concept of 'retail real estate' was still alien to them because the mall culture hadn't entirely hit them. So when I told them about this venture, they didn't try much to understand," he laughs.
The real challenge that Paryani faced -- and continues to face -- is that of communication. Months into this business he is often at a loss of words to explain to people the difference between a concierge and an executive assistant. "It really becomes an issue," he confesses, but also adds that within the first few months itself he had to let go of over 100 online service requests from Hyderabad, because he didn't have an office there.
"We operate only from Mumbai so far. But we do intend to expand to major cities like New Delhi, Chennai, Hyderabad, Bangalore, Goa and Pune, among others. Once we have a national reach, it will also give us a better hand at negotiating deals across the country. We are also in talks with venture capitalists and Angel Brokers with whose help we can set up operations overseas," he says.
So with a venture all set to take off, how does Paryani manage to balance his personal and professional life? "I try and spend as much time at home as possible. But by next year, I suspect I'll be more at work than at home," he chuckles, adding on a serious note, "We are in the business of taking away stress. So there's no way we can afford to get stressed ourselves. I try and unwind in my own way -- be it listening to music or simply taking a nap or doing yoga. Finally, one needs to figure out how one feels most relaxed and do just that."
Indeed, this entrepreneur is no advisor. He says that it's too early in his career to give anyone else advice on any matter, be it on job-loss or on how to start one's own enterprise. But he does tell you, though not in so many words, that you need to use your head to follow your heart.
In the five months since he started living his dream, Paryani already has 25 users who have registered with him. One of them is Swastik Rath, an HR manager with Dow Jones India. Rath tells us that he has been so used to availing of BigHelp services, he cannot think of leading a life without them. "I was shifting my residence and did not know how to go about with it when they stepped in. They have also helped me with my travel plans and organising parties. I have renewed my (monthly) membership twice already," he says.
The question however, remains whether India is really ready for executive assistant services such as this one. Paryani says that he's researched extensively for months before deciding on his business plan. He says, "These services are very popular in the West. In fact, some of them have been outsourced to India! There are only so many times that you can bother your friends and family to do something for you. And you cannot do everything by yourself either. There will be a time when you'll need someone to step in for you and that's where we will come in."
Paryani's optimism almost convinces you, but a little voice in your head makes a feeble protest before you shoo it off. After all, whoever thought we needed malls in India?