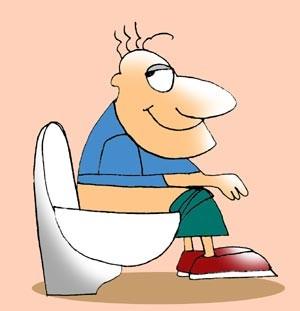 We recently discussed airline bloopers and invited readers to share their air travel stories with us. Here, reader Gautam Kapadia shares an amusing experience. Illustration: Uttam Ghosh
This is one experience I will never forget -- it has made me very conscious of my behaviour on an international flight.
I was flying from Vancouver to Mumbai via Hong Kong on an international airline. There was this gentleman seated on the aisle seat opposite me (he was travelling to Mumbai). As soon as the flight settled at the required altitude and the seat belt signs went off, he walked to the service cabin and demanded a can of beer from the air hostess. She polity informed him that the service would start in few moments and all the passengers would be served drinks on their seats. He came back nodding his head and murmuring something to himself. When he saw me looking at him, he gave a smile and said "Kitna time lagate hai ye log drinks serve kane ko! (How much time these people take to serve drinks!)" I was really surprised at this guy's impatience to get on with his drinking spree.
Finally the drinks trolley arrived and he was the first one to get a drink, as he was on the aisle seat. As soon as the beer was in his hands he started gulping it as if he was in a pub and taking part in some kind of challenge for a 'bottoms up'. By the time the air hostess had finished serving our row and the next, this guy had finished his beer. He got up and walked to the drinks trolley and asked for another beer and the stewardess handed him another can. He was hardly back in his seat and the drinks trolley had moved ahead two more rows, when he was up again asking for one more. This time he was given a beer with a warning that it would be his last one for this service. He smiled at me and said, "I have paid the fare, what's the problem if I want one more beer?" Then his head started nodding and closing his eyes, he went off to sleep.
I wonder when people will get over this mentality of getting 'paisa vasool' even if it means getting drunk on a 10-hour flight and causing oneself discomfort?
But this journey was far from over; after changing flights at Hong Kong, we had another nuisance on board. A group of businessmen boarded, all them chewing some tobacco. The whole section was stinking with the pungent smell of their tobacco and alcohol, which they must have had in the waiting lounge. Their seats were spread across three rows and they started yelling to each other from their seats. Many passengers like me, who had been travelling for more than 8-10 hours already were really irritated and we requested the chief steward to get them to talk softly. But it was only after some hard stares and firm words from the staff that they kept quiet. They did make it a point, however, to have people hear, "Hum baatein karte hai to sabko kya problem hai! (If we talk, what problem do they have?)"
The flight had a 45 minute stopover at Bangkok for cleaning and refuelling. As soon as we landed, one elderly lady went to use the washroom. An air hostess stopped her, but then considering her age and condition she allowed her to use it. One of the tobacco-chewing gang also went to use the washroom and the air hostess informed him that the flight cleaning has started and he could use it once the flight has taken off. The following conversation went like this:
Mr Tobacco (swaying left to right): "Woh aunty ko to jaane diya, mujhe kyon rok rahi hai?"
Air hostess: "Sir, she is an old lady, I request you not to use wash room now as the cleaning staff will be here any moment to clean the washrooms."
Mr Tobacco (now swaying right to left): "Arre abhi to koi nahi hai!"
Air hostess: "Sir, they have to finish cleaning within a given time, else the flight will get delayed if they are delayed. Besides, passengers are requested not to use the washroom while the plane is on the ground."
Mr Tobacco (now irritated and with his tone changing): "Abhi lagi hai to kya karoo!"
Air hostess (trying to avoid smiling, but being firm): "Sir, I request you to give us 10 more minutes, once the cleaning staff is done, you can use the washroom."
In the meantime the cleaning staff had arrived and started cleaning.
Mr Tobacco (shouting loudly): "Abhi dus minute rukna padega, abhi yeh log khatam karenge tab tak mein kya pakad ke baithu?"
All heads turned towards him and the air hostess finally lost her patience. She called for the steward in the section (who, in turn, had already called the head steward) and turned to Mr Tobacco, saying in a really harsh tone, "Sir, please mind your language, I am on duty and so cannot use the same language as you. Otherwise I can also give you back something in your own vocabulary!"
By then, two of the male staff had arrived there and they literally pushed Mr Tobacco back to his seat and and gave him a warning that they would leave him in Bangkok if he didn't cooperate. In the next 5 minutes the flight took off and I think he finally got what he wanted, as the last lap of the journey was peaceful.
I agree with one of the earlier posts in this section, people opting for the career of a steward or stewardess are intelligent and educated people, if one is travelling by flight they are doing their best to make you comfortable. They are not the passenger's personal servants. Let's appreciate them for keeping a smile on their faces even when they have to serve such difficult people.
Maybe this is one reason Indians are not preferred passengers on international routes. I feel any one of us travelling outside our country represents us as a single community. Anyone not behaving properly becomes a reason to brand the whole nation as uncultured.