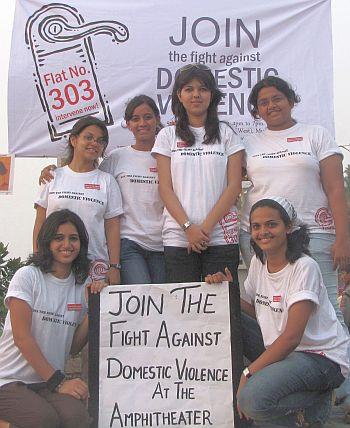 We recently asked readers to tell us how they are bringing about a change in India even as they grapple with their education and workplace matters. Rediff.com celebrates the sincere spirit of these young Indians. Find out how six college students turned their class project into a campaign on domestic violence.
Even as you're reading this, the girls in the picture would have presented their paper on contemporary issues in their class. They don't really need to take forward what they started three weeks ago. But all six of them promise that this is not the end of their journey.
About a month ago when mass media students Vallari Shah, Chantelle Saldhana, Swadha Bisht, Disha Pinge, Carol Tauro and Maithili Desai were given a list of project topics, they decided to go with domestic violence.
They say it had nothing to do with the fact that they were all women, but rather because each one of them knew at least three women who were victims of domestic violence. "It made sense for us to present a paper on an issue that was in our face, rather than take up something obscure," says Maithili Desai.
Thus Flat No. 303 was born. "There is no particular reason for the number 303. We are trying to convey the idea that this could be any house -- even the one next to yours," Desai explains.
The idea of the paper was to reach out to as many people as possible through a viral video, social networking sites, merchandise and an on-field activity -- all of which had to be done within three weeks.
Last week as they entered the final phase of their project, the six girls stood in an open-air amphitheatre in the plush Mumbai suburb of Bandra with a bunch of assorted props, all of which -- a broken chair, phone and a cracked teacup among others -- are symbolic of the atrocities against women.
Among these were a closed door and a locked treasure chest -- unbroken and untouched -- seemingly odd amidst all the wrecked stuff. "Confinement and financial deprivation are also forms of domestic violence," Desai tells us eagerly. She is aware that it is a little-known fact and perhaps the USP of their little exhibition. She isn't entirely wrong. Women and men who walk into the area seem surprised when they are told about these aspects of domestic violence. "Really! I didn't know it!" a grand old lady exclaims as a volunteer educates her.
"That is the very idea of this endeavour," Desai says, "Many of us don't know how to identify domestic violence. Even fewer will go ahead and put their foot down when they witness it."
The movement's brochure is bright red in colour and screams out 'Intervene now!' It explains in detail how and where you can lodge a complaint, gives out details of just what domestic violence entails and what you as a citizen can do. The last page lists out local helplines for women.
Apathy, according to Desai, is the single largest issue at hand today. She says, "Since it happens behind closed doors, everyone feels it is a personal matter and wants to stay away. Through this movement, we're hoping to make people understand that it is very much their business. Domestic violence is a social problem. We want people to know that if a man is beating up a woman at home, chances are that tomorrow he will beat up your kid too."
"Our biggest learning has been that domestic violence in the upper class homes goes unnoticed and unreported. If a lady from a well-to-do family is beaten up, she'll probably wear large sunglasses to hide the scars. On the contrary, someone from an economically lower class will not make any bones about showing her wounds," Desai says.
Getting points such as these across has been the primary aim of Flat No. 303. The group's Facebook community has been up for a couple of weeks and already has over 570 members. The tweets are trickling in too.
As we are talking, a local television journalist 'discovers' them. She gets a clearance from her boss over the phone and thrusts the mike before Desai. Later that night, Flat No. 303 is also on television.
While being on the field has helped them reach out to more people, it has also been the biggest learning experience for these kids.
After getting permission to use public space, they had to brave rowdy students from a nearby college who would regularly come and tear off their posters. But Desai and her friends had larger issues at hand. "Most people who came to us refused to acknowledge that domestic violence existed. Some even insisted that we were making a mountain out of a molehill. Trying to make them understand was the biggest challenge we faced. And that's one of the reasons why we are planning to keep this movement alive," she says.
The most defining experience, however, came when a boy their age walked up to Disha Pinge and confessed that he was witness to violence in his home. The disarming honesty was clearly not something any of the girls were prepared to face.
"You could see he wasn't lying. He looked scared and was shaking. After seeing the exhibits he told us that he'd seen most of it happening at his house," she says solemnly. "Of all the people who visited us, we won't be able to forget him."
That night, a shaken Pinge wrote about him on the group's official blog: "When this campaign began, I felt very strongly about domestic violence, but as we went on working, I distanced myself from the reality of the issue. It transformed from a brutal crime to mere statistics in my head. I went about talking to people, informing them, debating with them, almost mechanically, till I came across an actual 'victim'."
"When someone in front of you is talking about violence they experience, your whole perspective changes. Suddenly the whole campaign for me became about that one person. I wanted that one household to be in peace. I wanted the victims of the violence to (sic) voice out. Just than (sic) one Flat No.303...Today as the on-ground activation is over, I will keep wondering, maybe for a long time to come, whether that person was ever able to voice out (sic) against the crime. I took the phone numbers and asked him to contact me if any help was required. I will always wait for that email, I will always wait for that call."
Pinge tells us that they are planning to reach out to housing societies and go door-to-door spreading the message. "We're still working out on the nitty-gritty because we don't want people to slam the door on us and block the message altogether," she says. "Meanwhile, Facebook and Twitter are always open."
Would you like to share your story with us? Tell us how you are following your heart while doing your bit for society. If you are under 35 years of age, then write to us at getahead@rediff.co.in with the subject line: 'I'm following my heart' along with your name, age and photograph.