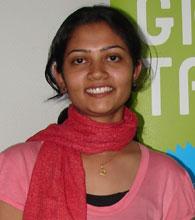 Twenty-five-year-old Saumita Banerjee recently returned from a week-long trip to Germany where she visited German universities, research institutes and companies and learned about various stand-out projects from different fields of technology.
The trip was part of the Green Talents Competition organised by the German Federal Ministry of Education and Research where young scientists from across the globe are recognised for their research efforts in the field of environmental technology.
Saumita, a biotechnologist, was one of 15 'Green Talents' to win the title of the 156 other aspirants who applied from 43 countries.
rediff.com caught up with the young researcher to find out more:
Tell us a bit about your background.
My schooling was in Nagpur. I was a good student throughout school (mostly a topper). I scored 85.60 per cent in Class X and 89 per cent in Class XII. Genetics intrigued me as an undergraduate and so I took an interest in biotechnology.
I am currently working on my PhD at the National Environmental Engineering Research Institute in Nagpur.
Why did you decide to pursue a PhD?
I do not like routine work and am fond of change every day. Research gives me the opportunity to think up new ways to accomplish challenging tasks.
Tell us about your research work?
My work was based on bioethanol production from lignocellulosic biomass, a topic suggested by my supervisor and one I found very timely and interesting.
Most people would not know what 'bioethanol production from lignocellulosic biomass' means. Could you explain?
My project focuses on the production of bioethanol in such a manner that right from the raw materials up to the process of production, the process is eco friendly. Currently, ethanol (which is used in fuel) is produced from molasses. The price of this raw material is known to fluctuate, which adversely affects the production cost of ethanol. On the other hand, straw and rice husk are generally waste materials, particularly rice husks. Therefore, if they are used for producing ethanol, not only is the cost reduced but greater quantities of ethanol can be produced in an environmentally friendly manner and the issues of greenhouse gases and waste management are also addressed.
Lignocellulosic biomass is the most abundantly available product of nature. Agricultural residues, forest wastes, even municipal wastes, everything contains lignocellulose. Lignocellulose contains some amount of sugars (mainly glucose) that can be used as nutrients for microorganisms that ferment the sugars into ethanol.
The use of ethanol in fuel is becoming so common these days that the day is not too far when it may actually replace petrol once and for all! That will be the era of ethanol, which will usher in a time when all bio fuels will be tailor-made according to specific needs.
What is the biggest environmental challenge we face right now?
According to me, climate change (global warming) is the biggest challenge we are facing.
What are your career plans for the future?
To work on research areas pertaining to the environmental. My research is currently focused on Biotechnology for the use of biomass as a renewable energy source.
Tell us about the competition and how you came to participate.
I had received an e-mail on the competition from the German Federal Ministry of Education and Research (BMBF) and decided to take it up.
Winning the award was an overwhelming experience, I extend my gratitude to the German government for providing me this opportunity to showcase my research.