As part of an ongoing series, we bring you another excerpt from Mumbai-based chef Zubin D'Souza's Khana Sutra: An Aphrodisiac Cookbook.
Presented here is an excerpt and recipe from Chapter 9: Love Bites.
Seafood
According to ancient mythology, the goddess Aphrodite emerged from the sea. Since then, people have always considered seafood, especially shellfish to have aphrodisiac qualities. Shellfish does contain a large amount of zinc which boosts testosterone thereby increasing libido.
The goddess was renowned for her mastery on the aphrodisiac subject, she plied her mortal lover Adonis with enough zinc and assorted minerals to seduce him and produce a love tipped -- arrow thwacking dude of mixed mortality called Cupid or Eros. Incidentally Eros is the one who graciously lent his name to the English dictionary in the form of the word --erotic. I managed to grasp all that bit of mythology but I really could not understand why a goddess needed to seduce a mortal man? I thought that he would have been just grateful for the interest that she showed in him.
Anyway, returning to the original subject, seafood has been tipped to be a major factor in conjugal bliss by several cultures. The Indians that reside on the coastline certainly thought so, apart from the Romans, the Chinese, the Norse and the Vikings (and you thought the Swedish smorgasbord was a boring affair!!).
Apart from being an aphrodisiac, seafood represented fertility and plenty. The fertility part I am not so sure about, but the plenty part I can definitely guarantee!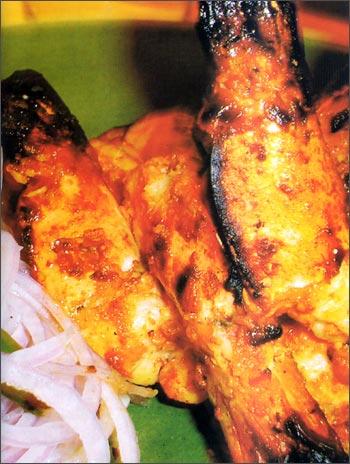 Tandoori Jhinga (Tandoori baked Tiger Prawns)
As I have mentioned before, not everyone has the good fortune to be blessed with a tandoor. This recipe is designed to take into consideration all the wannabe tandoor chefs who presently have an all-purpose over at their disposal.
Ingredients:
Jumbo Prawns, cleaned and deveined: 280 g
For the first marination:
Salt: 2 g
Lemon Juice: 30 ml
Ginger paste: 4 g
Garlic paste: 4 g
For the second marination:
Yoghurt: 40 g
Ginger paste: 5 g
Garlic paste: 5 g
Turmeric powder: 3 g
Chilli powder: 5 g
Ground garam masala: 1 g
Lemon juice: 10 ml
Gram flour/besan: 10 g
Ajwain: 2 g
Oil: 10 ml
Chaat masala: 3 g
Method:
Whisk together all the ingredients for the first marinade. Pour this over the prawns and massage well and keep this in a cool place for half an hour. Whisk together the ingredients for the second marinade with the gram flour and the ajwain till it is a smooth, thick paste. Remove prawns for the first marinade squeezing off the excess liquid. Marinate the prawns in the second marinade for two hours and skewer them and bake in a hot tandoor, occasionally basting them with a bit of oil till the prawns are crisp and done. Alternatively they could be baked in a pre-heated over at 180 degrees celsius for ten minutes till the prawns are golden and done. Sprinkle chaat masala and serve hot with a crisp salad.
Excerpted from Khana Sutra: An Aphrodisiac Cookbook (Rs 250) by Zubin D'Souza, with the permission of publishers Jaico Publishing House.
Click here to buy Khana Sutra from rediff Books!