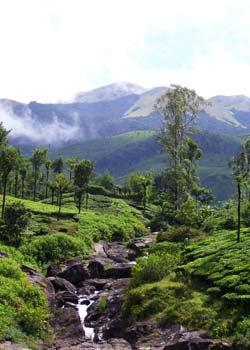 Bijoy Venugopal takes a long, wet drive through the hills of Tamil Nadu to meet the monsoon on its way out. In the third and last part of the series, he travels to Top Slip and Valparai.  
Part I: Driving through Madurai and Meghamalai
Part II: A visit to Palani and Sethumadai
Top Slip
The entry point to the 958 sq km Anamalai Tiger Reserve (formerly the Indira Gandhi Wildlife Sanctuary) gets its intriguing name from the days of the British Raj, when timber was felled and logs rolled down a cliff. The remains of an ancient railway line that ferried logs to the port at Kochi (then Cochin) can still be seen at Parambikulam Wildlife Sanctuary, 21 miles across the border in Kerala. The teak forests have now regenerated and the winding drive offers spellbinding views of the Pandaravarai and the Kolambu Malai hills.
The interpretation centre at Top Slip houses stuffed animal specimens and an engaging exhibit of orchids and medicinal plants. A gentle grassy slope outside the park office teems with spotted deer, wild boar, peafowl and playful bonnet monkeys. Leopards, the guard tells me, prowl here at dusk.
The clouds thicken as I ask the range office to allow me to hike in the forest. He refuses, saying only groups of four are allowed. I sweet-talk Kethan, a Kuruba tribal and an expert wildlife tracker, into being our guide. Mahesh, who has almost surrendered my binoculars to the inquisitive monkeys, is also conscripted. I need a fourth member to complete the quorum but no tourists are in sight. As we wait, a bus halts near us. The last passenger to get off is a young European woman.
Nadine, a student from Munich, is delighted to join us. The dense mist turns into powdery rain as we enter the forest. Visibility is so poor that we have trouble seeing each other, leave alone any wildlife.
But for our guide, who has smeared his legs with lemon juice, all of us are festooned with leech bites. Blood streaming down our shins and ankles, we resemble victims of some terrible jungle rite. Kethan shrugs and blames the weather.
Valparai
Signboards in Pollachi are mostly in Tamil, and it is not clear if they tell the distance in kilometers or miles. In the morning, we climb 22 hairpin bends to Valparai past the Aliyar reservoir. The road is excellent for most of the 40 miles but a downpour slows us down.
Surrounding the tea gardens of the Valparai plateau are some of the last pristine rainforests in the Western Ghats. At Lome's View, before the 12th hairpin bend, we look out for Nilgiri Tahr but the rain veils everything. At Ayyarpady, a few miles ahead, we hear Lion-tailed Macaques but see none. For consolation, we stop by the excellent interpretation centre run by the Nature Conservation Foundation, which manages a successful rainforest restoration program here.
Rain drowns out the sights in Valparai so stop by the town center to grab a bite at Green Hill Hotel, the only joint serving anything palatable. At Kavarkal, past the NEPC tea garden, I brave the drizzle to see the statue of Carver Marsh, the British pioneer credited with 'discovering' Valparai.
Delayed by rain and bothered by a noise from the engine, Mahesh is grumpy as he shinnies downhill toward Coimbatore, where I shall catch a bus back to Bangalore.
The rain keeps us company until we enter the plains. Then it slows to a drizzle and peters out. In humid Coimbatore, there is no trace of it at all. As I board the bus, Mahesh reminds me that my shirt is still damp. I don't bother to change. I want to carry the memory of the northeast monsoon for one more night.
Getting to Top Slip
Nearest airport: Coimbatore (110 km/ 68 miles)
Nearest railhead: Coimbatore (110 km/ 68 miles)
Local transport: None. Taxis must be hired in Pollachi. Private vehicles are not allowed on forest roads. Vans are available for safaris into the forest. Tariff: Rs 675 for a group of 25 people.
Tourist information:
The Wildlife Warden
Indira Gandhi Wildlife Sanctuary/ Anamalai Tiger Reserve 178,
Meenkarai Road,
Pollachi - 642 001
Phone: (04259) 2225356.
Office timings: 10 am- 5 pm.
Park timings: 6:30 am- 6 pm
Entry fee: Rs 50

Accommodation
For overnight accommodation, prior permission must be taken from the Wildlife Warden at Pollachi. All meals must be ordered in advance.
Room reservations: (91-4259) 238360
Ambuli Illam Rest House (Rs 300-500), about 2 km from the reception centre is in the middle of the forest and has reasonably good food and accommodation. Other facilities include the Forest Rest House (Rs 300-500), the Wood House, Chital Rest House, Tree Top Rest House, Bison Lodge (Rs 150-250) and Hornbill Lodge (Rs 150-250). Facilities are basic. Travelling with a sleeping bag is recommended.
Getting to Pollachi
Nearest airport: Coimbatore (40 km/ 26 miles)
Nearest railhead: Coimbatore (40 km/ 26 miles). Pollachi is on the Coimbatore-Madurai metre-gauge line, which is under conversion and expected to be completed by 2011.
Local transport: Buses, auto-rickshaws and taxis
Accommodation
Homestays:
The Banyan Tree
Kaliamman Koil Street
Sethumadai
Pollachi Taluk
Coimbatore District
Phone: (04253) 244490
Manager: (91) 98655 76332
Tariff: Rs 4,500 (includes all meals, treks and plantation tours).
Rooms have attached bathrooms and hot water.
Hotels Nivetha's Inn
A/C 4, New Scheme Road (Near Gandhi Statue)
Pollachi 642001
Phone: (04259) 235565/ 75/ 85
E-mail: info@nivethasinn.com
Sakthi Hotels
144, Coimbatore Road
Pollachi 642002
Phone: (04259) 223050/ 60/ 80
Fax: (04259) 236890/ 223030
E-mail: sakthicoir@sakthi-coir.com
Part I: Driving through Madurai and Meghamalai
Part II: A visit to Palani and Sethumadai