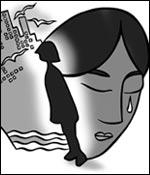 We invited readers to comment on how young people can deal with stalkers and obsessive lovers. We also carried professional advice and a young girl's harrowing account of being stalked. Here, reader Aditi Sardana* narrates her experience as a teenager, when she had just moved into a new neighbourhood with her family:
I became a victim of stalking when I was 15 years old. The stalking continued for 2-3 months and it was one of the most frightening experiences of my life.
We had just shifted to a new home at that time. This guy (I don't remember his actual name, but let's just call him Rajesh) lived three doors down from us. After a few days, I started noticing him everywhere.
There was a long stretch of deserted road between my home and the bus stop which I had to take both in the morning and the afternoon. Rajesh was outside my home daily when I started for school early in the morning. The whole day at school was torture for me during those days. I was constantly dreading seeing him again. I used to go mad with worry during the whole bus ride. Everyday, I would see him from the bus window waiting for me. Since the roads were narrow and the bus had to make various stops, he was always able to follow me. He then followed me to my home. One of my seniors who was on the same bus route with me and lived near my home used to watch the whole drama, but never bothered to help me. Once I even asked him to help by walking with me, but he refused.
My stalker was also present when I headed to and from my tuition classes. It seemed he was always present wherever I went.
Once I was coming back from my classes and my bicycle broke down. He was walking behind me and came up to me and offered to fix it. It was the first and the last time that he tried to talk to me. I refused his help and gave him a piece of my mind, even though I was shaking inside. However, I did not see him following me after that. I also informed my mother of the whole episode and she was very supportive. Why I didn't confide in her earlier, I still don't know.
The problem of stalking is very common. But now that I look back at the whole episode, I realise that I should have informed my parents about it. They would have certainly helped me and the whole thing would have ended much sooner than it actually did.
*Name changed to protect privacy.
Have you ever been in a similar situation? How did you deal with it? Please share your experiences and suggestions with us. Send your stories to getahead@rediff.co.in (subject line: 'Stalker experience') and we'll publish them right here on rediff.com
Illustration: Uttam Ghosh