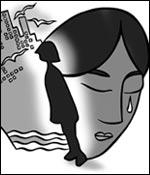 We invited readers to comment on how young people can deal with stalkers and obsessive lovers. We also carried professional advice and a few harrowing accounts from young women. Here, however, is a man's experience of being stalked by his ex-girlfriend. He prefers to remain anonymous:
It may sound odd, but I was stalked by a girl.
Me and Anushka (name changed) used to date some 3-4 years back. But we broke off after dating for about a few months and she shifted to a different town. I never knew that she had feelings for me even after breaking up. Time passed and at the beginning of this year she told me that she was still in love. I told her that I would meet her once she was in my city. She came over and stayed with me for a few days as a good friend and nothing intimate happened. I was hoping during this time that she would realise that there were no feelings from my end.
But this did not happen. She still had a strong attraction towards me. When she was leaving, I told her that she has to forget me once and for all and we have to stop talking because I could clearly see she still had feelings for me and I already had someone new in my life at that time. I tried to explain to her in every possible way, but nothing worked and I had to end up being around her, or else she would be hurt every day. The only way to achieve distance was if I broke off all contact with her. So finally, when nothing worked, I stopped receiving her calls and was invisible on chat.
After this, the so-called 'stalked by a woman' process had begun. She did her internship in my city so that she could be around me and she used to follow me around. She used to know all the details of my day -- where I went, what time the lights at my house went out etc.
She even stayed somewhere close to my house but never told me about it, and she never actually came to meet me, which was pretty okay by me -- by this time I was fed up, annoyed by her incessant phone calls and following me around. The very fact that she was stalking me left me in shock. This continued for about a month, after which she left.
I guess being stalked by a woman is not scary. But to be frank it's very odd, especially if you knew her beforehand. And now about two months down the line, things are normal. Though we never talk, I've come to know that she has moved on. We always read about women being stalked and how they get scared. I believe that sometimes, maybe the stalker himself is in a worse state if he knows the woman beforehand!
Have you ever been in a similar situation? How did you deal with it? Please share your experiences and suggestions with us. Send your stories to getahead@rediff.co.in (subject line: 'Stalker experience') and we'll publish them right here on rediff.com
Illustration: Uttam Ghosh