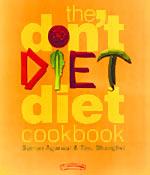 The recently published Don't Diet Diet Cookbook is a book written by two enterprising Indian ladies -- one is a nutritionist and the other describes herself as someone 'married into a family steeped in culinary tradition'.
The happy-looking, yellow-coloured hardback is certainly not the first to attempt and break the popular myth that diet food is tasteless. But authors Suman Agarwal and Tinu Shanghvi do a pretty neat job at repeating the adage to us.
Tinu is a housewife and was brought up in a plush downtown Mumbai locality. She comes from a Gujarati household -- a community that swears by food that is heavy, sweet and fried. Suman on the other hand is a dietician. Tall, slim, polished -- like most nutritionists we know of.
When you meet the two in the latter's clinic, you really see how different they are -- Tinu loves to chat about the various recipes mentioned in the book while Suman listens on offering occasionally her perspective on nutritional value of Tinu's dishes. Yet both women are equally passionate about cooking food.
"The Don't Diet Diet Cookbook," Suman says, "took us some two-odd years to finish. All 185 recipes had to go back and forth till both of us were happy with the outcome" -- she with the nutritional value and Tinu with the taste.
The two ladies also come from very different schools of thought. Says Tinu, "I never really 'measured' ingredients while cooking. If you've been cooking all your life you begin to get a fair idea. But Suman needed to know exactly how many grams of what was going into the dish so she could calculate its nutritional value!"
Adds Suman, "I have designed a software that tells me the exact calorific value of a certain ingredient once the amount (in grams) is specified."
The nutritionist's insistence on specifics has borne good results. Many young people find it easier to cook with exact measurements. You see, it helps to know just how many spoons full of a certain spice needs to be added to just how much of oil!
So when Tinu tells us that many of her nieces have actually taken up cooking after reading the book, we believe her completely.
Don't be a health food junkie
Suman says that the idea behind writing this book came when she would see many young anorexic women at various social dos. "They were frighteningly thin -- what we call health food junkies -- bingeing only on 'health foods' that would reduce their weight but also leave behind a whole lot of side effects."
These women, Suman says, would either be suffering from calcium deficiency or low haemoglobin or had simply lost the glow on their face. She adds, "I hoped to compile a book where people could actually eat and lose weight. The Don't Diet Diet Cookbook tries to do just that."
Tinu, who has been her client, also loves to cook and both were excited by the idea of putting together a book of recipes that would taste good as well as be healthy.
The 185 recipes in the book are largely Indian -- or rather ones that are made out of ingredients readily available in most Indian kitchens.
What makes it interesting is that it keeps the actual procedure to the basic minimum. Quite a few recipes are explained in not more than 6-7 steps, much unlike some other books where authors go into detailed narrations. This makes the pages look less cluttered, simple and clean. It also gives you a sense of reassurance that anybody can cook, even you.
Balancing your diet
Suman, who holds a certificate in food and nutrition from the Oxford University is a lady of few words. You ask her about how one can maintain a healthy diet and all she will tell you is "balance your carbohydrates, proteins and fat". The hitch, we point out to her, is that we don't know the difference. "Why don't you refer to the book?" she asks pointedly.
Indeed, the book does hold the answers. The index tells you just how much of CPF (carbohydrate-protein-fat) you are consuming if you eat a particular dish. It also tells you just what it is high on -- calcium, iron and the works. And finally it lets you know with a little icon if a dish is quick and easy to make.
Among the most tempting are the wraps -- about a dozen of them -- that shouldn't take you more than 30 minutes to make. Read the recipes carefully, though, because if you're planning to make them before you leave for work in the mornings, you'll be in for a shock to find that a certain ingredient needs to be soaked the previous night!
"The wraps are absolutely great lunch ideas because they can be packed and are not messy," Suman explains.
For the effort that has gone into the recipes, you feel the book itself could have been better designed. There aren't pictures for quite a few recipes so if you want to compare your dish with a photo you can't do it. On the other hand, the picture of the Parsi specialty Dhansak (Page 87) doesn't look anywhere close to what it should look like when it is prepared -- thick, consistent brown dal.
Tinu laughs out when we point that out to her. "We are trying to list out changes that we will incorporate in our second edition. Dhansak is definitely on that list," she says.
If you count out these little discrepancies, The Don't Diet Diet Cookbook is a fine collection of easy-to-prepare recipes that are healthy and tasty. The book also lists out suggested meals -- dishes from the book you can combine for a balanced meal.
Like most diet books, this one also suggests that one must eat every three hours to avoid the metabolism from dropping. Says Suman, "As long as you have the three meals and fillers like buttermilk, fruits and a small evening snack, it should be okay!"
Diet myths
There are a few myths busted at the beginning of the book. Suman writes: '(Certain) myths are propagated by fad diets that advise cutting out essential nutrients that your body needs to function properly'. Unsurprisingly, she dissuades her readers from eliminating any food groups from their diets.
She also tells us that regular vegetarian diet must include pulses and milk products so as to ensure a good supply of proteins. "Carry sprouts along with the vegetable and roti you carry for lunch," she advises.
Interestingly, milk products -- like cheese and butter -- form a prominent part of some of the recipes in the book. According to both the authors 'using low-fat cheese in the quantity specified' would do you no harm. She explains in the book that the reason milk is considered to be 'a meal in a glass' is because it is the only food that has carbohydrates, proteins and fat in it.
None of the recipes in the book are devoid of fat either. "Even people who have a high lipid profile require some amount of fat in their diet," Suman suggests. The key, as most dieticians would recommend, is to consciously cut down on fried food intake. Avoid for instance fried vadas for breakfast. And give that coconut chutney with your dosa a pass. Go for sambar instead.
Personal diet regime
Needless to say, as a dietician Suman Agarwal follows the rules she lays out for her clients. "I wake up at 6 am every morning and after a round of exercise, I have a cup of tea with almonds, followed by egg whites or omelettes or bhurjee."
She continues: "Then I have a paratha without ghee or oil and then another cup of tea. By afternoon, I have another cup of green tea, followed by my lunch that contains rice, dal and buttermilk. By evening, it's time for some Marie biscuits and tea. For dinner I stick to roti, dal and subzi -- variations from the book itself. Thrice a week, I also have a glass of beer."
Suman also says that there is no harm in having anything you like as long as you don't overdo it, even if it is alcohol. She goes jogging every day and recommends in her book that you take the stairs instead of the elevator and play with your kids downstairs rather than watch television. From its glossy pages, The Don't Diet Diet Cookbook suggests you 'Bring out the active you and not the passive you'. It is advice the authors live by.