As CAT 2009 approaches, the pressure on B-school aspirants is mounting. Strategising, mock CATs, time management -- each have their own importance and value when it comes to making your CAT attempt meaningful.
To help test-takers, we asked readers who have taken the CAT to share their tips and tricks. Here, Mayank Gupta, IIM Kozhikode alumnus, shares his experiences.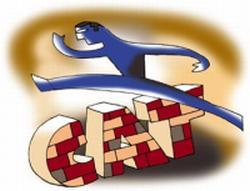 Although it has been around four years since I took the CAT, the memory of the day and the months preceding it are still fresh in my mind. And the excitement about the exam has been so strong, that even after joining the IIM, I have attempted all the CAT papers as soon as they are out in the public domain.
It is approximately a time of 60 days in which you have to brace yourself for the toughest exam on the planet. But the toughness will convert to smoothness for the ones who know how to tame the CAT. Here is my advice:
Not jack, but master of all trades
Since the number of questions in the exam have now been reduced to 70-80 to be attempted in a time duration of over two hours, the tried and tested technique of 'picking the right questions and attempting them correctly' will not work alone. For those who are aiming for a BLACKIS (the IIMs), the key to success lies in being an expert in each and every type of question, because there will be no scope of 'skipping' questions when the pool is so small. So, go back and understand those ignored topics of 'set theory' or 'boolean algebra' which might make or break the game for you.
Practice makes a man, and woman, perfect
Remember the question that appeared in the second Mock CAT you took and got you a negative score, and left you stumped when you came to know the 'so obvious' solution? Not really? That's why the need for practice. Go back to the Mock papers you have attempted, have a relook at all the questions, and practice the topics which you think need more attention. Remember, you can't afford to skip any topic as the number of questions is low.
Hope and confidence are the best tools for success
Last but not least, have confidence in yourself and keep up the hope that you will get your desired results if you provide the right kind of inputs. Stay away from people who tend to discourage you by telling their failure stories, or who disturb your study schedule by asking silly doubts. Do not get distracted by other people's ways of approaching a problem. If you can solve a problem in a particular manner, then it is the best method for you at this point of time.
And remember, CAT is not the end of the journey. It's just a means to get to the targets who have set for yourself. There must be alternate ways to reach those targets.
All the best!
Mayank Gupta, 99.99 percentile in Quantitative section of CAT 2005, IIM Kozhikode 2008 batch graduate, currently an entrepreneur in the education sector.
Have you aced the CAT? Do you have tips that could help students improve their scores or stress-busting strategies to beat pre-CAT nerves? Send in your advice to getahead@rediff.co.in and we'll publish your strategies right here on rediff.com.