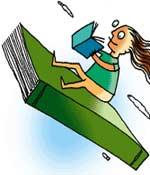 It is the "face-to-face" visa interview at the American Embassy that scares away scores of students from applying to US universities and colleges; however, the country continues to be the premier destination for international students even today. India remains the leading place of origin for international students in the United States for the seventh consecutive year with 94,563 students in 2007-08 [an increase of 13 per cent from the previous year].
This was revealed by United States study visa expert of 10 years, Diamond Sodhi, a management graduate from the USA, during the course of an interview with RMS Atwal.
"Contrary to popular belief, study in the US is as affordable as in the UK or Australia. It is also one of the only few countries in the world where you can work full time under certain programmes," says Sodhi, who is also the Programme Director of CAAN Wings, a Punjab-based study abroad and immigration company.

Excerpts from the interview:

Many believe that a US education is beyond the reach of an average Indian student. Being a former US university student, what do you have to say to that?
I don't think it is true because the US student visa is one of the easiest visas to get provided you are well prepared for it. As this visa is interview-based, if the student is able to make a good impact on the Visa Officer during the interview, which may last from 30 seconds to 10 minutes, I think the visa shouldn't be a problem. Yes, it is true that the students from the Punjab region do feel it is difficult because of a personal interview but that can be overcome.
Another myth is that US studies are more expensive as compared to other countries. I must tell you, it is as cheap as Australia or New Zealand. There are a number of universities from the high end to the low end to be chosen from. So, students can choose them according to their financial capabilities.
Yet another myth is that you need to have only a TOEFL score. The fact is you can show your IELTS bands for a good number of universities and colleges.
 
Talking about lack of English proficiency among Punjab students, where do you see the solution?
There are two simple solutions; one short-term and another long-term. The long-term option is studying in English right from the formative years and the short-term is you start taking coaching for spoken English and the IELTS or even go to the US for an Intensive English Programme. They (US Embassy) obviously understand that you come from a country where your primary language is not English. So, they don't expect you to be as proficient as US citizens but they do want that you understand the question and answer it in a most comprehensive manner. That's all that is expected of you.

But it is commonly believed that for the United States the TOEFL is required and our students need little bit of American accent for the interview. How far is it true?
Absolutely untrue. Visa Officers do not expect you to have any American accent. They know that you are not an American and you do not acquire the accent by watching English movies. The TOEFL no doubt is required but nowadays there are lots of universities which accept the IELTS score. In fact, there are many which are accepting students without the IELTS or TOEFL. As said, if your English is good and you can talk well in front of the officer, even if you don't have the English proficiency score, you can still get the visa. I am one of them.

The US is known for its liberal education funding for bright students. Does it hold promise for students from this part of the country?
It definitely does. The usual impression is that US studies are very tough. But the truth is that if anybody who is not an academic achiever here in India can be an achiever in the US. Any student who has a good percentage and has a good test score in GRE/ GMAT/ TOEFL can be considered for education funding. There is an organisation in New Delhi called USEFI, Fulbright House, where complete information about funding options is available. Moreover, most of the universities provide financial aid to students provided you meet their conditions on academic achievements.

How easy or difficult it is for an Indian parent to get student loans from Indian banks?
It is very easy because Indian nationalised banks are very open on study abroad loans. As long as you have a valid admission letter, commonly known as the I-20, a student can get a loan for US studies. Please note that financial requirements for the US are less as compared to other countries like Canada, Australia or the UK. In most other countries you have to show the liquid (cash) money for the entire study period. On the other hand, for the US the government regulations say you just have to show funds only for the first year. However, you are required to prove that your family has a good source of income to finance the subsequent years of your study. Another pertinent point is if you have relatives in the US, or even in India for that matter (third party funds), they can show funds for you.

So, US education is 'equally affordable'?
Absolutely. First in terms of costs -- education in the US is as affordable as in any other part of world. Secondly, in the US on-campus work is permitted for 20 hours a week, which can help the students partly finance their expenses. There are certain programmes available -- Curriculum Practical Training (CPT) -- where a student can work full time along with his/her studies. On the other hand, through Optional Practical Training (OPT) students get a one year work authorisation (permit) upon completion of studies.

How has the current recession impacted student visas for the US?
Interestingly, the student visa grant rate has gone up for Indian students in the last academic year. According to the Open Doors report published by the IIE with support of the US Department of State's Bureau of Educational and Cultural Affairs, India remains the leading sending place for the seventh consecutive year, increasing by 13 per cent to 94,563, following an increase of 10 per cent the previous year. In my opinion, Indian students will remain as major contributors in times of recession as international students contribute over $15.5 billion to the US economy through their expenditures on tuition and living expenses.

So, it is the right time to go in for the US study?
Absolutely. Now some erstwhile state-funded universities are looking up to international students to shore up their coffers. After all, foreign education is a big business for them. But that does not mean they will cut down on the quality of students. If you are a quality (genuine) student they will be more than happy to take you in. Statistics have shown us that recession can't be the reason for visa denial.
Some Indian consultants are advertising US study even after Class X. Don't you think it's merely sacrificing quality over quantity?
There are some schooling programmes available for students after completion of Class X. Students generally go to the US for professional courses. It makes more sense for a Visa Officer to grant a visa to a student keen on acquiring a professional qualification in the US and utilising the same back in India. Now, if a student tells the officer that he is going to the US merely to complete his tenth, which he can complete at a much cheaper cost in India, it may not make much sense to him unless, of course, we are talking about the really high income bracket people for whom foreign education is a luxury and not an investment into a career.
 
Any other message you have for our students waiting in the wings for the US?
The US remains the most sought after destination for students. Prospective students should aim for the US especially if they are sharp and their English is good. I am sure with the right kind of guidance they can make a very bright career which their families and they themselves can be proud of. Good luck!

RMS Atwal can be reached at rajatwal55@yahoo.com