So you've made it through the months of e-mailing your CV to friends, associates (and just about everyone else), the nerve-wracking interviews and the oh-so-important salary negotiations. You've put in your papers and you've made it through the painfully slow countdown till you bid adieu to that unpleasant boss, annoying colleague or mundane job profile. You finally made it to your last day at work -- it's exciting, it's sad, it's bittersweet for most. However, for some it might be just be a long overdue exit, a much-awaited relief from the stress and strain. Whatever your reason to quit, there are some basic rules of conduct for that big 'last day'.
Here's a list of what you should not do on your last day of work: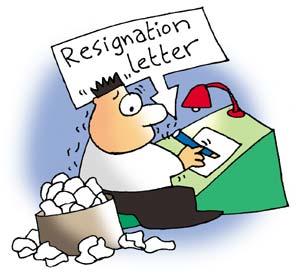 Rule #1: Don't diss the boss
Sure, he probably deserves it for all the long hours, credit stealing and impossible-to-meet deadlines, but that's still no reason to go up to him and give him a piece of your mind.
"Many people are tempted to give vent to their frustration once they know they'll be leaving the job," says Rajiv Kumar*, an IT professional in Mumbai. "But you'll need a recommendation letter at a later date or maybe your boss knows your new one, and that will only get you into trouble. The best thing to do is have a polite farewell -- a quick thank you and goodbye."


Rule #2: Don't delete files
You've worked hard on your presentations, research etc, but you worked on them for the company, using the company's resources. Deleting them is not an option no matter how much you hate the fact that it will be used by your ex-boss/ colleague.
"Deleting files might feel good if you've been treated badly, but it might turn out to be illegal in certain situations or industries," says HR professional Dheeral Mehta*.
Shwetha Singh* agrees. "I was with a internet design company for five years before I stopped working, and before I left I deleted all my designs. I got calls for months after that asking about where the designs were, why I had deleted them. It became quite a bitter experience. Since clients had seen the designs, they wanted to refer to them after I left, and the designs were company property."
Rule #3: Don't slack off
This applies not just to your last day but also to the days/months of your notice period. Leave behind pleasant memories. Put in that extra effort to meet deadlines, complete tasks -- just because you have put in your papers doesn't mean you have left yet. Make sure your boss and colleagues are sorry to see you go, not glad for it.
"I started working on a handover as soon as I decided to quit my job," says software professional Hiten Mehta*. "All the projects I was working on, their status, the plans and projects in the pipeline. My company had been good to me and I didn't want to leave them in the lurch."
Tie up all the loose ends before you leave, so your last day can be spent saying goodbye instead of rushing around the office making sure things are in order.

Rule #4: Don't steal office supplies
"One of my old colleagues actually made off with printer cartridges, notepads, mouse pads and even PC speakers," says Anchal Verma, a software professional. "Taking things is definitely a no-no."
Stealing office supplies -- notepads, pens, staplers, CDs etc -- is not a good idea. It will leave a bad impression on your colleagues and that's never good.
Rule #5: Use your exit interview for good
Most large companies have exit interviews where they interview you about why you are leaving and what they might have done to convince you to stay. Again, this is not a place to rant about how unfairly you were treated and how you wish you had never joined them in the first place. That kind of thing might just come back to haunt you later in your career.
"Be polite and to-the-point," advises Verma. "If you have had certain grouses or problems that can be addressed bring them up. But if you're leaving because you hate your boss, chances are HR can't do much so don't bother bringing it up."
Your last day should be a memorable one (for the right reasons), so bear in mind these rules before you bid farewell.