Vanita Sinha got through INSEAD. Of course, she was thrilled to bits, but she wasn't offered a place in France -- its primary campus -- but in the satellite campus at Singapore. Now her parents were thrilled to bits. Singapore is just four hours from India.
At the moment, there are nearly 97,000 international students from 120 nations studying in Singapore. While there are only three local universities 16 leading international universities have set up their centres in Singapore.
Industry-relevant education Singapore's education institutions maintain strong links with industry to ensure that courses stay industry-relevant. For example, DigiPen Institute of Technology that offers animation courses has a
tie-up with LucasArts.
Low cost of living
School and tuition fees in Singapore are competitive and the cost of living in Singapore is significantly lower than that of many developed countries. And to make education more affordable, the government provides tuition grants to international students enrolled at the public universities and polytechnics. Scholarships too are available but in limited numbers.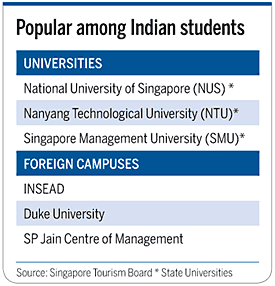 Part-time work and work permit
A work permit is not required but students are only allowed to work a maximum of 16 hours a week during term time. Students start looking for jobs while studying, however, in the event a student does not get a job by the time he or she finishes his degree, the student can apply for a one month Social Visit Pass to the Immigration and Checkpoints Authority (ICA) in Singapore.
This gives a student a month to look for a job. Granting of social visit pass and the duration is at the discretion of ICA and varies from case to case.
Applying for Visa
The institute will assist the student in applying for the student pass. The Student Pass application must be submitted at least two months before the course commencement date. The student will have to log on to the SOLAR system from the Immigration and Checkpoints Authority (ICA) website with your assigned SOLAR application number.
The SOLAR Application number will be issued to the student once the student has been accepted by the school.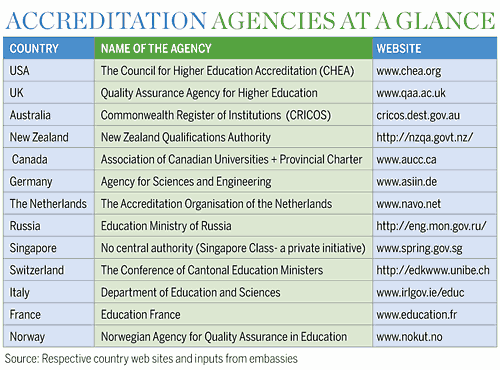 Student's Pass applications submitted via SOLAR are processed in three to 10 working days. Upon the approval of the Student's Pass application, the student will receive an In-Principle Approval letter from the Department of Student Development.
For more details log onto www.ica.gov.sg/services_centre_overview
Careers360 is a complete careers magazine