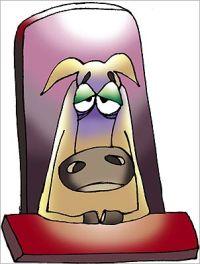 Two out of five office workers have said that they sit next to an annoying colleague, reveals a new British survey. Do you feel the same way? Illustration: Uttam Ghosh
According to a study conducted by recruitment firm Office Angels, workers spend an average 1,332 hours a year sitting at their desks -- but the strain often shows. In fact, the situation becomes so bad sometimes that they are forced to move their desk.
Of those, some 38 percent complained about colleagues they sat next to, sometimes confronting them about their behaviour or habits or even asking to be moved.
The complaints included colleagues who talked too much, moaned, stole items of stationery or were too nosy.
The workers said they were distracted by colleagues who dealt with personal affairs in the office without any discretion, talked too loudly on the phone, ate noisily, sucked up to bosses or left their desks in a messy state.
However, nearly half described their colleagues as supportive, especially during stressful times at work and at home.
Over a third revealed they had become good friends with work colleagues, and a similar number believed they had learned new skills from a colleague.
"Whilst the majority of office workers have a happy working environment, it's inevitable that occasionally desk-neighbours will get on your nerves," Sky News quoted the firm's managing director David Clubb as saying.
"However, as the results show, it is no surprise that there are plenty of workers who have good working relationships with colleagues, and it is a known fact that many people meet their partners or closest friends in the workplace," he added.
Do you find your office desk neighbour annoying? Have any experiences to share? Post your comments on the messageboard below.