We invited GA readers to contribute restaurant reviews and share their opinions on their neighbourhood eateries with us. Here, Harish Anand Thilakan gives us the low-down on Kleio in Chennai.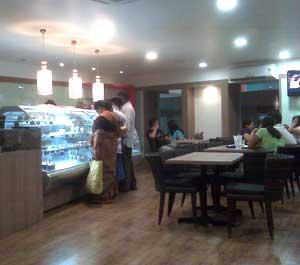 A Guns n' Roses styled dark brown 'chocolate' rose was definitely not what I was expecting to see at Chennai's newest cafe (am almost growing tired of this word). Christened Kleio, this snazzy one-thousand-square-foot eat-out immediately conjures up positive vibes though with its bright, naturally lit interiors. Stylish cane furniture (needless to say, chocolate shaded) don't look comfortable but pleasantly surprise.
Food: An impressive array of quick eats (sandwiches, rolls, wraps, pastas etc) complement a selection of cakes, beverages and other interesting dessert.
My first experience to the outlet was rather surprising with almost everything I tried flooring me. But I decided to go back a few times before writing this and boy, am I glad I did.
All the food fare sampled till date has not disappointed -- the Chicken Mayo Sandwich, the Coleslaw Sandwich (innovatively shaped like a pastry), the Paneer Wrap, the Veg Pasta (mixed on site). Special mentions due to the Paneer Wrap which unlike most wraps around the city, was actually palatable.
The beverage menu seems strongly "inspired" from another city cafe though the concoction is anything but borrowed. The Snicker Bar Shake and Dream Shake (Toblerone) are easily the best around, while the Oreo Shake fell short of its contemporaries. The Iced Lemon Tea was a hit as was the Cold Coffee Lite (sugarless).
It was the dessert department that interested me the most, especially thanks to the recent proliferation of dessert options in the city. The first dessert I sampled was the White Chocolate Muffin and I am still quite mesmerised by it -- the white chocolate itself to be precise, was absolute heaven while the muffin could do with a better bake. The Nut Corner was delicious, a biscuit made of a mixture of nuts and served (on request) with ice cream, the Apple Pie was a little awry though.
My biggest disappointment was undoubtedly the Death by Chocolate. Along with the Chocolate Truffle pastry, any outlet that attempts to serve up the DBC will have to live with being benchmarked by these two landmark desserts. It was one of the poorer renditions of DBC I have come across, to be kind. The feedback was well received by the people in charge and they've set to work on getting it right.
Brand story: Kleio's tag line, Sinfully Expressive, explains the chocolate rose. "We want Kleio to be a destination where people head to express themselves. The rose is synonymous with expression and served in chocolate, it was a perfect fit," explains Rajesh Bysani (chief taster). Taking forward the theme of a destination cafe, a lot of space has been left underutilised to make space for a dais of sorts. Rajesh plans to use the venue to organise stand-up comedy, karaoke sessions, activity for children, etc to help keep the crowds enthused beyond just his food -- not a bad plan on paper but time will tell its success. The in-store and display branding is very refreshing for this space. Credit to their design agency, Whoa Mama.
Location
Kleio operates from a centralised kitchen that caters to its two locations -- opposite The Residency's in-gate on Dr Nair road, T Nagar and DLF IT Park, Porur. My four visits before penning this review have all been to the T Nagar outlet. All the food
is made by an in-house team with its owner, Rajesh Bysani (31) himself assuming the role of Chief Taster & QC Head.
Staff: Courteous and friendly though finer knowledge about the products are limited to the seemingly experienced.

Facilities: The toilet is usable and hygienic, for men and women alike.

Cost: Very reasonable, almost under priced. Only the special shakes are in excess of Rs 120. All else average around Rs 40 each.
Must order: Paneer Wrap, Chicken Mayonnaise Sandwich, Dream Shake, White Chocolate Muffin.

Average cost per person: Rs 135

Would you like to review a restaurant for us? Send in your experiences and opinions of eateries to getahead@rediff.co.in (subject line: 'Restaurant Review') along with your name, age, contact details and a photograph of the restaurant if possible. We'll feature the best entries right here.