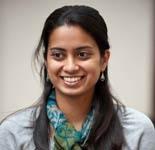 Deepti Gupta, a 22-year-old Stanford graduate who grew up in Allahabad with a passion to educate the underprivileged, has won a $150,000 teaching fellowship from the Knowles Science Teaching Foundation.
She is one of 35 would-be teachers from across the United States selected for the prestigious fellowship for 2009, and the only Indian in the list. Gupta, who has done her major in mathematics, joins the KSTF's coast-to-coast, teacher-to-teacher mentoring network that supports over 130 teachers in 32 states.
Gupta, who came to the US at the age of 13 in 2000, says she believes that education can change lives and societies for the better and could increase social mobility and create an informed citizenry. "Most importantly, education increases the human consciousness," she says.

She started early. "We had domestic helpers at home [in India], and I held classes after school for them and their children. Using a chalkboard that my parents painted on a wall for me, I taught numbers and the Hindi alphabet. I was encouraged by my students' eagerness to learn something new; it was refreshing to see them intrigued by education," she says.

"I started becoming drawn towards the idea of teaching because of a few teachers that I liked very much in my early years in India. I felt they enjoyed what they were doing, they made us happy, and we made them happy. It was as simple as that for me at that point," she says.

"As I began practicing by teaching our domestic helpers and their children, I began to understand the inequities in educational opportunities. After coming to the United States, I again saw the discrepancies between who was achieving and who was not. Through my tutoring and mentoring, I also realised that I enjoyed being around learners and learning along with them," Gupta says. "Initially I had wanted to teach English, but during high school I realised my love for doing math and for explaining math."

Her parents had the desire and the means to make education a priority in her own home; Gupta now wishes to pay it forward by helping students at the high school level. She says in the US there is a shortage of people educated in science and mathematics, fields that are less accessible to the economically disadvantaged. She has accepted a full-time math-teacher position at Sequoia High School in Redwood City.

This year, there were 214 applicants for the fellowships. There are four criteria used in the selection of fellows, including exceptional content knowledge, commitment to teaching, ability to teach and leadership.

The fellowship provides professional and financial support, including tuition assistance while earning a teaching credential, monthly stipends during the academic year while a full-time student working on credentials, and stipends for all fellows during the summer.

Nicole Gillespie, senior programme officer, KSTF, says effective teaching is incredibly complex.
"We seem to have the illusion in this country that a smart person will be able to walk into a classroom and automatically be a great teacher, but it's just not true. Knowing one's subject matter is just the beginning," she tells India Abroad. "A good teacher needs to know how her students' intuitive ideas will impact their learning, how to effectively build on those intuitive ideas, ways to reach all learners including those from different cultures, those who have different ways of learning and seeing the world, and those who might have physical or emotional challenges that affect their learning," she says.

"This is why this is a five-year fellowship rather than just one or two years," she says.

Gupta was reluctant to compare the education systems in India and the US, saying merely that there will always be differences between systems and cultures. "It's not that education is not valued here," she says, "or that science and math are not valued here. After all, many immigrants come to this country specifically to get a better education and lead a better life.

"In Eastern countries like India, however, education means going not just to K-12, but also completing college; education means becoming a doctor or an engineer so one can make money and support one's family.

"In the US, education means thinking clearly and rationally. It means finding yourself as an individual. The emphasis is not necessarily on knowing your multiplication tables or the periodic table. So, there are always positives and negatives to any system, and the best one can do is be aware of the differences and learn from other models," she says.

Gillespie, responding to the same question, says that given the American high school curriculum was established over 100 years ago and has not substantially changed since then, there is a need to do a lot more.

"At that time, a very small percentage of the population was educated beyond high school, but there were also very few professions that required that level of education and many ways to earn a living without it," she says. "That is no longer true, but we are still educating our children as though that were the case. We need to be educating students to be flexible, creative problem solvers so they that will be able to thrive in a world that we cannot even imagine yet. Spending time on rote memorisation of algorithms and facts, which is what the American 'inch deep and mile wide' curriculum forces us into, is an incredibly ineffective way to do this."

Gupta would love to return to India in pursuit of her passion, "maybe during the summer, and see what it's like to live there as an adult and to teach there."