We invited GA readers to contribute restaurant reviews and share their opinions on their neighbourhood eateries with us. Here, Kavya KP reviews Bangalore eatery Potluck.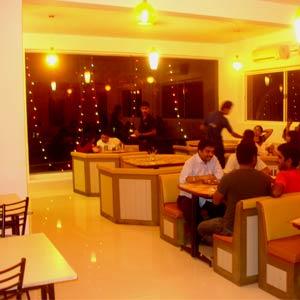 Being a newly married working couple in Bangalore, my husband and I really enjoy eating out. It saves us a lot of time plus we can spend some quality time together. So, on one such eat-out, we found this restaurant called Potluck with a huge board outside displaying photos of yummy food and decided to check it out. It turned to be a nice surprise -- both for our tastebuds and wallet.
Potluck's USP is North Indian home-food and they live up to their promise.
For starters we ordered Onion Pakoda and Moong Dal Mangode. The Onion Pakoda was okay, a little over-fried but coupled with the green chutney it tasted fine. The Moong Dal Mangode was fried just right and was not oily at all.

The main course consisted Phulkas, Mix Paratha, Pizza Paratha, Sabji Kofta, Paneer Burji and Pancharangi Dal. Note: Potluck has only tawa items and no tandoor. Yet, it's good if you're looking for a change. Almost all North Indian restaurants have the regular Rotis, Naan and Paneer Butter Masala. This restaurant reminded me of the famous 'Bobby Dhaba' in Bangalore.

The Phulkas and Mix Paratha were good; they were freshly prepared and hot. The Pizza Paratha was interesting. I don't like capsicum but my husband loves it and said it was a desi pizza. He enjoyed it so much that he asked me to make Pizza Paratha at home, but that's a different story!
The breads and sabji were good and the quantity was just enough for two. I especially enjoyed the Paneer Burji. There was some Dal left, so we ordered Kofta Rice. The waiter told us that Kofta Rice went well with Dahi Boondi Gravy and so we ordered that as well. Dahi Boondi Gravy is basically boondi raita with tadka and he was right, they went very well together.

We were quite full by the end of the meal, yet the waiter managed to convince us to try the Rabdi Kulfi, which we thoroughly enjoyed.
Now for the bill. Almost all items are with in the Rs 35-40 range. So, our total bill amount was around Rs 250, not bad for such a filling meal. The service was decent, though a little slow. They also have a Thali for Rs 60, which we sampled on our second visit. It was filling and worth the money.
Overall, Potluck is the kind of place I don't mind going to every day. They serve non-oily food that's very close to home-made and it's not super crowded so you won't have to wait for a table. If you are planning a visit, say hi to Amit, the waiter who serves with a smile.

Location
Potluck
No 770,
2nd Floor, 16th Main,
BTM IInd Stage,
Bangalore

Must Orders: Moong Dal Mangode, Phulkas, Pizza Paratha, Sabji Kofta, Paneer Burji, Dahi Boondi Gravy, Rajasthani Biriyani, Kulfi Rabdi

Average cost per person: Rs 100

Would you like to review a restaurant for us? Send in your experiences and opinions of eateries to getahead@rediff.co.in (subject line: 'Restaurant Review') along with your name, age, contact details and a photograph of the restaurant if possible. We'll feature the best entries right here.