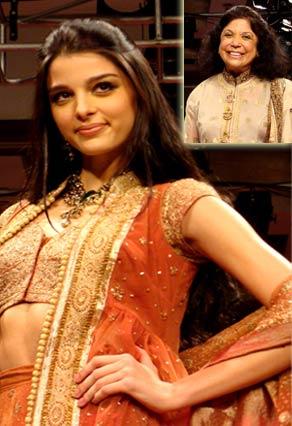 Ritu Kumar celebrated 40 years in fashion with a retrospective show at the Kolkata Fashion Week (KFW) II [Click here to view the collection]. The ace designer in conversation with India Blooms correspondent Sreya Basu:
Forty years is a long time. You must be very happy today as you celebrate in Kolkata?
Definitely. When I opened the first rolling shutter of India's first-ever boutique in Delhi in 1967, followed by a small store in Kolkata, little did we realise that the country's first boutique would go on to become the nation's first brand. The Ritu Kumar label in the past 40 years has grown to have a pan India presence. As for being in Kolkata, it's like a homecoming. I live in Delhi, but keep coming back to this city every two months.
What was the theme of your collection?
My collection is a tribute to the craftsmen of West Bengal. Be it the embroidery workers from Uluberia, or craftsmen from Phulia and Srirampur region of Bengal, the state has the finest people in the world. I mixed my retro theme with the KFW theme -- Earth Couture. I started with the Mughal dynasty and Indian history (where I focused on unstitched saris and dresses), to modern India (of abstract paintings) and finally ending with a bridal collection (keeping in mind the forthcoming Durga Puja).
So you are targeting the young generation?
Yes. I love designing for today's generation. I did the Assam paintings on the clothes myself knowing that the youth will love them, especially the jackets. Besides, my clothes are multi-dimensional -- it's not that you wear an outfit for a particular occasion and then can't wear it any more.
Many new designers are trying to follow your hand-block paintings. What do you have to tell them?
I am happy. You know what, India is the only country left that still has craftsmen and their work -- they are our treasure. The rest of the world runs after mechanised clothes dictated by Paris. It is our strength and we must take it forward.
Do you think the recession has affected the fashion business?
We could feel the shake out. A lot of people will stop their business, others will survive. The buyers have become conservative and they look more carefully before making a decision. But the craftsmen will be winners always, what they do can't be duplicated.
What is your fashion forecast for India?
India can never go out of fashion. There's nothing 'in' or 'out' in India. We go by the seasons -- in summer it's white.
You dress so many people. What's your favourite pick when it comes to yourself?
I prefer cotton and natural fabrics.

Brazilian model Giselle Monterio showstopped for you...
Did you recognise her? I am sure you didn't. She looked so Indian! Yes, Brazil and India go a long way. And beauty has nothing to do with nationality. I have found good company in Giselle.

Is she taking any of your collections with her?
She has seen all my collections, I have to gift her an entire wardrobe!

What's next under the Ritu Kumar label?
I will launch the Ritu Kumar line of T-shirts; not whites, but print, paintings and embroidery of gods and goddesses.
Photo caption: Model and actress Giselle Monterio and Ritu Kumar (inset)
Photographs: Avishek Mitra