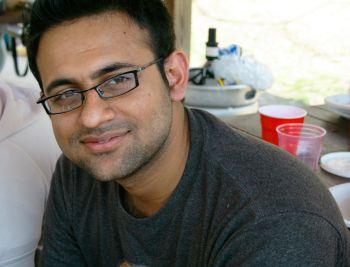 Suman Guha Mozumder speaks to John Kolencheryl, a computer engineering student from Carnegie Mellon who wants to make a difference.
In the late 1980s, when his father brought a ZX Spectrum (then one of the most popular eight-bit personal computers) home in Cochin, Kerala, John Kolencheryl, then barely 8, was captivated by computer games. He dreamed of being part of the videogames industry one day.Since then, Kolencheryl, now 26, has hung onto his dream, completing his bachelor's degree in electronics and instrumentation engineering and coming to the United States in 2008 to study at Carnegie Mellon to pursue a master's degree in entertainment technology.
Last week, Kolencheryl moved closer to fulfilling his dream when he was declared one of the four winners of the annual Randy Pausch Scholarship, named in honour of Dr Randy Pausch, professor of computer science, human-computer interaction and design at Carnegie Mellon. Pausch, who passed away last year, impacted millions of lives through his book The Last Lecture, in which the celebrated professor emphasised overcoming obstacles and pursuing one's dreams. Although the scholarship is only for $2,500, it is considered prestigious in the industry.
'Randy Pausch encouraged me to take a shot at making my dreams a reality. This scholarship gets me one step closer towards achieving my dreams,' says Kolencheryl.
"First thing I want to do is to break into the game industry," he explains. "In India, it is difficult to break into the game industry because it is nascent. It is tough -- mostly because you do not have a lot of jobs in that particular field."
"My ultimate dream," he continued, "is to make games that will deliver important social messages, games that will make people think of issues and to become better human beings. But all these will have to done in such a way that the fun part of games is not lost."
According to some estimates, videogame hardware sales in the United States totalled $6.6 billion in 2007, while software sales totalled $15.8 billion.
Kolencheryl said videogames are played mostly by people between 17 and 35 years of age, and therefore there is a lot of potential and scope for making games with implicit social messages.
"But then there are challenges there too," he added, "because you cannot just make games that talk about social messages and all that only. One has to generate revenues from games sales so that its development can continue."
After his bachelor's, Kolencheryl joined Larsen and Toubro Infotech Ltd, a software solutions company in India. But alongside, he also developed a character and a concept called deaDBaby.
The messages he intends to "kind of hide in the games" are about parenthood and social evils like drunken driving, bad things that happen in the community.
"These are the things that I intend to layer in the game," he said, "and put the players in situations that force them to make decisions while playing the game."