For Chanda Kochhar, CEO and managing director of ICICI Bank, 2009 is a landmark year. She completed 25 years at the bank, becoming the first woman to head it. Forbes recently named her one of the top 20 most powerful women in the world. "I was inclined towards finance and banking became the first preferred option," she says adding that the biggest support factor was her family's belief that children must pursue the best education.
In a telecon with Vatsala Kamat, she highlights a few defining moments in her career trajectory and spells out ICICI's work culture and employee philosophy.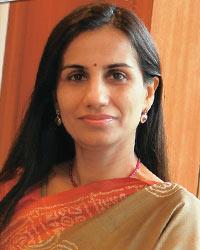 What factors brought about this meteoric rise in your career?
During my initial years in the bank, I was into pure project appraisal and project finance. This was a good learning experience as it gave me great insight into business risk analysis. Persistent effort, a long innings across various divisions of the bank, strategic agility and emotional balance helped me redefine and manage change effectively at the bank at various stages. What also worked well for me was that through this period, ICICI itself grew, diversified and evolved into a banking giant, which gave me a rich experience."
Can you recount any defining moments in your career?
One such would be when I was assigned the responsibility setting up and running the retail business in 2000. This entire retail thrust was new not only for me but for the ICICI group and even the country as a whole. And a few years down the line the retail business became the major contributor to the growth of the bank's balance sheet. I believe that through my retail banking experience, I also learnt the importance of identifying customer needs and constantly striving to add value to our relationship with them.

Did the bank cut back on work force or salaries during recession? Is there a revival in the sector now?
Even during recession, we did not cut back on employees. Like many companies, we too focused on productivity. For
example, while we set up 475 branches last year, we did not add to the number of employees; hence improved productivity.
We do not have a philosophy of cutting back salaries, but the performance-linked variable pay system and bonus help us manage salary levels.

Across industries, while the rate of creation of new employment has reduced, there is no concern on people losing jobs now. I am seeing signs of economic recovery on a quarter to quarter basis. I think we have peaked in terms of the pains we had
and challenges we faced.

What skills do an effective banking professional need? At ICICI, what is critical for employee reward?
The basic knowledge of banking is very important. However, a banking professional must acquire the soft skills needed to deal with customers while keeping in mind the interest of the bank. In other words, an efficient banker must be sensitive to customer needs but must have sound risk assessment skills. In banking, you must be able to assess risks, and take appropriate decisions.

At ICICI Bank consistent performance is the ticket to come into the consideration set. Thereafter it is the leadership ability to identify the customer needs and shape delivery systems.

ICICI recruits employees from Tier I to Tier III institutions. How different is their perspective?
Well, a sound management degree certainly widens the horizons of a person. Some institutes take the best candidates at the graduate level. So, when we recruit from reputed educational institutions, we believe that one round of filtering has already taken place.

However, just an MBA is not a passport to success on the career front. How he performs in a job depends on the person's capabilities and willingness to learn skill sets associated with the job. At ICICI, we have a one-year programme where we train and orient recruits on suitable skills for the banking industry. We have also tied up with institutes like NIIT to train and prepare students for the entry stage jobs in the banking sector.
One common perception is that ICICI has aggressive growth strategies. Do you look for this attribute in your employees?
We are a growth organisation. But we are not aggressive. Our growth strategies are formulated in the context of our
environment. Our recruitment parameters are uniform at the entry level. Thereafter we conduct an aptitude test of the employees mainly to judge what job would suit his profile. The difference in aptitude would be more in terms of the candidate's risk management or marketing or administrative skills rather than an aggressive personality.
What is the work culture you wish to instil in your organisation? How do you ensure this given the high attrition rates in the industry?
At ICICI, we set the broad vision and employ young people to carry on the vision forward. We believe that a growth oriented organisation throws up tremendous opportunities for employees. It is up to the employees to see how they could learn from the environment  around and take on larger roles and responsibilities. Empowerment comes with both responsibility and accountability. We are not averse to employees moving across job functions, for which again there are procedures to be followed. This flexibility helps maintain the drive and energy levels in employees. ICICI has over many years been successful in not losing the people we want to retain. Employees also know where they stand in terms of professional achievements and efficiency on a monthly basis, and are not taken by surprise at the end of the year. Apart from this we have made huge investment in attrition proofing our organisation.

What are the advantages in Young India from a banking employment perspective? Where could they improve?
The customer of the next 20 years will be a product of social thinking and preference of the youth of today. Thus today's young employee has a distinctive advantage of being able to understand and service the needs of the emerging customers. They will play an important part in shaping ICICI Bank's thinking, business model and processes. Their innate comfort with technological changes will also help them and through them the bank to adapt and deliver appropriate products and services.

The youth of today should learn to stick it out in one area at least for a reasonable period of time which will help them build personal skill and capability to make a difference. They should learn to be able to under play individualism and collaborate more with colleagues.

Lastly they should develop the ability to focus and concentrate on select areas for sufficient time without losing attention
and concentration the way they browse the channels or the net.
Photograph: Soumik Kar/Outlook Group
Careers360, is a complete career magazine