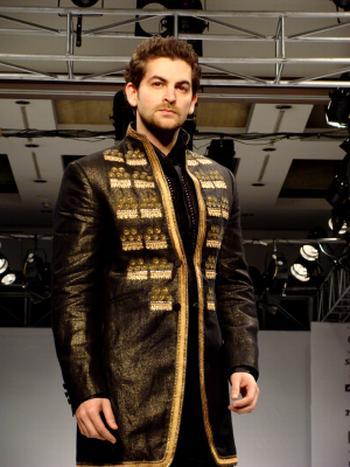 Actor Neil Nitin Mukesh set the ramp on fire in a black-gold short jacket sherwani for designer Narendra Kumar on Day 5 of the Kolkata Fashion Week (KFW) II. India Blooms correspondent Sreya Basu chats up the actor after the show. Photograph: Avishek MitraWhat is it like walking the ramp in Kolkata?

This is the first time I am walking the ramp in Kolkata. Everyone says 'I was nervous'; I would like to differ. I was very confident, especially because Narendra Kumar made such good clothes for me!
Are you going to keep this sherwani?

No... I am going to steal it (laughs)... Narendra has no choice. I can pick anything from his collection anytime. He is not just a designer to me who helped me with my image and the style statement I carry, but he is an elder brother to me and I am honoured to be able to showstop for him at KFW II.
What's your style statement?

I always keep it simple, smart and stylish. Narendra always says that whenever he sees me he finds me very clean... not fussy, but classy.
Who do you think is a style icon in Bollywood?

There are so many of them. But I think John (Abraham) and Bipasha (Basu) are really hot and classy.
Narendra Kumar does most of your clothes in your films. Do you have any other favourite designer?

No... Narendra Kumar is the best and he rocks!
Do you miss your grandfather Mukesh today?

Unfortunately I have never met him... I will forever regret this. But I have many memories of him. As a child, my sister and I would spent hours every weekend with my grandmother, listening to 'Dadu's' (grandfather's) tales. I would sit for hours looking at the trophies he won. My grandmother told me that 'Dadu' tried his luck in the films as an actor, but couldn't make it. This inspired me to take up acting as a profession. You can say that I am living Mukesh's dream.
You sing as well...

Yes, I sang for my film 'Aa Dekhen Zara'. I am also singing for my forthcoming film 'Jail'. But in no way, you can compare my singing to that of my grandfather (Mukesh) and my father (Nitin Mukesh).
You seem very selective about your work... be it acting or singing or modelling...

Not at all... I go by my heart... '
har kaam dimag se kam, dil se karte hai
' .