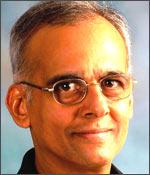 Andrologist and microsurgeon Dr Sudhakar Krishnamurti will be responding to rediff readers' sexual queries on a regular basis.
We invited Get Ahead readers to mail in their questions. Here is the next set of responses:
---
  I am male 30 years of age (unmarried). Last year in April, I suffered from slip disc. About 1.5 years back I had problem while having intercourse. The weather was was hot and I was drunk. Do these factors have a significant impact? I had masturburted a few hours before that. I want to know what may be the reason?
Four years back I had normal intercourse.
Thanks,
Madhur*
Spinal cord problems can and do affect erection and ejaculation. It is hard to address this in too much detail through an internet Q & A column. You will require a physical examination and maybe a few tests. Please schedule an appointment through www.andrology.com. [Climatic conditions, alcohol in moderation, and recent masturbation don't always affect everyone deleteriously.]
---
Dear Sir,
I use coconut oil as lubricant during intercourse. Is it fine or kindly advice any lubricant available.
Sajid
Oily lubricants are generally not recommended for sexual intercourse. Use aqueous K-Y Jelly (Johnson & Johnson) instead. It is safe, sterile, and has a very high coating capacity. Oily lubricants, however, may be used during masturbation.
---
Dear Sir
I am Nitin Garg from Delhi, 24 years old. There is some sperm in the urine everytime I go.
Please help.
It is not normal to have seminal fluid in the urine, except perhaps immediately after seminal ejaculation or emission. You will require an andrological examination and a few tests to tell what is going on. Sometimes, the semen goes back into the urinary bladder. This is abnormal.
---
Dr Sudhakar,
My foreskin cracked while full erect of my penis. Please let me know the reason and the solution for the same. Your prompt response in this regard will be highly appreciated.
Regards,
Prem*
We need to determine the cause of the cracks. Cracks can be caused by mechanical tightness or by fissuring due to other causes. A physical examination is necessary to make a proper diagnosis and advise treatment. You may require surgery.
*Name changed to protect privacy.
---
Do you have a question for Dr Krishnamurti? Simply e-mail him at sexualqueries@rediffmail.com; responses will be published each week and names will be withheld upon request.
Dr Sudhakar Krishnamurti is an international award-winning andrologist and microsurgeon. He is the only Indian on the world's first-ever batch of sexual medicine fellows (Oxford, 2007). Best known for the Krishnamurti Operation for Peyronie's Disease, he is also the founder of Andromeda, India's first andrology center, and author of the book Sexx is Not a Four-Letter Word. Click here to purchase the book from rediff Shopping.
Disclaimer: Please note that Dr Krishnamurti will be answering the most relevant queries at his discretion each week. His advice may not necessarily reflect the opinions of rediff.com and while it is in the capacity of professional medical counselling, it in no way should be considered an alternative to visiting a medical specialist for sex-related ailments.