The all new world class sea link, the surge of 3G ready mobile phones, India's say in world matters -- we are fortunate to be born in a blooming nation in the 21st century. Sure enough, this is changing the mood of Indian youth. They are game for exploring different and unusual fields and are continually moving farther from the security of 9 to 9 jobs -- they are tending more and more towards something they are passionate about, something that stems from their very heart.
Does all this strike a chord in your heart? Sounds like your story? Then welcome, to India's new-youth bandwagon, which is driving growth like never before. These are the youth, who want to work, but on their terms and do just what their heart says. YOU could be a part of this brigade.
India is following her heart
Over the past few years, many enthusiastic souls have been quietly and voluntarily involving themselves with causes like educating children and adults in the underdeveloped sections of cities, environmental drives including no pollution drives, plant more trees campaigns, no honking campaigns, liberation and education of child labourers, development of small villages and much more.
Janhvi Somaiya is passionate about the work she does, "I have been visiting a village called Saphale on the outskirts of Mumbai, for six years now. It has been an enriching experience and I am happy I can make a difference to their lives."
Meenakshi Iyer from Chennai, a member of the Satark Nagarik Sanghathan that works towards making people aware of the Right to Information Act says, "I have made it my life's mission to make citizens aware and alert of their rights."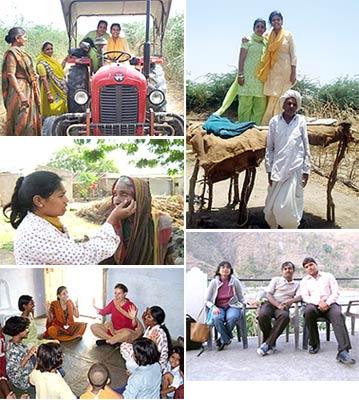 Jishaan Roy, a final year medical student from Kolkata, believes in disseminating knowledge he has to the underprivileged people.
"I like conducting astronomy workshops for children in Pune. They feel excited about seeing the stars and planets and I feel satisfied to see them so happy with a little effort of mine."
Sunita Mahendra, an accounts manager in a private firm in Delhi helps her local NGO to maintain their finances. "The NGO I volunteer with deals with injured animals and birds. So, it becomes important to keep the finances in check for paying the doctors' bills, for medicines, for other equipment and I'm glad I can help them out with this. I feel good knowing that I too am contributing to the spirit of life."
Young India needs to choose between intent and action
With awakening taking place among the youth of India, there has been a strong urge to strike a balance between domestic, professional and social life. People today want to spend quality time with their family along with putting constructive hours into their professional lives.
However, they also wish to contribute towards building a better society, and give back to the system. What they need is an opportunity to strike a balance by utilising their skills they exercise in the professional field for the cause of building a better society.
Moreover, the time has come to convert intent to real action. Not just to think about doing, but actually doing it. Go ahead and volunteer.
India is looking for volunteers like you
Passionate Indians keen to work for the society now get a platform in the form of iVolunteer.
iVolunteer, an initiative of MITRA, a not-for-profit organisation working in the social sector in India, is now urging people to go ahead and do it -- in this case, go ahead and volunteer.
iVolunteer India Fellow Professional is an exclusive volunteering programme for 50 Most Passionate Indians to come and share their professional skills in rural development organisations for mutual benefit.
Therefore, if sharing your time as a volunteer enthuses you, if your heart feels that you can give two months of your life to something exciting and help serve a key sector of the country as well, you are in the right place.
You could visit www.ivolunteer.in/professional and find out what is in store for you and what fits you the best. We wish you the best of luck!
Reader invite
Is your story similar to that of Neha, Bryan, Janhvi, Meenakshi, Jishaan and Sunita? Would you like to share your story with us? Tell us how you are following your heart while doing your bit for the society.
If you are under 35 years of age then write to us at getahead@rediff.co.in with subject line: 'I'm following my heart' along with your name, age and photograph and if your work is interesting we will publish it right here on rediff.com.