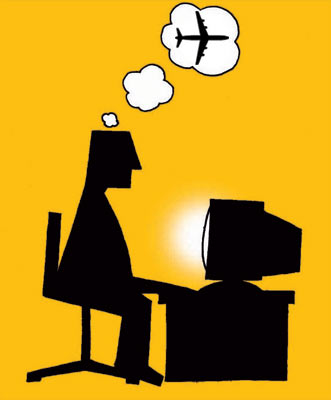 Are you planning on visiting the United States but worried about whether you'll get a visa?
Are you concerned about whether an earlier rejection will affect your current visa application?
What questions can you expect at the visa interview?
Will fluency in spoken english affect your visa application?
To answer these and many other related queries, vice consuls from the US Consulate General in Mumbai hosted a chat with Get Ahead readers on April 8. For those of you who missed the chat, here's the unedited transcript:
---
ViceConsulB says, Hello, and welcome to today's web chat! I am a Vice Consul at the US Consulate General here in Mumbai. I am joined by another one of my colleagues. We hope to answer as many of your questions as possible. Please know that we cannot discuss individual visa cases, just provide general information on our processes, procedures, and laws. Let's get going!
---
zoozoo asked, what are the common questions for visitor visa interview?

ViceConsulB answers, Be prepared to talk about the detail of your trip to the US, why you're travelling to the US, and about your life here in India.
---
alex asked, How many times can i go on apply for f1 student visa after rejection ? So far I have been rejected twice, can I stand a chance next time ?

ViceConsulB answers, You can apply as many times as you wish. I can't say what your chances are on the third time around, but do know that all of the Officers are applying the same U.S. law. Unless there's been a major change in your personal situation, it's unlikely that the third officer will disagree with the first two.


---
champak asked, I want a tourist visa but My english is very poor what should I do?

ViceConsulJ answers, English language is not required for a U.S. visa. it is most important that you are able to communicate your travel plans and situation. we have translators available. BUT you should request a language interview through VFS when you schedule your interview, if you'd prefer another language.
---
raj asked, i am 36yrs married n hav a 3 yrs old kid. i have been to us long time bak . now i wish to go again with my fly. can u tell me the us visa application procedure, time taken, fees etc. wel have valid passports!

ViceConsulB answers, Your first point of contact is the VFS office (https://www.vfs-usa.co.in/USIndia/Index.html). They handle all the logistics of appointment scheduling and fees. Our website (http://mumbai.usconsulate.gov/non-immigrant_visas.html) also has good information on applying for a tourist visa.
---
Devika asked, While applying online, If we are not able to upload the photo in form D-160 what should be done ? Can we carry the photo with the other documents when coming for the interview ?

ViceConsulJ answers, If you have trouble uploading your photo, please be sure to contact VFS. And you may also want to carry the photo with your other documents when coming in for the interview.
---
test asked, can a tourist visa be converted to student visa???

ViceConsulB answers, No. They are separate visa processes. If you already have a tourist visa, you will have to take a new appointment to get a student visa. It is sometimes possible to adjust your status (from tourist to student) while in the U.S. but that is in only very rare circumstances.
---
Sanjay asked, I have already applied for US B1/B2 visa 3 weeks back. I am not getting interview dates. Please let me know when can I get the dates or what is the problem for not issuing dates.

ViceConsulB answers, We open up new appointments through our workday; please keep checking the VFS website to see when they become available.
---
castellino33 asked, i want to have visitor visa, i have green card but i had to leave us after staying 7 month. what should i do now

ViceConsulB answers, You cannot hold a visitor visa and a greencard at the same time. If you decide to apply for a visitor visa, please come with a completed Form I-407 "Greencard Surrender" form. You can find a copy on our website: http://mumbai.usconsulate.gov/non-immigrant_visas.html.
---
jai shukla asked, I am a s/w engineer. I had H1B visa, which is canceled by my previous company because I have changed my company. Is there any issue to get visa if I will apply next time?

ViceConsulB answers, This should not cause a problem. Be prepared to explain to the Officer why you left the company and how you used the H1B visa.
---
praveen asked, What are the major priorities for a F1 visa aplication you focus on for grant of visa.

ViceConsulJ answers, If you are going to study in the United States, it is important that you have acceptance to an accredited institution, have the funds to pay for your education, and can demonstrate that you maintain sufficient ties to India.
---
Kailash asked, Is it possible to withhold granting of VISA if somebody makes an application that an applicant has criminal cases pending on him?

ViceConsulB answers, There are a number of reasons why someone with a pending criminal case may not be eligible for a visa. If you have information on a pending case that affects someone's application, you can share that information with the Consulate anonymously through mail, phone, or email.
---
gautam mukherjee asked, about 10 years (I was unmarried then) back my student(F1)visa was denied. Now I want to apply for tourist visa to go to USA with my wife, will it affect due to my previous denial?

ViceConsulB answers, We only assess an applicant's qualification for the visa at the time of their interview.
---
Sushi30 asked, Hello Sir.. I am a software eng. my wife is in US with L1 visa. Can I get L2 and work in USA?

ViceConsulJ answers, if you are in the country on an L2 visa it may be possible to work if you get an approved empolyment authorization from the Dept. of Homeland Security, but only with that approved authorization
---
Nachiketas asked, Instead of making people wait in long queues in front of the consul offices to show off your demand and imperial arrogance, why don't you issue a specific time of appointment to the applicants so they can walk in at the right hour instead of waiting for hours together?

ViceConsulB answers, We very much recognize that our facilities are no longer sufficient to meet growing demand for visas from the Indian public. That is why we are building a new consulate complex in Bandra-Kurla, which will have much better facilities and accomodation. Currently the average wait time for a visa applicant is 51 minutes--something we strive to improve every day. Thank you for your feedback.
---
mk asked, I was in US on J1 visa and due to some issue with my mentor I was forced to leave US within 5 months and my visa got terminated. In my visa 212E rule was applicable which sttaes that i will have to be in my home country for two years. Is there any way to waive off this 212 E rule from my visa

ViceConsulB answers, Please visit the website travel.state.gov. There is a specific process for waiving the two-year rule.
---
PickMyQuestionFirst asked, DEAR SIR/MAM: I've secured admission in a reputed US university (Ivy League) for my masters. I want to understand that what things I should keep in mind so that my US VISA application doesn't get rejected? I am wanting to take the preemptive measures, just in case..

ViceConsulB answers, The best advice is to relax and to be able to clearly and concisely explain your education plans. We don't rely on documents during our interview but, rather, want to hear directly from your.
---
Sanjeet asked, Hi, my question is: My wife has a valid US Visa which is in her maiden surname. After our marriage she has changed her surname on the passport aswell. Will she need to apply for a new visa or what else is the procedure.. Thanks

ViceConsulJ answers, If your wife still carries a US visa that is not expired or cancelled, it should still be valid. but we would advise you to reapply for a corrected visa with her new name as soon as possible.
---
madhu asked, Hello sir, If i got admission from one universty and got visa on the same university can i change university after going to US.?

ViceConsulB answers, It is possible to transfer unversities once you are in the U.S. However, if you know you are going to attend a different school than the one listed on your visa before you depart India, please contact the Consulate.
---
Sachin asked, I am not getting VISA interview dates for B1/B2 from last 3 weeks, want to know why consulate is not giving dates, my lots of friends are facing this problem.

ViceConsulB answers, We add new appointments into the VFS system every few hours during the workday. Please keep checking back--we are accomodating new applicants every day.
---
alok asked, Can I also join for the interview for my Wife and 2 kids Visa (under 14)

ViceConsulB answers, We ask that children under 14 be accompanied by a parent or guardian during their interview. If you're wife is also applying for a visa, she should accompany them.
---
aniket asked, IF one books return tickets to the US first and then applies for the visa, will the visa be issued for sure??

ViceConsulB answers, No! We do not suggest making any travel plans until you have received your passport back with the visa inside.
---
shansalii asked, My and my wifes visas expiring on April 10th,We both are sr.citizen aged 74 and 67, We had visited US 7 times in last 20 yrs. We have our daughter and son in law there and both are US citizen.When they come here in India they stay with us and when we visit them in US we stay with them. Is it necessary to visit US consulate for visa renewal personally? Within how many days we can get our visas renewed?

ViceConsulB answers, At this point in time, every visa applicant--even those who have held visas before--are required to make a personal appearance at the Consulate for fingerprinting and a personal interview. If your visa is approved, you will usually receive your passport back within 3-4 days by courier service.
---
Sarika asked, My Brother (A US Citizen) has applied for my I-130 family immigration visa for brother/sister category. I currently hold a B1-B2 10 year tourist visa that is expiring in June 2010. I have visited US 5 times earlier & never exceeded the duration of eligible stay. If I now apply for renewal of my B1-B2 for visiting my brother, will it be denied?

ViceConsulB answers, We can't answer individual questions like this. The Officer will assess, at the time of your interview, whether you have sufficient ties to compel you to return to India after a short visit to the U.S.
---
ssraman asked, Hi, I have a question regarding the B2 Visa. Myself & my wife have B1/B2 visas valid for 10 years. We got it through our employers with no annotation. I have travelled twice for business purpose and my wife hasn't so far. Now I am planning to visit my sister & her family in US. I hope the Visa's what we have should be valid for us. Please clarify. Also, I have two kids one at 2.6 Years & other is at 3 Months. what is the procedure to get visas for them.

ViceConsulJ answers, If you carry a valid B1/B2 visa that is not expired or cancelled, you may travel on that visa for tourists puprposes. For your young children, you should apply online using the same process as adults, but of course attend the interview with your children for interview with the officer.
---
bondjamesbond asked, a child of an Indian parent born in the US will get US or Indian Visa

ViceConsulB answers, All children born in the U.S.--regardless of their parents' nationality--are U.S. citizens. In fact, to return to India, these young Americans will need INDIAN visas in their U.S. passports!
---
ddamitav asked, is it required to carry the old expired passport duting visa intv for B1

ViceConsulJ answers, It is best if you carry all old passports with you to your visa interview.
---
Devika asked, Regarding visa renewal, I got to know minimum documentation is required. is it true ? Can a tourist visa and Business visa be renewed ?

ViceConsulB answers, Beyond a completed visa application, there is no minimum documentation required for a visa interview. We rely on the personal interview--not documents--to determine an individual's qualification for the visa. Please be prepared to clearly talk about both your plans in the U.S. as well as your life here in India.
---
Amar asked, I've to apply for US visitor visa, what process should I follow? and where can I get assistance with the same?

ViceConsulB answers, We recommend that you start with the VFS website (https://www.vfs-usa.co.in/USIndia/Index.html) as well as our own website (http://mumbai.usconsulate.gov/non-immigrant_visas.html). We have hundreds of applicants a day who go through the visa process alone without the help of an agent, so don't feel that you have to rely on one. The process is very simple and largely electronic.
---
naren asked, which website of urs will give full details about visitor visa

ViceConsulB answers, https://www.vfs-usa.co.in/USIndia/Index.html and http://mumbai.usconsulate.gov/non-immigrant_visas.html and travel.state.gov Enjoy!
---
Sarika asked, Can a person apply for a non-immigrant visa (like B1-B2) while his/her immigrant visa application is under process?

ViceConsulJ answers, Yes, appliants with immigrant visa applications in process may apply for non-immigrant visas. The qualification for a non-immigrant visa remains the same, the applicant must demonstrate ties to his or her home country and intent to return after the trip.
---
Tester asked,  recently I have go admit from US university for doing a PhD. This is a funded position which covers fees and medical insurance and also offers annual stipend. I have I-20 mentioning all the funding status. While my visa application do I need to show the personal finances even I have the funding from the university?

ViceConsulB answers, In order to qualify for a student visa, you have to demonstrate that you have the financial means to support your proposed plans. If it is a fully-funded program, then that fact will probably be sufficient to show that you can afford an education in the U.S.
---
pjadhav asked, hi, i have been rejected US visa twice coz of clause 214b, although i was haing all documents and no intention of settling in US, so in future can i get US visa..?

ViceConsulJ answers, Visa adjudication is not a documentary process. The officer must be convinced based on the applicant's overall circumstances that the applicant qualifies for a visa. The officer may request additional documentation, but it is not always necessary.
---
neel asked, My sister lives in US and she has applied immigrants visa application for me since JAN 2009. so how many years it would take for complete the whole process?

ViceConsulB answers, We are currently processing the cases for individuals who had petitions filed for them in March 2000.
---
praveen asked, Sir, i am eagerly waiting for your reply. May I know if GRE and TOEFL scores are any parameters for US visa., DO you consider people wid average GRE scores for US visa?

ViceConsulB answers, While many schools in the U.S. take TOEFL and GRE scores into account when making their decisions, the Visa Officer does not. If we ask about them, it is only to get a better understanding of your school application process.
---
Ladykiller asked, I am a dazzling lady killer. What visa should I apply for?

ViceConsulB answers, It depends whether you plan to dazzle the ladies while studying (F1), doing religious work (R1), working as a journalist for an Indian newspaper (I), or starring in a new Bollywood film (01).
---
adityakumar asked, I have an L1 visa. I need to apply the dependent visa for my wife. Can I apply her Visa while I am away in the US? Or should I do it here itself?

ViceConsulB answers, Your wife can apply for her L2 (dependent) visa at any point after you have been issued the L1 visa. It is your preference whether this is before or after you travel to the U.S.
---
aavvdda asked, Hi, My H1B visa issued in Jan-03 expired in Nov-2009. I heard wait period of 1 year before applying L1 or H1 visa again - pls confirm. Also Can i apply H1b now & get the visa stamping post Nov-2010 (1 year after previous visa expiry)?

ViceConsulJ answers, For petition-based visas like H1B, it is the petition filed by your employer that determines your eligibility for a visa. If an applicant has a valid petition from a qualifying employer, then he or she is eligible to apply for an employment-based visa.
---
Aksh asked, Hello Sir, my wife and myself are working as a software engineer. My wife is going to apply L1-B Visa from her employer. We have 3yrs old kid also. Can my sone and myself also Apply L2(dependent) and go with her? Am I eligible to apply for a dependent VISA(L2) since I am currently working? Do I need to get a NOC(No Objection Certificate) from my current employer? Can you please explain me the procedure to apply for a L2 Visa?

ViceConsulB answers, If your wife has an L1 visa, you and your child are eligible for L2 visas no matter what your employment situation is. Please start your application through the VFS website (https://www.vfs-usa.co.in/USIndia/Index.html).
---
auroassociates asked, For business visa, is email invitation is sufficient for applying visa

ViceConsulB answers, There is no specific requirement for an invitation letter. Please bring any documents to the interview you think are relevant, but know that the Officer bases his or her decision largely on the personal interview.
---
Wazzz asked, I am having 10yrs visit visa which got damaged accidently ... the visa stamped page teared accidently (at the immigration counter i guess)... How can i get the corrected/retained again??

ViceConsulB answers, If your visa is lost, damanged, or destroyed, please contact the Consulate using the information here (http://mumbai.usconsulate.gov/non-immigrant_visas.html).
---
ndm1 asked, My daughter will be applying for a F1 visa. My wife and I want to drop her to her college and will apply for B1/B2 visas. Can all three of us apply online on the same form?

ViceConsulJ answers, Each applicant must apply online for an individual application. So each of you will have a separate form.
---
manpreet asked, hello sir, i am manpreet from punjab i want to go to us for higher studies i have done graduation from punjab university how much visa chrges and other requirements plz tell

ViceConsulB answers, The basic application fee is 6,288 INR. If you plan to study in the U.S., you will also have to pay approximately 5,000 INR in SEVIS fees. SEVIS stands for the Student and Exchange Visitor Information Program and is used to track students in the U.S.
---
RAGHU asked, What is the visa needed for cpa certification

ViceConsulB answers, You can take the CPA exam using a B1 (business) visa.
---
samz74 asked, I just want to apply for a tourist visa but am a moslem. How difficult it would be for me ( single woman) to get the visa

ViceConsulB answers, Your religion does not play any role in the visa application process or is our assessment of your qualifications. Every tourist visa applicant has to convince the Consular Officer that they not only have strong social/economics/family/job/etc. ties abroad, but that they intend to return to India after making a short trip to the U.S.
---
sunil asked, I am an indian staying currently in japan. have applied for business visa about 3 weeks back. the embassy has kept my passport with them. till now no reply from the embassy. I want to go to India next week, but currently the passport is with the embassy. how can i get my passport back.. i dont want the visa now..

ViceConsulJ answers, If you have applied for a U.S. visa, you may request your passport back from the Embassy at any time. If you wish to withdraw your application for a U.S. visa, please contact the Embassy or Consulate where you applied.
---
Billy asked, I am visiting Argentina and Brazil via Florida, Do I need any Transit Visa?

ViceConsulB answers, Yes. You can apply for either a transit (C1) visa or a full business/tourist(B1/B2) visa. It is your choice.
---
anand_3108 asked, I have Business class Visa valied till 2017 on my old passport which is expired, i have recived new passport. If my Visa can be transfered to new passport ? If yes valied then what is process? If no , what can be done?

ViceConsulJ answers, A visa cannot be transferred from one passport to another. However, a valid remains valid even in an expired passport. You must carry both the expired passport with your valid visa, as well as your current passport to the port of entry.
---
vvijay asked, Hello Sir, I was deported from a country 8yrs back because of wrong visa in which my previous company sent me. Now i am in another company where i have chances of going to US. Whether the previous issue will affect my chance to US.

ViceConsulB answers, If you were, in fact, deported from the U.S., you may be ineligible for a visa. You may wish to consult an immigration lawyer.
---
akhera21 asked, Do we need the hard copy of educational certificates and experience letter from all previous employeers for B1 visa?? or only details given in the form are sufficient

ViceConsulB answers, There is no requirement to bring ANY documents to the visa interview. We base our decisions largely on the face-to-face interview, not paper. However, you are welcome to bring whatever paperwork you wish.
---
NARESH asked, Sir I have a B1/B2 visa. I had applied during this as a tourist. Now my company wants to send me to the US on some urgent meetings. Can I use the same visa?

ViceConsulB answers, A B1/B2 visa is a combination business/tourism visa. Even though you got the visa for tourism, you can use it for business travel (and vice versa: business travels who were issued B1/B2 visas can also go on vacation in the U.S.)
---
Arijit asked, Hi, I am preparing to get H1B this year(cap which has opened on 1st April) If I do get a visa, by when can I fly for US ?

ViceConsulJ answers, If you receive an H1B visa, you may tavel to the United States up to 10 days before the start date of you approved petition.
---
georgemathew asked, I have a valid visa for 10 yrs.It expires on 6/9/2010.I intend to visit USA in June and will return at the end of August.Is there any problem?
ViceConsulB answers, You can enter the U.S. on a visa up to the day that it expires. There's no problem if it expires while you are in the U.S.; there is a problem if it expires before you plan to travel.
---
tom asked, is it true that only a specific no of visa are issued per day per consulate in India?

ViceConsulB answers, Absolutely not! There is no numerical limit or quota and we issue visas to every applicant that is qualified.
---
Mahesh asked, Hi Sir, Earlier I went to US on J1 visa and its 2 years home residency rule requirement finishing on 15th July. I want to apply for H1B visa after it. Is it require to take J1 visa waiver after 15th july.

ViceConsulB answers, If the two years have expired, there is no need to take a waiver.
---
BUDHIRAJA asked, Hi, my daughter is going to get married with a boy who is there on H-1B visa. Whether she can be there after marrying him? what formalities she has to complete? Which type of visa she will get?

ViceConsulJ answers, The spouse of an H1B visa holder may apply for an H4 dependent visa to reside in the United States with his or her spouse. She is welcome to visit our website at http:\\mumbai.usconsulate.gov for information on scheduling appointments.
---
ViceConsulB says, Hi, guys. Great questions so far! We are sorry that we are not able to answer each one. We've been trying to answer those that might have the broadest interest (and also some we found funny!) We have to end this chat in about five minutes, so we'll type extra fast from now on!

---
vvijay asked, Hello Sir, I was deported from Thailand when i went in Business visa there. Will it affect my US chances?

ViceConsulB answers, It depends. Please read the questions on the visa application carefully and answer honestly.
---
ksr asked, My daughter is 20 years old. She wants to visit the US as a tourist. I understand that it is difficult for a young unmarried person like her to get a visa. Is it true.

ViceConsulJ answers, There is no age requirement for a U.S. visa. The most important thing for the applicant is to clearly demonstrate his or her ties to the home country and intent to return.
---
Duminy asked, can a person be denied entry at the airport immigration even with a valid visa?

ViceConsulB answers, Yes. A visa is only permission to present yourself to an immigration officer and ask for entry. It is up to the immigration officer to determine if you are admissible to the U.S. She or he will also determine how long you can stay, if you are travelling on a tourist or business visa.
---
sree asked, Can my Dad's brother and his kids ( who are usa citizens) AND/OR my dad's Sister and her kids(who are usa citizens) apply family immigration for me.??? if yes, does it depend on who is applying or is there any preference, which one is quicker??? thanks

ViceConsulB answers, American citizens can file for their siblings (brothers and sisters) to immigrate to the U.S. Those siblings can bring along their spouses and any unmarried children under 21.
---
Easwar r asked, I got a 221g and presented the consulate with the relevant documents such as Unemployment details and employee details for h1b. Now they have come back and asked more quarterly unemplyment reports and date of joining of each employee, are they playing around?

ViceConsulB answers, No. It is the Consular Officer's responsibility to determine if the H1B petition can provide qualifying employment to you in compliance with U.S. labor law. That is why they are looking at that information.
---
jj asked, I do not hold a undergraduate degree, Can I be eligible for H1B visa?

ViceConsulJ answers, Included in the requirements for an H1B visa is a university degree or an approved equivalent to that degree.
---
ViceConsulJ says, Thank you everyone for your questions. We are now concluding the chat. We hope this webchat has been helpful.

---