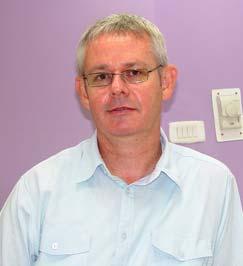 British High Commission First Secretary (Education Services) Kevin McLaven has advised Indian students not to be misled by unscrupulous education agents who promise them study visas 'without IELTS'.
McLaven, who is also British Council's IELTS chief in India, in a message to students lookig to head to the UK said, "There's nothing to be scared of when it comes to the IELTS. Prepare well and give it your best shot. Never, ever believe in short-cuts."
McLaven, who was in Jalandhar recently, gave an exclusive interview to RMS Atwal. Excerpts:
Is the IELTS is losing credibility with some student visa consultants advertising 'No IELTS' for some countries, including the UK?
I think such agents are damaging UK education by identifying loopholes in the UK Border Patrol Agency (UKBA) laws, and obtaining visas for students who don't have satisfactory English language skills. Such agents have spread their activities to other countries as well. But now since the UKBA has revised its policy on English language testing for  foreign students applying for undergraduate courses, this step has strengthened the importance of the IELTS.
Earlier what was happening was there were some colleges in the UK who were interested in getting foreign students and making a quick buck. Financially motivated, their aim was not to provide education to foreign students.
Where would you rate TOEFL in comparison to IELTS since both have now four similar modules?
Globally, during the last four to five years, the IELTS is growing much more quickly than the TOEFL. Here in India, more than three and half times students take the IELTS test than the TOEFL. So, the IELTS is much more popular  globally and in India. Previously, students who wanted to go to the US chose TOEFL but now 2,500 institutions in the US accept an IELTS score too. Today, students have a choice.
Also, IELTS has number of other advantages. As you know, TOEFL is a computer-based test, which again a lot of people find intimidating. Some people in India, particularly in rural areas, who are not highly computer literate, are more
comfortable with the pen-and-paper test. Moreover, we find students are much more comfortable with the oral test of the IELTS than interacting with the computer while taking a test. A computer-based test is much like leaving a recorded message on the telephone.
Do you think online IELTS is the solution to some problems afflicting the test?
I don't think it is the solution at all. When TOEFL was first launched there were many concerns from foreign universities that its security was actually deteriorated. On the other hand, the IELTS test is much more secure and easy to be managed. There is no question of security being compromised...the pen-and-paper test will remain for a longer time.
The myth remains that the IDP exam is 'easier' than the British Council exam. What you have to say about that?
The situation is quite different today as compared to two-three years back. Nobody asks me this question any more.  For the last three evenings we have been meeting (British Council) education agents in Chandigarh, Ludhiana and today here in Jalandhar. Everybody looks very satisfied. Since the test is the same, whether a candidate takes a test through IDP or BC, a candidate need not worry and just give his/her best shot.
Your views on the British Council IELTS Scholarships?
It is very much in line with BC's aim to help young people in achieving their personal and professional aspirations. Many people in the world don't study overseas due to cost considertions; scholarship money of Rs 3 lakh will make foreign education more accessible. We genuinely believe that students who go from India to the UK or the US, when they come back to India they come with a huge knowledge of international education experience.
Are you satisfied with the quality of IELTS training being imparted in India?
Since the time I have been in India, I have noticed that the standard of training being provided is very much improving. At the British Council we do not monitor the quality of training programmes at IELTS training centres. But we do
provide a number of support programmes in which we offer to train faculty at institutes so that they develop new teaching skills.
Any message for Indian students preparing for the IELTS exam?
Firstly, I must say, there's nothing to be scared of; globally 1.5 million students took IELTS last year. The exam being internationally designed to test a candidate's English proficiency in reading, writing, listening and speaking, you don't need any specialised knowledge to be able to take the IELTS test -- not expected to an expert in any particular field. All you have to do is demonstrate your English language ability.
So, essentially, if you are planning to study overseas, or apply for immigration, the most important thing is don't be fooled by short-cuts. Many students currently sitting in the UK, for example, don't have a course to study, no work to do, and not much money to support them. If anybody tells you about such short-cuts like you don't need English proficiency (no IELTS required) whether for the UK, Canada, Australia, they are lying.
I again emphasise that there are no short-cuts to study abroad. Make sure that your English is of satisfactory level.  Give the IELTS test when you feel that you are fully prepared. Good luck!
RMS Atwal can be reached at rajatwal55@yahoo.com