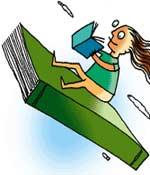 Canadian University Application Centre Director Met Broitman has blamed his own government's 'failure' and 'lack of will' to sell Canadian education to foreign students as the reason for the low numbers of international students opting to study in that country.
"While the British Government is spending a million dollars a week in promoting its education, Canada spends the same amount throughout the world in a year. It is on a tight budget," he said in a candid interview during his visit to Jalandhar last week.
The Canadian educationist revealed that the extended SPP programme for India is a sort of "clean-up operation" of government-run community colleges. Excerpts from the exclusive interview with RMS Atwal:
Why do you think Canadian education is not that popular in India?
Except for Punjab where people want to go to Canada, not too many people know about Canadian education in this country. You go to Gujarat, they know about the UK or Australia, but don't know anything about Canada or have barely heard about Canada. The Canada Education Centre (CEC) did a poor job in promoting Canada in India. Similarly, the Canadian government has not done much in this direction.
Moreover, the Canadian government doesn't spend much on promoting its education abroad. The government has no money and spends no money. It is on a tight budget -- one million dollars annually. On the other hand, the British spend a million dollars a week. Canada don't spend a million dollars for the world... It is failure by everyone in Canada -- the government, the universities and Canadians.
We have the best product in the world (undergraduate education) and it's a shame that the Canadian government is not much interested in marketing it worldwide. Canada has underperformed -- it does the least with the most in the world.
On the other hand, a country like Singapore does the most with the least. There is no will on the part of institutions (universities) either to promote them.
How are community colleges doing in Canada?
Community colleges are doing better. The SPP programme launched last year is sort of helping them. The problem is they are not entrusting responsibilities to the 'fraudulent agents' with whom they are working with. The partners program (SPP) is a sort of clean-up of community colleges and the programme is there to police them. They are making them responsible for taking on legitimate students.
My observation is the SSP is marginally successful and it needs to police itself.
If the SPP is not successful then why was it extended to this year end? Do they want to make more money?
They want to bring more students to Canada. The colleges definitely want students to come there. I think it is a good idea. It is good for Indians under the SPP programme, provided they get legitimate students. The reason this programme is only for Indian students and not for Australia or the UK, is because the government doesn't get real students from India. A lot of people go there but are not really interested in studies.
So, the SPP programmme is to make sure that they bring real students. Thankfully, the SPP programme has forced people to learn English.
But we have heard that community colleges are as good (or bad) as government colleges in India. They are considered to be 'cheap' colleges?
No, not true. They have that reputation because they work with crooks that have soiled their (community colleges) reputation. There are very good community colleges in Canada.
My brother has a diploma from one such community college and he is making $ (US) 20,000 a month as a high-end US consultant. Unfortunately, in recent times fraudulent agents have made mess of it by sending students who are not genuine. Policing the agents is very difficult.
How is the slump in Australia and UK admissions affecting admissions to Canadian colleges and universities?
Most of the students who are going to the UK or Australia are inadmissible to Canadian universities because our standards are very high. These students are going to low-end universities and colleges there. We see better students going to Canada.
In other words, a majority of Indian students who are going to Australia, for example, can't get admission in Canadian universities. Just because people are soured on England and Australia, they are looking at Canada which is helping in increasing awareness about Canadian education institutions. Not only in Punjab, where people already know about Canada, are people thinking more about Canada now.
Is the Canadian High Commission is now taking more time to grant student visas in view of rising cases of fraudulent documentation from the Punjab region?
Since Punjab has the highest (visa) refusal rate in the world, they are very careful about this state. It has the highest number of fraud cases by non-bona fide students going broad. But it is little bit better now. Canada is doing a very good job. The refusal rate in Punjab is a reality.
The Canadian Application Centre has a 98-per cent success rate and only real students go through. On the other hand, in Australia and England many students who get study visas aren't genuine.
Do you have any message for Indian students?
My advice to Indian students is to be informed. Unfortunately, most people are making decisions with poor information. They should double-check the information they get from agents. Find out as much you can from the internet.
RMS Atwal can be reached at rajatwal55@yahoo.com